The Challenge:
Address the strategic, operational, and tactical use of 21st-century U.S. Navy mine warfare, offensive and defensive mining, mine countermeasures, and EOD technologies, systems, and platforms. Specifically, consider and examine the disruptive advantages as well as the difficulties of delivering and employing large-scale but affordable mine warfare capability and capacity to U.S. and allied combat fleets and littoral expeditionary forces as they execute joint all-domain distributed maritime operations, expeditionary advanced base operations, and littoral operations in a contested environment against peer adversaries.
Challenge Areas:
The promise, concept of operations, and difficulties of large-scale employment of stand-off and close-in mining technologies and systems from purpose-built or adapted host platforms.
The use of artificial intelligence–enhanced autonomous and unmanned vehicles.
The capabilities, technologies, processes, and requirements needed to restore combat fleet freedom of maneuver through in-stride minehunting, realtime location processing, and mine neutralization.
Submission Guidelines
Open to all contributors -- active-duty, military, reservists, veterans, and civilians.
Essays must be no more than 2,500 words, excluding end notes and sources. Include word count on title page of the essay.
Essays are judged in the blind. Do not include author name(s) on title page or within the essay.
Submit essay as a Word document at www.usni.org/nmwesessay no later than 31 March 2022.
Essay must be original and not previously published (online or in print) or being considered for publication elsewhere. 
First Prize: $1,500
Second Prize: $750
Third Prize: $500
Selection Process
A joint panel composed of experts from the Mine Warfare Association and the Proceedings editorial staff shall judge essays and choose winners.  All essays will be judged in the blind — i.e., the Proceedings staff members and Mine Warfare Association judges will not know the authors of the essays. Since we receive so many submissions (more than 100 per month!), notification of acceptance on one of our platforms can take 4-6 months. We will notify you via email if your essay is selected for a prize or for publication.
Announcement of the Winners
Winners will be published in Proceedings, in print or online.
Selected Submissions
Commander Victor Duenow, U.S. Navy
Commander Marc G. Tranchemontagne (Retired) and Lieutenant Commander Chris Price, U.S Navy
Captain Edward Lundquist, U.S. Navy (Retired)
Sponsored by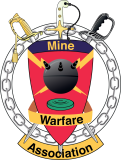 Mine Warfare Association