The Challenge:
To encourage an ongoing discussion concerning the strategic impact of mining, mine countermeasures operations, unmanned vehicle utilization in mine warfare, new technologies that could improve mining or mine countermeasures, and improved concepts of operations.
Deadline: 31 October 2015  Extended: 30 November 2015
Word Length: 3,000 words (Note: Does not include footnotes)
Winners: The winners will be announced in the January 2016 Proceedings and recognized at the Naval Institute's Annual Meeting in Washington, DC. The first prize essay will be published in the January or February 2016 Proceedings.
Selected Submissions
Commander Timothy McGeehan and Commander Douglas Wahl (Retired), U.S. Navy
Small Ships, Big Thinking
Commander John A. Craig, Royal Navy
Sponsored by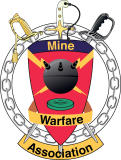 The Mine Warfare Association