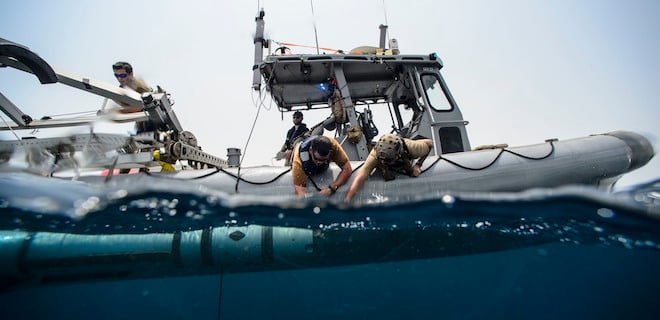 The U.S. Navy has a mine countermeasures (MCM) problem. Its current platforms are old and cannot meet the mission of opening mined areas for naval forces. Fortunately, the Navy already has an effective MCM package that is fast, flexible, and ready: the expeditionary mine countermeasures company (ExMCM). 
Birth of the ExMCM 
The ExMCM concept grew in response to Iran's threats to close the Strait of Hormuz in early 2012. Recognizing the mine threat, the Commander, U.S. Central Command, issued a joint urgent operational needs statement for increased MCM capability. 
The Navy explosive ordnance disposal (EOD) community used Secretary of Defense Fastline acquisition authorities to quickly field the Mk 18 family of unmanned underwater vehicles (UUVs) as part of a new, rapidly deployable, mobile, and flexible MCM force. The new force coupled sophisticated UUV and remotely operated platforms with traditional EOD MCM dive platoons to deliver a potent MCM capability to the Fifth Fleet.