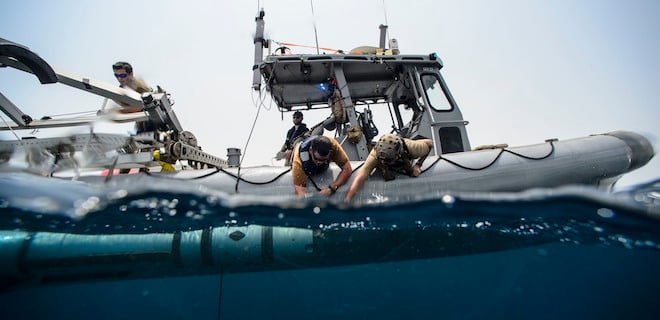 The U.S. Navy has a mine countermeasures (MCM) problem. Its current platforms are old and cannot meet the mission of opening mined areas for naval forces. Fortunately, the Navy already has an effective MCM package that is fast, flexible, and ready: the expeditionary mine countermeasures company (ExMCM). 
Birth of the ExMCM 
The ExMCM concept grew in response to Iran's threats to close the Strait of Hormuz in early 2012. Recognizing the mine threat, the Commander, U.S. Central Command, issued a joint urgent operational needs statement for increased MCM capability. 
The Navy explosive ordnance disposal (EOD) community used Secretary of Defense Fastline acquisition authorities to quickly field the Mk 18 family of unmanned underwater vehicles (UUVs) as part of a new, rapidly deployable, mobile, and flexible MCM force. The new force coupled sophisticated UUV and remotely operated platforms with traditional EOD MCM dive platoons to deliver a potent MCM capability to the Fifth Fleet.
The ExMCM company provides a low-visibility, full detect-to-engage, platform-agnostic, over-the-horizon, always available, mission-adaptable, area-access capability. Because it is not built around a single platform or sensor—rather, it is a concept and a command structure that brings together the right sailors and tools to accomplish the mission—the concept is scalable and can provide an appropriate capability to confront a wide range of threats. 
The ExMCM Company
The standard ExMCM company is a 27-person unit with four elements: the command-and-control element, an unmanned systems (UMS) platoon, an EOD MCM platoon, and a post-mission analysis (PMA) element.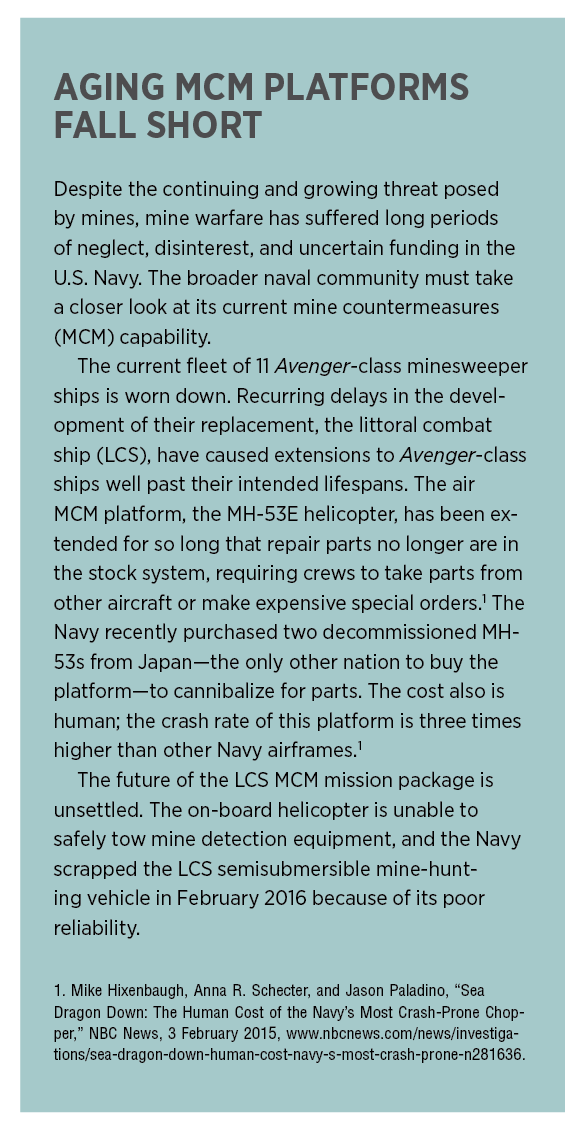 The central point of the company is the UMS platoon.  It provides mine detection, classification, and identification capabilities through 12 UUVs. The platoon, composed of highly trained operators from mixed pay grades and ratings, is led by a senior enlisted sailor and employs Mk 18 UUVs. 
The Mk 18 family of systems includes the Mod 1 Swordfish and the Mod 2 Kingfish, which were adapted from commercially available vehicles. Each UMS platoon has six Swordfish and six Kingfish vehicles. Missions include mine hunting, hydrographic surveys, harbor searches, rapid area search and object localization, and intelligence preparation of the operational environment.   
The Swordfish, the man-portable version, weighs 83 pounds, measures 5.25 feet, and has a mission duration of six to eight hours. It contains two side-scan sonar (SSS) sensors—one operating at 900 kHz and one at 1,800 kHz. The lower frequency sonar allows for broader area searches to save time. The higher frequency sonar delivers the first acoustic-based mine identification capability to the U.S. Navy, which exceeded MCM doctrine requiring visual identification of mines. The 1,800-kHz sonar imagery resolution is so high that an analyst can distinguish individual hexagonal bolts from the mine casing construction, leading the Fifth Fleet Mine Warfare Commander to approve mine identification by this method. 
The Kingfish is larger, weighing 600 pounds and measuring more than 10 feet long. It has a single 850-kHz sonar and can conduct continuous operations for more than 20 hours before recharging. This vehicle was designed with an open system architecture, so as technology develops, its "plug and play" framework will allow the Navy to install advanced sensors or unique payloads to rapidly reconfigure the vehicle for specific mission profiles.
The five-person PMA cell analyzes sonar data and delivers a contact listing to the command-and-control element for review. Members of the PMA cell and UMS platoon receive the same training, creating flexibility in personnel assignment for the unit. The EOD MCM platoon is composed entirely of highly trained EOD technicians who can visually identify and neutralize mines.
Innovative and In Demand
Since the first team deployed to Bahrain in 2014, ExMCM companies have continued to innovate and develop new MCM tactics, techniques, and procedures. While the Kingfish generally is operated from an 11-meter rigid hull inflatable boat, UUV operators wanted to provide commanders with a new employment method. To increase platform flexibility, they sought to operate the Kingfish from the Zodiac combat rubber raiding craft (CRRC), which offers a smaller signature for clandestine operations. ExMCM members acquired Styrofoam, spare wood, and other materials from nearby dumpsters and built a makeshift raft to carry the UUV while towed by a CRRC. The concept found its way into the formal acquisition process and now is a properly engineered rubber raft called the "Mallard."
ExMCM proved its worth to Fifth Fleet again in 2015 when an F/A-18 Super Hornet crashed into the Persian Gulf. Using the Kingfish, the ExMCM company found the debris field and identified the downed aircraft in six hours.
Sailors assigned to Expeditionary Mine Countermeasures Company 202 view the camera feed of a remotely operated vehicle searching for a simulated mine. (U.S. Navy/John Paul Kotara II)Today, six ExMCM companies support U.S. Naval Forces Central Command operations, with two companies continuously forward deployed to Bahrain. ExMCM companies are in high demand across the fleet. Two additional companies are projected—one in fiscal year 2018 and one in 2019—and both Sixth and Seventh Fleet commanders have requested ExMCM companies of their own.1
ExMCM companies have proven their ability to operate from a variety of platforms, including cruisers, destroyers, maritime prepositioning ships, and British auxiliaries. They have conducted multiple rapid-response fly-away missions across the globe.2 An ExMCM company recently operated from littoral combat ships (LCSs), bringing the first full detect-to-engage MCM capability to that platform. And because ExMCM can work from a variety of platforms, it is insulated from ship mechanical failures. Despite the high rate of unavailability of the aging Avenger-class minesweepers and MH-53s, MCM operations can be accomplished by the company using other platforms.
The Future of MCM
What will MCM look like in the future? Although the LCS program has suffered many setbacks, the platform likely will perform an important role in the MCM fight in the future. The LCS MCM package, however, still has capability shortfalls, and the ExMCM will help fill these gaps. 
A gap that neither the LCS MCM package nor the ExMCM can fill is large-scale minesweeping. Future programs must address this problem. Recent Kingfish sensor developments produced a volume mine-detection capability to mitigate the effects of the projected loss of mechanical minesweeping. This will reduce the time required for future MCM missions, as follow-on tasking can focus on targeted approaches, but influence minesweeping still must be conducted by another platform. The lack of influence minesweeping capability is particularly important on the west coast of the Korean Peninsula, where a muddy bottom precludes effective mine-hunting. Without a robust acoustic and magnetic combination minesweeping capability, follow-on forces will face unnecessary risk. 
Though the ExMCM is not the right platform for large-scale minesweeping, it provides an inherent flexibility, scalability, and rapid-deployment capability that a large platform like a ship or aircraft cannot match. The last major MCM operation—during the 1991 Gulf War—proves the point. MCM surface vessels and helicopters required transportation to theater. Limited strategic lift availability, however, meant they did not arrive in theater until two months after Saddam Hussein invaded Kuwait. Conversely, EOD detachments deployed within days and immediately began in-theater training with multinational coalition MCM forces.3 The small footprint of ExMCM means it can get to the fight faster. In a future force that includes robust surface or air MCM assets, ExMCM could provide initial hunting and bottom survey assessments and complement other assets as they arrive in theater.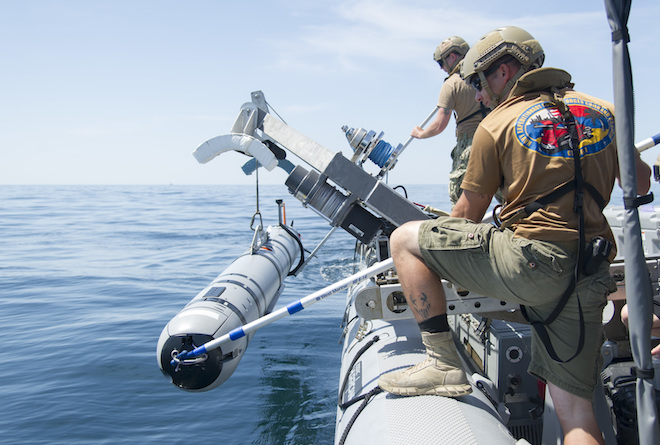 Sailors launch a Mk 18 Mod 2 Kingfish from a rigid-hull inflatable boat during mine countermeasure exercises. (U.S. Navy/Charles Oki)
Navy EOD has been at the forefront of developing tactics, techniques, and procedures for UUVs. ExMCM is low cost, enabling its acquisitions support office to keep pace with technological advances. More expensive and complex programs such as LCS cannot navigate the acquisitions bureaucracy as quickly. Putting the latest technology in the hands of highly trained experts within Navy EOD will drive MCM innovation.
ExMCM: Ready and Able
The mine threat to naval forces requires a solution. The expeditionary mine countermeasures company provides a responsive, scalable, and reliable MCM force that is available now. 
1. "The Expeditionary MCM (ExMCM) Company: The Newest Capability in U.S. Navy Explosive Ordnance Disposal (EOD) Community," Department of Navy Innovation (July 2017).
2. Megan Eckstein, "Mine Countermeasures Evolving Towards Mix-And-Match Capabilities, Personnel," USNI News, 25 October 2017.
3. Scott C. Truver, "Writing U.S. Naval Operational History 1980–2010," Naval History and Heritage Command, 15 December 2016.
4. Mike Hixenbaugh and Jason Paladino. "With Sea Dragon Still in Service, Navy Revives Training Squadron," The Virginian Pilot, 2 October 2015.
---
Lieutenant Lucas is an explosive ordnance disposal officer currently instructing officer and enlisted students at the Mine Warfare Training Center in San Diego, California. He graduated from the U.S. Naval Academy in 2012 with an honors degree in oceanography and meteorology.  His previous assignments include Marine Mammal Platoon Commander and EOD Mobility Platoon Commander.
Captain Cameron is an infantry officer with the 2d Marine Reconnaissance Battalion in Camp Lejune, North Carolina. He graduated from the U.S. Naval Academy in 2012 and completed graduate studies at the University of Oxford as a Marshall Scholar.