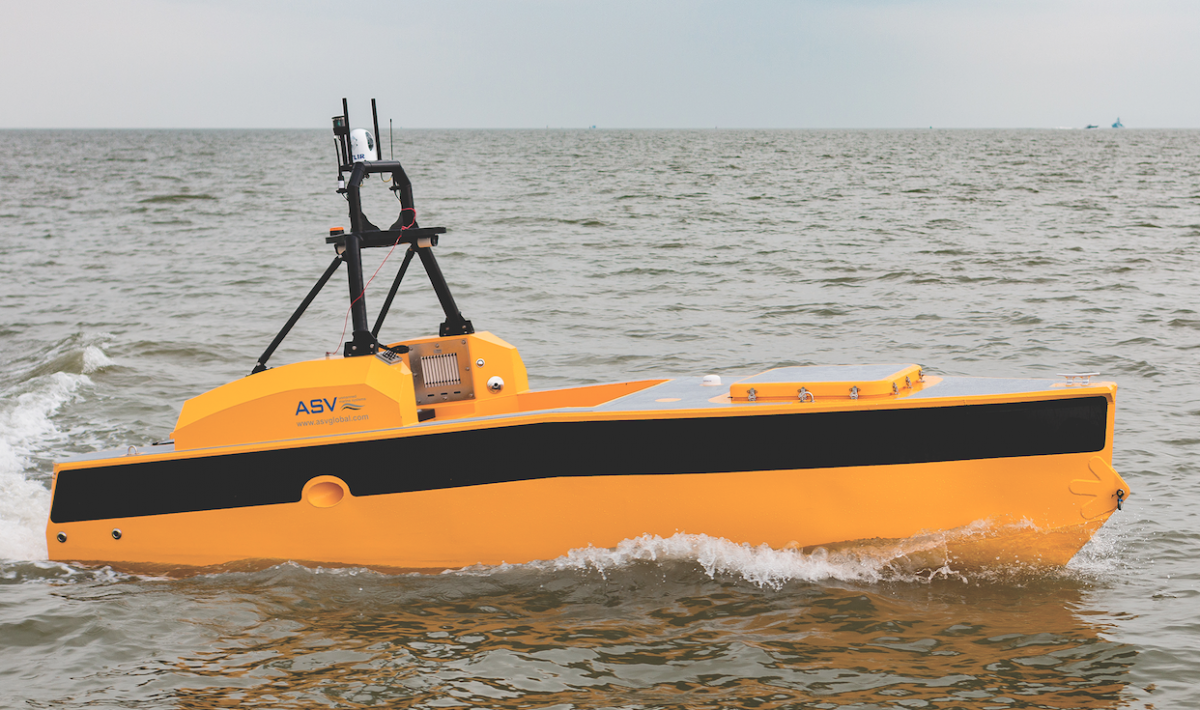 Both the Navy and the National Oceanic and Atmospheric Administration are experimenting with unmanned surface vehicles, like this C-Worker 5, to conduct hydrographic research and oceanic research. ASV Global
The University of Southern Mississippi (USM) awarded a contract to ASV Global of Broussard, Louisiana, in February for an unmanned surface vehicle (USV) to generate processes and procedures for use by the National Oceanic and Atmospheric Administration (NOAA) for hydrographic survey and oceanic research. 
The company now is building the craft—called the C-Worker 5—and will deliver it later this year. The university team will use the USV to prepare data and documentation to create a NOAA operations manual for the use of USVs for hydrographic survey. The craft will be based at the John C. Stennis Space Center in Mississippi and operate in the Gulf of Mexico.
Rear Admiral John Okon, Commander of the Naval Meteorology and Oceanography Command, said that "USV technology is key to the U.S. Navy's future. USM's acquisition of a C-Worker 5 USV is going to help Naval Oceanography build the more talented and agile fleet that the nation needs."
NOAA has designated USM a technical center of excellence for hydrographic survey. The school, one of a few in the United States that offers a degree in hydrographic survey, has established an unmanned marine systems certification course, the only one of its kind in the country. In April, the university opened a new Marine Education Center at the Gulf Coast Research Laboratory in Ocean Springs, Mississippi. 
NOAA's Office of Coast Survey and the Naval Oceanographic Office are sponsoring the USV work to generate data on the use of unmanned systems for hydrographic survey. NOAA's Office of Coast Survey, through its Hydrographic Science Research Center's Mapping Center, provided the funding for the USM purchase of the craft.
Brian Anderson, ASV Global's technical sales manager, says that USVs increasingly are used by navies and commercial and research organizations for missions that require extended periods of loitering on station—including hydrographic research and mapping, and also reconnaissance and surveillance. USVs and unmanned undersea vehicles (UUVs) also serve as alternatives to manned craft for night operations and missions that place crews at risk, such as mine detection and clearing.
Anderson points out that because USVs do not have crews, logistics needs are reduced substantially, enabling longer time on station, thereby maximizing operational efficiency. 
"Manned small-boat operations pose major safety problems. The use of USVs makes operators' jobs safer," he says. 
Four C-Worker 5 craft now are in service: one in Australia, one in the U.K., and two in the United States. The craft are leased to private companies and research universities for hydrographic survey missions. In 2015, ASV Global provided a USV to TerraSond Ltd., to conduct the first hydrographic survey to update U.S. nautical charts in dangerous Alaskan Arctic waters. 
ASV Global has employed its USVs for hydrographic survey work in Alaska for NOAA and for international research organizations, including the Canadian Hydrographic Survey. The company has sold unmanned undersea vehicles for reconnaissance to South Korea, Singapore, and the U.K. Royal Navy and has discussed use of its USVs with the U.S. Navy.  
The C-Worker 5 is 18 feet long with a 5.5-foot beam, displaces 4,200 pounds, and is powered by a Yanmar 57-hp diesel engine that gives it a top speed of ten knots. The craft can operate for up to five days at seven knots. 
The company says the USV is designed with a keel flange for underwater payload gear. The hull contains a 19-inch rack for data-processing systems. The C-Worker 5 can be fitted with a winch and an A-frame to handle several types of sensors. ASV has built a dual-davit launch and retrieval system to deploy and retrieve the craft from a ship.
For guidance, the craft uses ASV Global's proprietary control system called ASView, which consists of four subsystems: a core vessel interface manager and "autonomy" processor; a base server-radio enclosure (located either ashore or on a mother ship); a bridge operator user interface; and a helm remote controller. 
ASView controls motor and power generation and propulsion engines as well as navigation sensors for situational awareness. Navigation systems include GPS, gyro-stabilized and satellite compasses, and inertial navigation systems. The bridge operator interface controls the craft's electrical system, databuses, and safety system.
ν  Mr. Walsh is a veteran reporter of Navy and Marine Corps News and the former editor of Naval Systems Update.