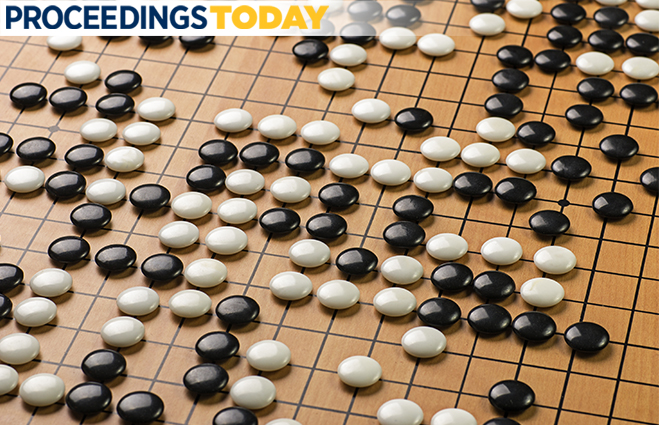 China and North Korea are both playing a long-term strategy game, similar to the ancient board game "Weiqi." The United States must be aware that the Singapore Summit is likely part of both nations' strategies. (Photo: Shutterstock)
Whether immediate denuclearization or some alternative gradual path to achieve denuclearization of North Korea is achievable, it is clear that the summit between North Korea and the United States is a meeting with complex and long-term strategic issues at play. Positively influencing the denuclearization of North Korea is an intelligent, tactical move that could go a long way toward achieving one of China's long-term, strategic objectives of diminishing U.S. influence in the region, further isolating Taiwan from Western influence, and establishing itself as a superpower on the world stage. Alternatively, denuclearization also could be a move by North Korea to reduce China's influence in its internal affairs. Attempts to understand North Korea's motivations and the effect of external influence have been considered "an excruciatingly difficult subject to comprehend."[1]
How the United States and its allies should approach this strategic challenge can be examined through use of the lens of mankind's oldest game of strategy—known as Weiqi in Chinese or iGo in Japanese. The claim that "China plays weiqi, Russia plays chess, and the United States plays checkers" is not a new one.[2] It infers that the United States is not good at "the long game" and suffers from poor development and equally poor execution of strategy. It is worth considering in the context of this week's summit, especially because those sitting on the Democratic People's Republic of Korea's (DPRK's) side of the table grew up playing the most complex game of strategy ever devised.
The Chinese Play Weiqi
Weiqi has been played by hundreds of millions of people through the millenia in the East and continues to be an integral part of their culture today. In this game "the question of whether to take smaller profits now or build up influence for possibly greater gains later…is constantly arising."[3] While the United States is distracted by quick, head-to-head interactions, denuclearization of North Korea (a status which can be reversed quickly), fits nicely into China's and North Korea's Weiqi-like strategy of building influence by going around barriers and taking a longer-term approach.
Taking advantage of the United States' short attention span, China's and North Korea's plans have been executed over a long time so as not to draw attention to their overarching goals. Increasing the capability and number of ballistic missile launches while simultaneously developing nuclear weapons increased tensions in the region and created an international appetite for a non-military solution without overt Chinese involvement. Studying the disarmament of Libya, China and North Korea waited until the moment was right, then started their charm offensive.
Learning from Libya's history, China brought Kim Jong-Un to China twice in recent months to ensure there would be no deviation from the plan. Starting with the Winter Olympics, followed by the return of three U.S. hostages, and the signal to dismantle a North Korean nuclear weapon test site, they created a U.S. "victory." China and North Korea could consider those events as their own victory, however, because they reduced U.S. leverage and could entice U.S. President Donald Trump, eager to earn a Nobel Peace Prize, to offer additional concessions. While China may favor trade concessions, North Korea likely will favor diminished presence (and eventual complete withdrawal) of U.S. forces on the Korean Peninsula. Neither Beijing nor Pyongyang may have to bargain for these concessions as budgets and regional and domestic political pressure do the work for them – another example of the long game. With U.S. forces diminished or absent from the Korean Peninsula and Chinese ties strengthened with the Philippines, this move would spell the eventual death of Taiwan's relationship with the West.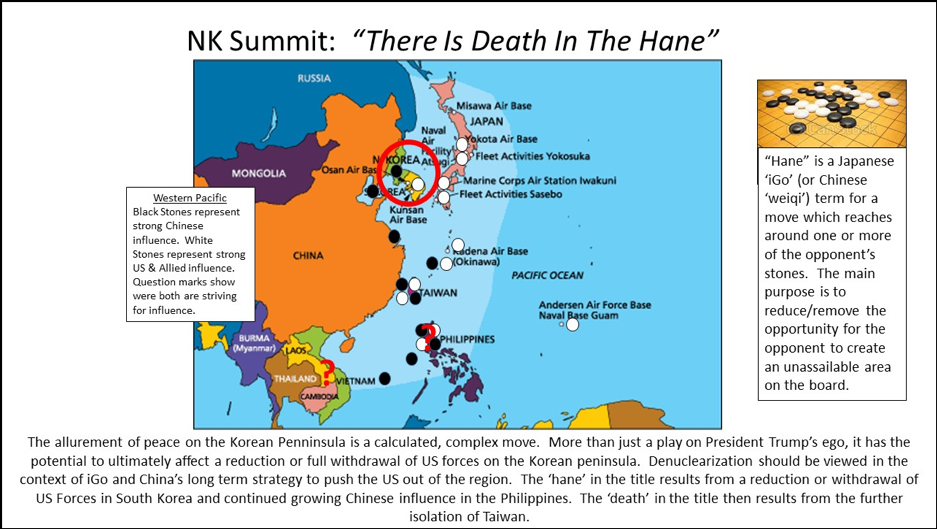 Building Influence
The United States and its allies have seen their influence decrease in the Western Pacific as shown by China's island-building program and disregard for the findings of the International Tribunal for the Law of the Sea, the estranged relationship between Washington and Manila, reduced U.S. Navy presence (and increased People's Liberation Army–Navy (PLAN) presence), and the eroded support for U.S. presence on Okinawa. If the U.S. plan is to trade denuclearization for open trade and investment with North Korea, as U.S. Secretary of State Mike Pompeo has asserted, how then do the United States and its allies maintain strong influence in the region? How can President Trump use the Singapore Summit to reverse the trend and turn it into a move that will build influence for greater gains in the future?   
First, the United States must establish that the presence of U.S. forces on the Korean Peninsula is nonnegotiable. Peace on the peninsula will make it difficult to justify current force levels, so Washington should start its own charm offensive to educate the world on the threats presented. The United States should sustain its deployment of a Terminal High Altitude Area Defense (THAAD) battery in South Korea. As previously stated (and demonstrated), North Korea could reestablish its nuclear weapon and ballistic missile programs rapidly.
The United States should strengthen its relationship with Japan by removing obstacles that hinder U.S. and Japanese military interoperability. Washington should make Tokyo a full partner in the Third Offset Strategy. Similarly, Washington should strengthen its relationship with Seoul. The United States can improve the relationship between South Korea and Japan by increasing interoperability and conducting trilateral exercises. The Trump administration should look for other opportunities to strengthen U.S. presence in the region, such as placing advanced systems in the Philippines and Australia—including Aegis Ashore and THAAD. Increasing military maintenance, repair, and logistics capabilities throughout the region, and sharing these capabilities with friends and allies, also would enhance U.S. influence.
Considering the central importance of Taiwan to China's strategy, the United States and its regional allies should consider steps to strengthen their relationship with Taiwan. The recent U.S.  approval of the marketing license to sell technology to Taiwan[4] and authorizing mutual visits of U.S. and Taiwanese warships are a good start.[5] Now Washington must demonstrate the will to follow through with these and other initiatives which will improve the relationship among Taiwan, the United States, and regional allies.
The United States should develop and execute a strategy which reengages the Philippines and other countries in the Western Pacific. If North Korea gets a better deal for trade and investment than members of the Association of Southeast Asian Nations (ASEAN), then the United States will be playing into China's hands. As a result, China's "One Belt, One Road" initiative, which is all about influence, will be one step closer to realization. Instead the U.S. administration should pursue opportunities to strengthen economic and military relations with ASEAN and its member nations.
Finally, President Trump must identify items that are negotiable to be able to give something to North Korea with the goal of improving relations while preventing long-term Chinese successes.
While many Americans may consider the drive to denuclearization a recent development and the result of President Trump's hard stance against North Korea, it actually has been part of a long-term strategy by China and North Korea. Both countries should be commended for studying and understanding their adversaries—and for learning from historic events such as the disarmament of Libya—to develop a plan that has, thus far, been successful.
The fundamental issue of U.S.-North Korea interactions—the decrease in U.S. and increase in Chinese influence—is critical to understand. In the face of a U.S. short-term, head-to-head strategy, China's long-term, strategic goals appear to be unstoppable. This does not have to be the case.
In partnership with its regional allies and by considering and countering China's strategy, the United States and its allies can reassert influence and avoid "the death in the hane" that is hidden in the agenda of North Korea's denuclearization. The Summit starting today is an opportunity President Trump should not approach with the single-minded goal of denuclearizing North Korea. There is much more to be gained, and lost.
[3] Shotwell, Go! More Than a Game, 33. 
[5] Martina & Yu, China angered as U.S. considers navy visits to Taiwan, https://www.reuters.com/article/us-taiwan-china/china-angered-as-u-s-considers-navy-visits-to-taiwan-idUSKBN1E80SA.
---
Captain Aycock is currently assigned to the faculty of the Naval War College in Newport, Rhode Island. He is thankful for the contributions from Captain Katsuya Yamamoto, Japan Maritime Self-Defence Force, Professor William Glenney, U.S. Naval War College, Institute for Future Warfare Studies, and Assistant Professor Ryan Martinson, U.S. Naval War College, Chinese Maritime Studies Institute.
Editor's Note: A longer version of this commentary first appeared on the Naval Institute Blog on 8 June 2018.