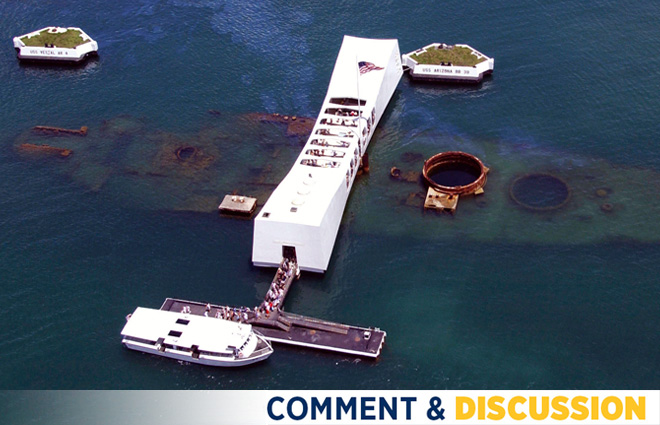 The Comment & Discussion section now continues online! (To read C&D from June's print edition, click here.) We welcome brief comments on articles published in Proceedings and online and discussion of issues appropriate for the Naval Institute's open forum. Submissions may be edited for clarity and length. Send submissions by email to [email protected]
Rethinking the Naval Academy Curriculum
(See, W. Wolff, Proceedings Today, April 2018 Proceedings)
MIDSHIPMAN WOLFF makes the argument that the emphasis on graduating midshipmen and commissioning naval officers with a STEM background is anachronistic in the current geo-political environment. As the Navy shifted from coal-fired battleships to satellite-guided munitions, he argues, so should it shed the quotas of STEM majors at the Naval Academy and the Reserve Officer Training Corps and increase opportunities to focus on the humanities. This argument is exactly backwards; the profession of arms in the maritime services requires junior and mid-grade officers with innate mathematical and technical skills more than ever in our history.
The core curriculum at the Naval Academy that every midshipman, regardless of major, must complete is designed to ensure that every graduate receives a thorough background in mathematics, basic physics and chemistry, propulsion and weapon systems, and electrical engineering.  The Secretary of the Navy requires by regulation that 65 percent of graduating midshipmen major in STEM fields. This emphasis is a reflection of the intellectual skills required of a naval officer in our modern Navy.
The Naval Academy's mission is to "graduate leaders who are dedicated to a career of naval service" and the framework upon which the skills in all career fields is built is this basic STEM foundation. The maritime service always has been a technical one, with cutting-edge mathematical knowledge required for navigation and ground-breaking innovations such as radio and radar critical for communication and weapons employment. The ships, aircraft, submarines, and communication and weapon systems that an officer commissioning today will encounter are among the most complex machines ever employed by humans. Without formal, innate understanding of the basic physical processes and mathematics underpinning integrated weapon systems and the electromagnetic battlespace, an officer will be diminished in his or her capacity to make critical decisions at the rapid pace of modern warfare. Even basic ship-handling is an exercise in STEM, requiring the officer-of-the-deck to make quick, mathematically informed decisions. The curriculum at the Naval Academy is evolving constantly to ensure that it reflects the needs of the service. For instance, there have been recent changes to allow majors in critical languages and the development of a cyber-focused STEM major.
I counsel Midshipman Wolff to have patience. Armed with the STEM foundations that the Naval Academy has provided him, he has all the tools to learn the profession of arms as a sea-going warfighter.  As he and his classmates progress in their naval careers, opportunities for formal and on-the-job exposure to joint operations, interagency coordination and the operational and strategic levels of war will become available. Armed with a rigorous background with a strong emphasis on STEM fundamentals, I have no doubt that they will excel in these opportunities to broaden continuously their intellectual horizons and, as the mission states, "assume the highest responsibilities of command, citizenship and government."
— Peter Brereton, Ph.D., Assistant Professor, U.S. Naval Academy Department of Physics, and Commander, U.S. Navy
BREED LEADERS OF INNOVATORS
(See F. Goertner, pp. 76–78, April 2018 Proceedings)
I WORKED in small empowered groups tailored toward creative experimentation, as described in Commander Goertner's article, and can attest to their value. The COMSUBPAC Innovation Lab has facilitated interactions with hundreds of sailors and civilians on all sorts of innovation efforts. It has been valuable to surround ourselves with so many stellar ideas and feedback from visitors to our lab and during our roadshows. We have found, however, that the most effective means of advancing innovation is through dedicated individuals and small teams. This requires not only individual drive but also command support for the flexibility in time and resources needed to really deliver.
Provide the environment for creative risk-taking or watch our innovators invent new civilian careers!
—Lieutenant Commander Chris Keithley, U.S. Navy
ARIZONA MEMORIAL
I RECENTLY HAD some business in Hawaii. While on Oahu I made the mandatory (for a sailor) trip to the Battleship Arizona to pay my respects to her sailors.
The movie one views before boarding the launch does an outstanding job of setting the mood for the visit, covering what led up to that day on 7 December 1941 and also the proper conduct and decorum expected at such a hallowed memorial.
It was a perfect visit, but one thing really bugged me: The young sailors manning the launch—coxswain and bowhook—were dressed in the "Navy Service Uniform," i.e., khaki shirt, black trousers, and black garrison cap, devoid of any rating. I overheard one tourist asking why Marines were driving the launch. I thought the bowhook was a lieutenant junior grade until I got close enough to see his collar device was that of a seaman apprentice.
Why, at such a place important to U.S. naval history are not sailors dressed in the uniform of sailors—either service dress white or full dress white? Yes, they are harder-to-maintain uniforms, but so are those worn at the Tomb of the Unknowns, and I would argue that the USS Arizona Memorial is just as important to the nation and the Navy.
More than 1.8 million visitors make the trip to the USS Arizona Memorial each year. They should not be confused as to who is driving the boat getting them there.
—Jerry Watson
JAG Officers May Share the "Fat Leonard" Blame
From at least 2004 to 2010, more than 60 admirals attended functions and expensive banquets put on by Leonard Glenn "Fat Leonard" Francis and received gifts from him. Some are alleged to have received the services of prostitutes. Attendance at these functions was vetted, or should have been, by legal staffs usually headed by a Judge Advocate General's Corps (JAGC) captain or commander. Who were the JAGC officers assigned to the U.S. Pacific Command and the Pacific Fleet (the U.S. 7th Fleet) and what were they doing during this time?
Under the Department of Defense (DoD) Joint Ethics Regulations (JER) and the Code of Federal Regulations (CFR) all admirals are supposed to get live initial and annual ethics training (5 CFR § 2638.304[b], .307[b],and .308[b]) from a senior JAGC officer. Part of the training should include the "$20/$50" Rule: a DoD employee can generally accept a gift (other than cash) with a monetary value that does not exceed $20 per occasion, per prohibited source (such as Fat Leonard), not to exceed $50 total from each source in a calendar year. (See 5 CFR § 2635.204[a].)
There is a narrow exception to this called the "widely attended gathering" (WAG) rule (5 CFR § 2635.204[g]), but invoking it would have to have been vetted by a JAGC officer. Judging by what has been reported in the media, the lavish parties and gifts should not have been permitted.  
The bottom line is the JAGC officers had to have been aware of what was going on. They should have told these admirals that they must decline these gifts and return or pay back the cost of any gifts received. If the admirals refused, the JAGC officers' sworn duty was to report violations to the Naval Criminal Investigative Service or higher authority such as the Inspector General or the Office of the Judge Advocate General. The good news for these JAGC officers is they cannot be court-martialed for this possible dereliction of duty because the statute of limitations has expired, but they could still be reprimanded in some fashion.  
The JAGC officers may have a powerful reason for not stopping the wild parties and lavish gifts: they valued their careers. The admirals they advise are the same ones who do their performance evaluations and being a party pooper likely will not get you a top one percent, "must promote" recommendation. The term "kill the messenger" comes to mind. The Navy might want to consider changing how such officers are rated since being able to advise a senior officer fully is otherwise chilled.
—Commander Wayne L. Johnson, JAGC, U.S. Navy (Retired)