Third Prize Winner - Essay Contest Sponsored with Dr. J. Phillip London & CACI International
Good Ideas Have No Rank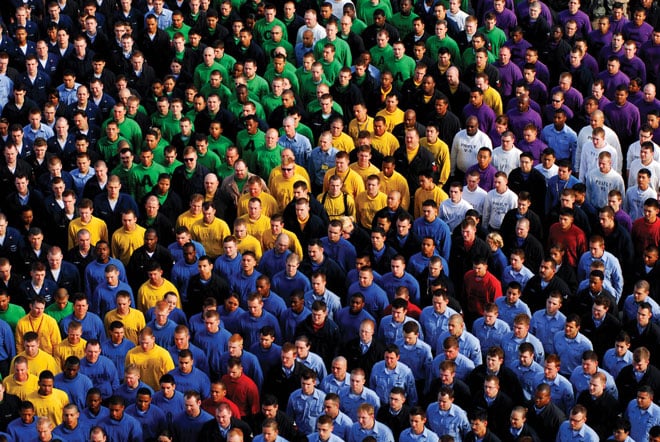 U.S. NAVY/JAMES R. EVANS
One of the most legendary attacks in U.S. submarine history—the destruction of a munitions train on Japanese soil—was planned and executed by the crew of the USS Barb (SS-220), junior
officers and enlisted alike, under the leadership of then-Commander Eugene Fluckey. At first glance, people might assume the Barb's crew was uniquely talented. But their success was achieved by integrating diverse perspectives that contributed to sound collective decision making and the ability of the crew to act as one to solve problems. Imagine if Fluckey had taken on the task alone or taken for granted the inputs of his subordinates. It is likely that the Barb may not have succeeded so spectacularly.
Developing a methodology to decentralize the operational planning process—as Fluckey did—is key to sparking junior officer and crew innovation. Modern social science has developed theories and applications to assist in executing what came instinctively to Fluckey and the Barb's crew. If we dovetail two emerging social study concepts—Leader Filtration Theory (LFT) and Artificial Swarm Intelligence (ASI)—we can better understand how to capture the wisdom of our crews.
Leader Filtration Theory
In Indispensable: When Leaders Really Matter (Harvard Business Review Press, 2012), Dr. Gautam Mukunda of the Harvard Business School introduces the concept of leader filtration, whereby upward mobility in an organization, such as the Navy, typically is reserved for those who deviate little from an ideal set of traits. Sometimes an "Extreme"—someone who does not conform to the ideal—bypasses the filtration, but the likelihood of that happening generally is small and can vary with the organization. Militaries in general have tight filtration processes that produce few Extremes.
Mukunda explains, "A paradigmatic tight process is the way the United States military chooses senior officers. At every stage of their career, officers are constantly evaluated and ranked against their peers. The worst performers tend to be forced out and better ones are promoted. This systematic evaluation means that the backgrounds of senior officers in the armed forces are all, from an outside perspective, remarkably similar. Officers at any given rank tend to have a relatively narrow band of ages, attended the same professional schools, had similar previous commands, and so on. The military's promotion system weeds out potential Extremes, removing them before they reach high rank and homogenizing candidates for high command."
This homogenization has a certain attractiveness for the Navy. It nurtures a preferred set of leadership qualities. It perpetuates Navy core values because senior leaders embody them fully. It also maintains consistency and predictability in decision making (a good metric for peacetime). The downside to homogenization is a higher risk of losing diverse perspectives and minimizing potential for innovation.
So where do junior officers fit in the mix? Mukunda argues that military officers of any rank tend to be conformists, but junior officers are less so because they have a greater diversity of age, education, and opinion. They also have a higher concentration of Extremes.
This can be good and bad. A wider range of perspectives can lead to improved decision-making and increased potential for innovation. Diversity will fail, however, if we do not bring these perspectives together into council instead of conflict.
Artificial Swarm Intelligence
Unanimous AI—one of several new companies dedicated to developing swarm intelligence technologies—is revolutionizing how it brings different perspectives together into council. It is exploring the way people combine their intellects to harness the wisdom of crowds. Unanimous AI has created an interactive online platform called UNU that mimics swarm behaviors found in nature such as among honeybees. Inside an UNU chatroom, anyone can propose questions, integrate noisy evidence, weigh competing alternatives, and converge on answers in synchrony. It is not just a theory. UNU works.
During beta testing, a swarm of seven people correctly predicted 11 of 15 Academy Award winners in 2015; a New York Times panel of critics correctly predicted just eight. This year, a much larger swarm of 55 people predicted Leonardo DiCaprio finally would receive an Oscar. He won for best actor. Most remarkably, an UNU swarm correctly predicted the first- through fourth-place winners in the Kentucky Derby, turning $20 into $11,000. In most cases, UNU swarms of people with some knowledge make better predictions collectively than single experts with lots of knowledge individually.
UNU could provide an interesting alternative to improve its filtration process by changing the way the Navy executes promotion boards. Selecting the most qualified people from a pool of candidates is something for which UNU is well suited. In the case of Navy promotion boards, each person in the UNU swarm (including people of diverse ranks) would have the opportunity to study each candidate independently before taking part in the group evaluation. Swarm intelligence selections would likely represent the selection board's consensus better than if a system of voting or surveying was used.
To that point, in a recent survey—published in the white paper "Swarm Intelligence Evokes Optimized Priority Setting in Diverse Groups"—43 participants were asked independently to determine next year's priorities for the U.S. President and Congress. The same group then was asked to make the determination by participating in a swarm. Overall, the swarm's priorities were more specific, measurable, and achievable (e.g., repair crumbling infrastructure) than the survey results (e.g., eliminate poverty). Furthermore, two-thirds of the participants said they thought the swarm results were a better representation of the group's consensus.
The bottom line is tight filtration ensures a greater diversity of perspectives in lower ranks. Since diversity enhances the quality of decisions, leaders can use artificial intelligence swarms such as UNU to decentralize the effort of research to the edges of the organization and scoop up a wider swath of inputs from junior officers during operational planning.
In the Crew's Hands
That said, the Navy's leadership filtration process is not going to change anytime soon, and we do not yet have UNU available on board our ships. In the meantime, maybe we can pull some key principles out of leadership filtration theory and article swarm intelligence to help operational planners succeed:
• Good ideas have no rank. We must plan operations with a diverse group of people from all ranks.
• "Yes, and . . ." Nobody should point out why an idea is bad; rather, we should try to decipher the elements of an idea that are good and incorporate them into a larger plan.
• Integrate everyone's ideas in a meaningful way. Formally declare the group focus and accept everyone's contribution.
Leaders can employ these axioms to encourage their team to work together with the same resources and a deadline. These axioms naturally are followed in UNU, but even in the application's absence we still can function as a swarm.
Fluckey and his crew epitomized swarm behavior. They followed the first axiom—that good ideas have no rank—when they sought good ideas from every crewmember. They followed the second axiom— "yes and . . ."—when Fluckey welcomed everyone's ideas, "serious or silly." And they followed the third axiom—integrating ideas in a meaningful way—by convening both officers and enlisted crew together at the wardroom table around a chart to develop the operational plan.
Petty Officer Hatfield—the Barb's electrician who was quoted in Thunder Below!—represents the potential for innovation that comes from having diversity at the table. As a prior railroad worker, he had the key information that enabled the group to make an otherwise reckless plan a genuine possibility.
The same principles can and should be applied in the Navy. Analyzing traits of Stockdale Award winners, the most successful leaders seem to be those who consistently employ the three axioms. Conversely, reports on commanding officer and executive officer firings for "poor command climate" or "loss of confidence" suggest that these officers seldom capture the wisdom of their crews. Incorporating diverse perspectives from junior people is key to success, and more commanders need to put problems and planning in the hands of every sailor on board.
Lieutenant Brooks, a submarine officer, is the navigator in the USS Springfield (SSN-761). He graduated from the Naval Postgraduate School with a master's degree in electrical engineering in 2015 and served as a director fellow with the 35th CNO's Strategic Studies Group.
The Wisdom of the Crew
On 22 July 1945, the USS Barb (SS-220), under the command of Commander Eugene Fluckey, closed to inside 950 yards off the coast of Karafuto, Japan. The Barb's crew had developed a plan using improvised tools, explosives, and a contact switch to destroy a munitions train they had observed traveling along the coast. Launched in small boats under cover of darkness, the submarine's landing party evaded Japanese guards and carefully placed explosives under the tracks. The explosives completely obliterated the engine and the cars that followed.
Fluckey recalled the planning effort in his book Thunder Below! (University of Illinois Press, 2013):
[I] held on to Swish [Chief Gunners Mate Guns Paul Saunders], who would relieve the diving manifold. "Swish, spread the word on this train target throughout the boat. Everyone's ideas are welcome, serious or silly. We have no 'not invented here' bias. Believe me, that train is going to blow!"
Fluckey later explained the details of the planning process for the attack.
We took advantage of the lull to work on the train attack. Swish had some ideas to talk over, so he joined Max, Dave, Willy, [junior officers] and me in the wardroom with Hatfield, an electrician who had worked for a railroad in West Virginia. "Captain, Swish here has told me about your problem of blowing up the track and the train at the same spot. I can tell you what I think you need to substitute for that timer to accomplish this feat. Mind you, I've never done this myself, but it's one idea."
"Let's have it."
"Well, I would remove that timer switch. We all know that 55-pound super-torpex high-explosive charge has to be buried under the track to catch both track and train. It measures in inches about 14 by 14 by 16, so we dig a hole and put that between two ties. Then we dig a hole between the next two ties and bury the batteries that are wired to and actuate the charge. Now to complete the circuit we hook in a microswitch. We place it on the surface, between the next two ties. That's all there is to it."
"Sounds simple enough, but please explain to us simpletons just how do we set off the microswitch?"
"You don't, sir. The train does."
"Okay. How?"
"The rail sags underneath the weight of the engine. So we mount the switch on two wedges, slip it under the rail, the engine comes along, the rail sags, closing the switch, and she blows!"
I clapped Hatfield so hard on the back in my exultation that I nearly knocked him on the ground.
By capturing the wisdom of the crew, Commander Fluckey was able to accomplish missions others would have deemed impossible. Under his leadership the crew of the Barb devastated Japanese shipping during its patrols. Fluckey was awarded the Medal of Honor and four Navy Crosses for his exploits, and the crew of the Barb earned the Presidential Unit Citation.