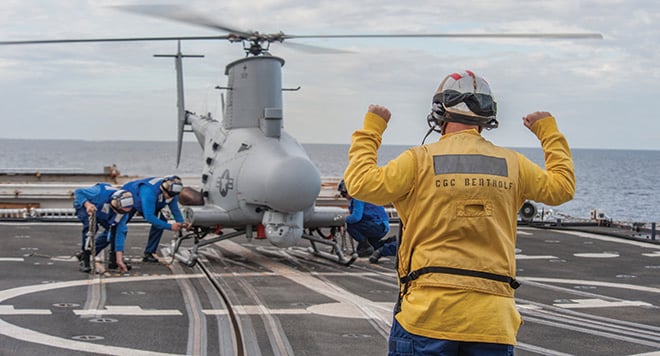 At the core of the Coast Guard's identity as a multimission service is the careful balance among its military, law enforcement, and humanitarian roles. Those roles occasionally conflict, requiring the service to weigh new capabilities or tactics for one mission against its ethos, its public image, and the impact on other missions. Prior evolutions in Coast Guard policy—such as arming all boarding team members in the 1980s and taking a more aggressive security posture post 9/11—generated both internal and external controversy. Soon the service will face another such decision as it contemplates how it will integrate unmanned systems—drones—into its force structure and operational concepts.
The Coast Guard trails the Department of Defense services in harnessing the transformative potential of unmanned systems. In fact, it is still in the midst of a two-decade-long endeavor to field a cutter-based unmanned aerial vehicle for intelligence, surveillance, and reconnaissance (ISR). The accelerating pace of unmanned system development, however, suggests that once the Coast Guard overcomes the initial barriers to integration with the cutter fleet, drones' potential quickly will evolve beyond the ISR role currently envisioned for them. Eventually, the Coast Guard will face a doctrinal Rubicon as it considers whether its airborne use-of-force (AUF) program should be augmented, or even replaced, by armed drones.
The technical barriers to using drones for such a role are dissolving; systems already exist that could be adapted for the purpose. The Coast Guard thus must weigh the potential advantages of pursuing the capability—which are substantial—against the possible domestic perceptions, adversary reactions, and strategic signaling to allies and partners. Once the risks are understood and mitigated, employing armed drones for AUF could be an evolutionary leap forward.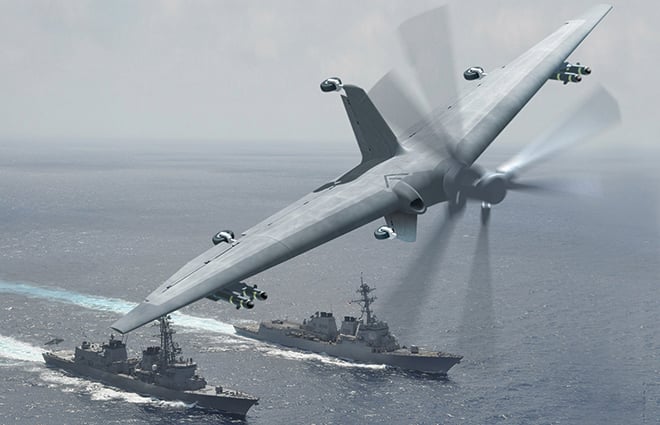 Operation New Frontier
For decades, the U.S. Coast Guard has endeavored to sever the maritime ratlines that transnational organized crime (TOC) networks exploit to smuggle South American cocaine and other contraband into the United States. Over a back-and-forth cycle of innovation and adaptation, the "go-fast" speedboat emerged as the drug-smuggling conveyance of choice. Go-fasts operated with impunity for years, as much slower Coast Guard cutters had no way to catch them. Then the Coast Guard undertook a secretive project in the late 1990s called Operation New Frontier (ONF).
ONF paired flight-deck-equipped cutters with over-the-horizon pursuit boats and armed AUF helicopters. These platforms worked together to compel go-fasts to heave-to using a graduated use of force that included warning shots from a door-mounted machine gun and, if necessary, disabling the vessel with precision fire directed into its engines. The program was an immediate success, with the initial proof-of-concept deployment resulting in a perfect detection-to-interdiction rate.1 The Coast Guard soon after stood up the Helicopter Interdiction Tactical Squadron (HITRON), which two decades later continues to contribute to dozens of interdictions and hundreds of millions of dollars' worth of narcotics seized each year.
Yet despite the effectiveness of the cutter-AUF helicopter force package, the Coast Guard interdicts fewer than one in five of the known narcotics shipments destined for the United States. Disrupting TOC networks requires more resources, particularly AUF-equipped cutters and Navy ships. The availability of the latter declined precipitously in 2015 with the retirement of the Oliver Hazard Perry (FFG-7)-class frigates, which frequently deployed on counterdrug patrols with Coast Guard tactical law enforcement teams embarked.
Since the Coast Guard likely will never wield enough cutters to form a floating phalanx across the maritime approaches to the United States, it must explore innovative ideas to break the stalemate. Unmanned systems may hold the key, and their ability to assume a frontline role in the war on drugs is within reach.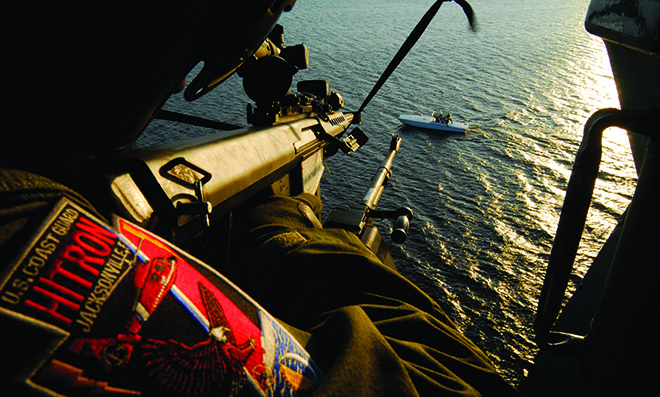 A Glimpse Into the Possible
The technology required to field unmanned systems for AUF either exists or is quickly maturing to allow for a variety of employment concepts. A logical first step to evaluate drone AUF viability would be to test an unmanned system that closely approximates the current manned AUF tactics, techniques, and procedures (TTP). This would require a helicopter drone that can launch and recover at sea, interface with a cutter by tactical data link, match the speed of a go-fast while maintaining a stabilized hover, and employ a continuum of force ranging from visual and audible signals to stop through warning shots and/or disabling fire.
The U.S. Navy's MQ-8 Fire Scout would provide a feasible baseline platform for an AUF drone. It can mirror the present AUF helicopter TTP while delivering immediate advantages in personnel protection and endurance. The Fire Scout has logged thousands of operational hours in a variety of roles and successfully completed testing and evaluation on several platforms, including the Coast Guard's national security cutter.2
The "B" variant nearly triples the sortie endurance of the HH-65 Dolphin, the Coast Guard airframe used for AUF, and has a 110 nautical mile operating range. The larger "C" model further increases speed, endurance, and payload capacity. The Navy is developing a variety of sensor and weapons configurations for the Fire Scout. Either the B or C model could be purpose-built for both an ISR and AUF role by configuring it with a surface search radar and day/night sensor package, blue light, spotlight, and long-range acoustic device for audible signaling. The armament requirements for unmanned AUF add another dimension of complexity but also are achievable.
Equipping a drone with the precision-fire capability required to disable a go-fast's engines while minimizing the chance of harm to the persons on board is challenging, but there are promising solutions. In 2009, the U.S. Army tested the autonomous rotorcraft sniper system (ARSS), a lightweight weapon platform capable of hitting a small moving target at 1,000 meters from a hovering rotorcraft. Developed in coordination with Space Dynamics Laboratory at the University of Utah, the prototype was built using primarily off-the-shelf technology, including a modified Xbox game controller, and could fire up to ten accurate shots per minute.3 The remote gun system design has since matured and completed testing in various roles, including successful target engagement from a Vigilante helicopter drone and UH-1 Huey helicopter. It achieves a high degree of accuracy using an inertial measurement unit that minimizes the effects of wind and motion and an internal computer that calculates ballistic offsets and hit probabilities several times a second based on ambient meteorological conditions.
An unmanned helicopter with a precision-fire system would be a game changer for the Coast Guard, but that is only one of many possible configuration concepts. Tilt-rotor and vertical-takeoff-and-landing designs such as the Defense Advanced Research Projects Agency's TERN could increase drastically the speed, range, and endurance of cutter-based aircraft and, by extension, the cutter's area of influence. Perhaps more significant, the trend toward drone miniaturization means many future models could be employed by smaller vessels, including those without flight decks, such as patrol boats. The U.S. Navy already has begun using small ISR drones on its 179-foot Cyclone (PC-1)-class ships.4 By adapting similar systems, the Coast Guard could launch and recover a variety of drones from its planned fleet of 58 fast-response cutters (FRCs), which lack a flight deck but are equipped with an over-the-horizon cutter boat and a C4ISR suite comparable to larger cutters. Pairing FRCs with small armed drones could more than double the number of possible cutter-AUF force packages in the Coast Guard fleet with no change to the cutter program of record.
The question moving forward is not whether armed drones can be employed effectively by the Coast Guard, but rather should they be. The answer requires consideration of many nontechnical factors.
Heeding Hamilton's Charge
The decision to arm drones for law enforcement missions highlights the delicate balance between compelling compliance and preserving public confidence in use of force policy. Coast Guardsmen are keenly aware of the force-trust balance. Addressing officers of Coast Guard predecessor the Revenue Marine, Alexander Hamilton noted that U.S. citizens are freemen and "impatient of everything that bears the least mark of a domineering spirit." That guidance continues to resonate in the service's identity, doctrine, and culture. If arming drones would undermine public support for the Coast Guard, that course would best be avoided.
Certainly the prospect of armed drones bearing a Coast Guard racing stripe and operating throughout the Western Hemisphere would give many Americans pause. Concerns were raised about arming Coast Guard helicopters for counterdrug operations 20 years ago, but drones carry a different connotation because of their novelty and hunter-killer reputation. The perception of the American public may be shifting, however, as drones transition from exotic to mainstream. Like driverless cars and quadcopter package delivery, the growing ubiquity of drones' envisioned usage may inure (if not endear) the public to the gradual replacement of manned systems with unmanned equivalents.
Recent developments in the arming of police drones may offer a bellwether to gauge their wider acceptance for law enforcement. In 2015, North Dakota became the first state to legalize the use of armed drones by police, although the law limited their weapons to the less-than-lethal variety.5 In 2016, Connecticut's state legislature considered a bill that would have prohibited equipping any drone with a weapon, but with an explicit exception for law enforcement. The bill died in committee, but not before generating national headlines and passionate advocates both for and against the idea.6 Arguments in favor highlighted the drones' value to public and officer safety in responding to high-risk situations such as an active shooter. Those against expressed concerns about the risk to civil liberties, over-militarization of police, and the danger of starting down a slippery slope that could lead to a dystopian future.
Arming Coast Guard drones may be polarizing domestically, but emphasizing AUF's long record of success as a nonlethal interdiction method, and the potential for drones to make it safer and more effective still, may mitigate negative perceptions. One public relations advantage the Coast Guard would have is the reputation of the AUF program, which has been the subject of several documentaries and even a cameo in Bad Boys II (albeit with some creative liberties with TTP). Arming drones for a role that is already understood and accepted would be more palatable to a skeptical public than immediately using them for novel missions or, worse, keeping the nature of their mission ambiguous.
Red Team Perspective
The Coast Guard also must consider how U.S. adversaries, allies, and peers will react to its use of armed drones. Anticipating second- and third-order effects requires careful analysis, which could be facilitated by the wargaming process and employment of red teams. Following are examples of some of concerns that would likely arise:
Adversaries: Overseas, military drones already are despised by many. Adversaries would welcome the opportunity to reinforce the anti-U.S. narrative by sensationalizing their expansion from a combat role to law enforcement. Further, if AUF-configured drones began to increase the interdiction success rate, TOC networks would be incentivized to change tactics. Perhaps they would shift from go-fasts to more self-propelled semisubmersibles (SPSS) and other low-observable platforms to evade detection. Very likely they would explore using drones of their own for countersurveillance and contraband shipment (which may happen anyway). The crew of a go-fast also might be less reluctant to fire at a drone than a manned helicopter.
Allies: The Coast Guard relies on international partnerships to perform its counterdrug mission. It maintains 45 bilateral agreements and operational arrangements that are necessary to gain access to foreign territorial seas and board foreign-flagged vessels. Many of those nations may have concerns about the idea of the Coast Guard using armed drones in their seas or on their vessels or citizens.
Peers: The U.S. Coast Guard sets an example that other nations emulate. Acquiring armed drones for law enforcement could trigger escalation in kind by other coast guards and navies. One particular reaction to consider would be that of China, which currently is building a vast fleet of coast guard and navy ships and is a global leader in drone technology. How China will use its coast guard to enforce maritime claims remains to be seen, but so far even the largest of its coast guard vessels (which displaces more than a U.S. Navy cruiser) is lightly armed. Were China to follow the U.S. Coast Guard's lead, its development of armed law enforcement drones would further complicate the balance of power dynamic in a volatile region.
The Long View
The Coast Guard's dual military-law enforcement status makes the service a natural lead for exploring the realm of drone potential between Hellfire-equipped Reapers and GoPro-equipped quadcopters. Using drones for maritime surveillance is a low-risk, high-reward first step that the Coast Guard hopefully will achieve soon. Where to go from there is a conversation that needs to happen now, because the possibilities are vast and once-distant horizons are quickly approaching.
Airborne use of force may be the ideal mission to test the advantages of armed drones for Coast Guard law enforcement operations because it is nonlethal by design, directly supports the Commandant's priority of combating TOC networks in the Western Hemisphere, and, if successful, could create a cascading effect leading to further innovations relevant to other missions. It is not a leap to take without deliberation, but it may prove to be the next new frontier.
---

1. The USCGC Gallatin (WHEC-721) and USCGC Seneca (WMEC-906) completed the first proof-of-concept operational evaluation of Operation New Frontier in 2000. During their patrol, they detected and successfully interdicted six go-fast vessels.
2. Alexander Nguyen, "Coast Guard Tests Unmanned Helicopter for Surveillance Use," Times of San Diego, 19 December 2014.
3. David Hambling, "Army Tests Flying Robo-Sniper," Wired, 21 April 2009.
4. Ryan D. McLearnon, "U.S. Ships Utilize Small Eye in the Sky," U.S. Navy Media, 3 August 2016.
5. Gregory Ferenstein, "Weaponized Drones for Law Enforcement Now Legal In North Dakota," Forbes, 26 August 2015.
6. Andrew Blake, "Lawmakers Ponder Armed Drones for Connecticut Police," The Washington Times, 2 March 2016.
---
Lieutenant Commander Allen is a cutterman currently assigned to the Office of Defense Operations at Coast Guard Headquarters.