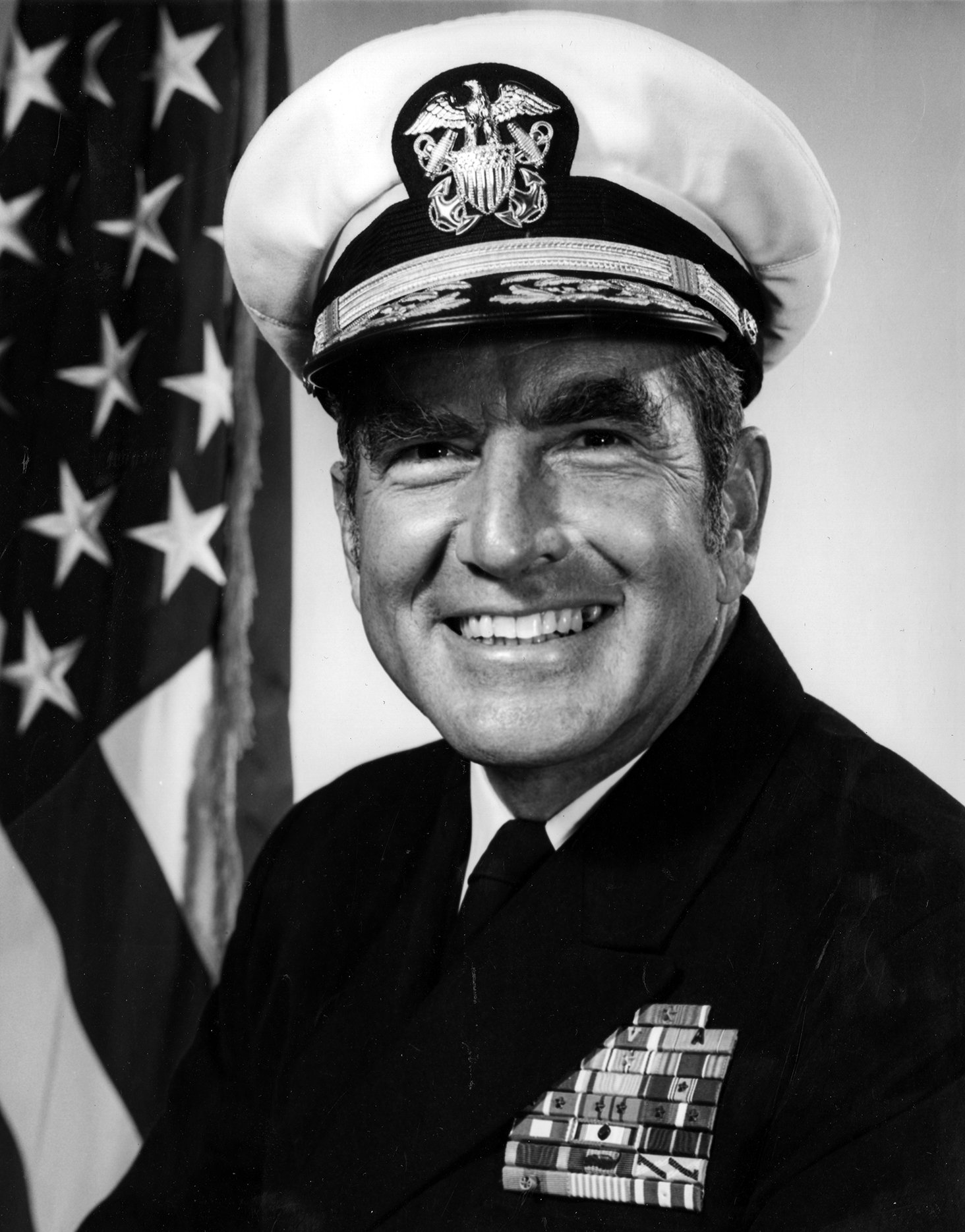 Zumwalt, Elmo Russell Jr. (Bud), Adm., USN (Ret.)
(1920–2000)
Admiral Elmo "Bud" Zumwalt was one of the best-known U.S. naval officers from the second half of the 20th century. As Chief of Naval Operations from 1970 to 1974 he made sweeping changes. In his memoir On Watch, published in 1976, the admiral discussed the CNO years in great detail and provided brief glimpses of his life and naval service in the years leading up to 1970. The oral history complements that published book by focusing almost completely on the pre CNO period.
The account starts with his boyhood in California and proceeds to his 1942 graduation from the Naval Academy. During World War II he served in the destroyers USS Phelps (DD-360) and USS Robinson (DD-562); in the latter he was in the 1944 Battle of Surigao Strait. Postwar sea duty was in the USS Saufley (DD-465) USS Zellars (DD-777), and destroyer escort USSTills (DE-748). He was an NROTC instructor at North Carolina and in the Korean War navigator of the battleship USS Wisconsin (BB-64).
Later in the 1950s he was at the Naval War College and in the Bureau of Naval Personnel, and he commanded the destroyer USS Arnold J. Isbell (DD-869) and the guided missile destroyer leader USS Dewey (DLG-14). In the 1960s he was a student at the National War College and then served as executive assistant to Paul Nitze, who was in the Department of Defense and later Secretary of the Navy. After Zumwalt's early selection in 1965 for rear admiral, he commanded Cruiser-Destroyer Flotilla Seven and headed the Systems Analysis Division of OpNav. He served 1968-70 as Commander U.S. Naval Forces Vietnam and from that position was selected as Chief of Naval Operations.
Volume Information
Based on nine interviews conducted by Paul Stillwell from August 1982 to January 1986. The volume contains 560 pages of interview transcript plus an index. The transcript is copyright 2003 by the U.S. Naval Institute; the interviewee has placed no restrictions on its use.