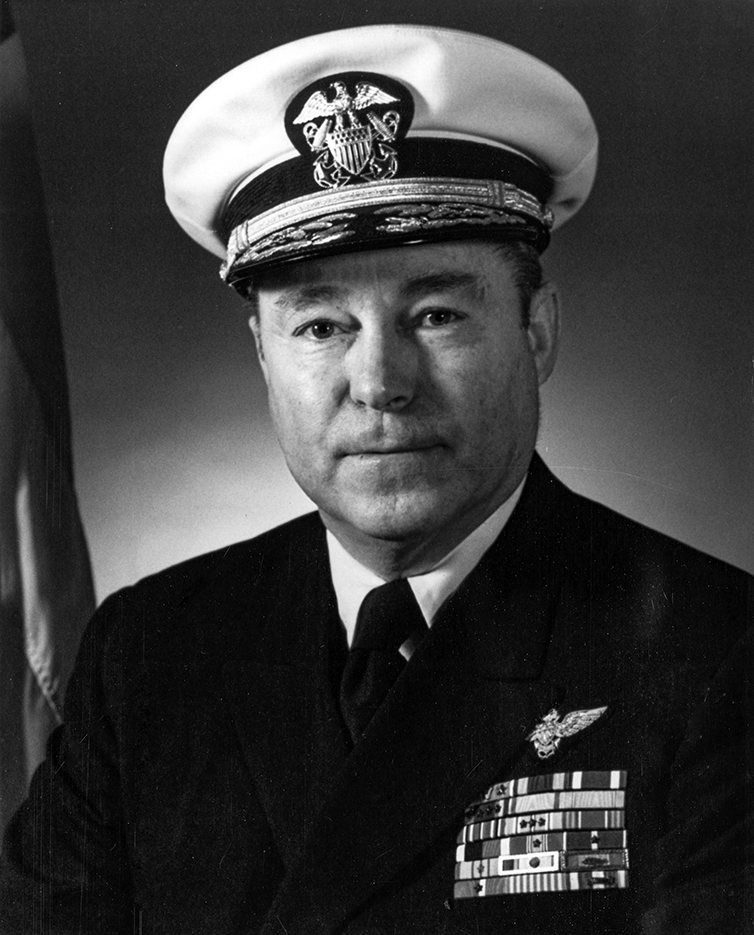 Shelton, Doniphan B. (Don), Rear Adm., USN (Ret.)
(1921–2021)
Following boyhood in Missouri, Shelton entered the Navy in 1939 as an enlisted man. He served in the battleships USS New Mexico (BB-40) and USS California (BB-44) before attending prep school and then the Naval Academy, from which he graduated in 1944. He had wartime duty in the light cruiser USS St. Louis (CL-49) before completing flight training. He was among the Navy's pioneers in night fighter operations and later served as a test pilot. Squadrons over the years included VF-1E, VCN-1, VC-3, and VC-124. He commanded Fighter Squadron 92 and Carrier Air Wing 17; the latter was in the USS Ranger (CVA-61).
He had a role in the introduction of the F7U Cutlass into the fleet. His ship commands during the Vietnam War were the ammunition ship USS Paricutin (AE-18) and the amphibious assault ship USS Tripoli (LPH-10). He attended the Naval War College and had several tours of duty on the OpNav staff. Included in the latter was work in the Politico-Military Policy Division, particularly in connection with Pan-American affairs. In 1973-75 he commanded U.S. Naval Forces Philippines and later served as director for plans (J-5) on the CinCPac staff before retiring in 1979. His tour in the Philippines was noteworthy because of the hosting of South Vietnamese refugees at Subic Bay after their country was overrun in the spring of 1975.
About this Volume
Based on two interviews conducted by Paul Stillwell in February 2000. The volume contains 263 pages of interview transcript plus an index. The transcript is copyright 2003 by the U.S. Naval Institute; the interviewee has placed no restrictions on its use.