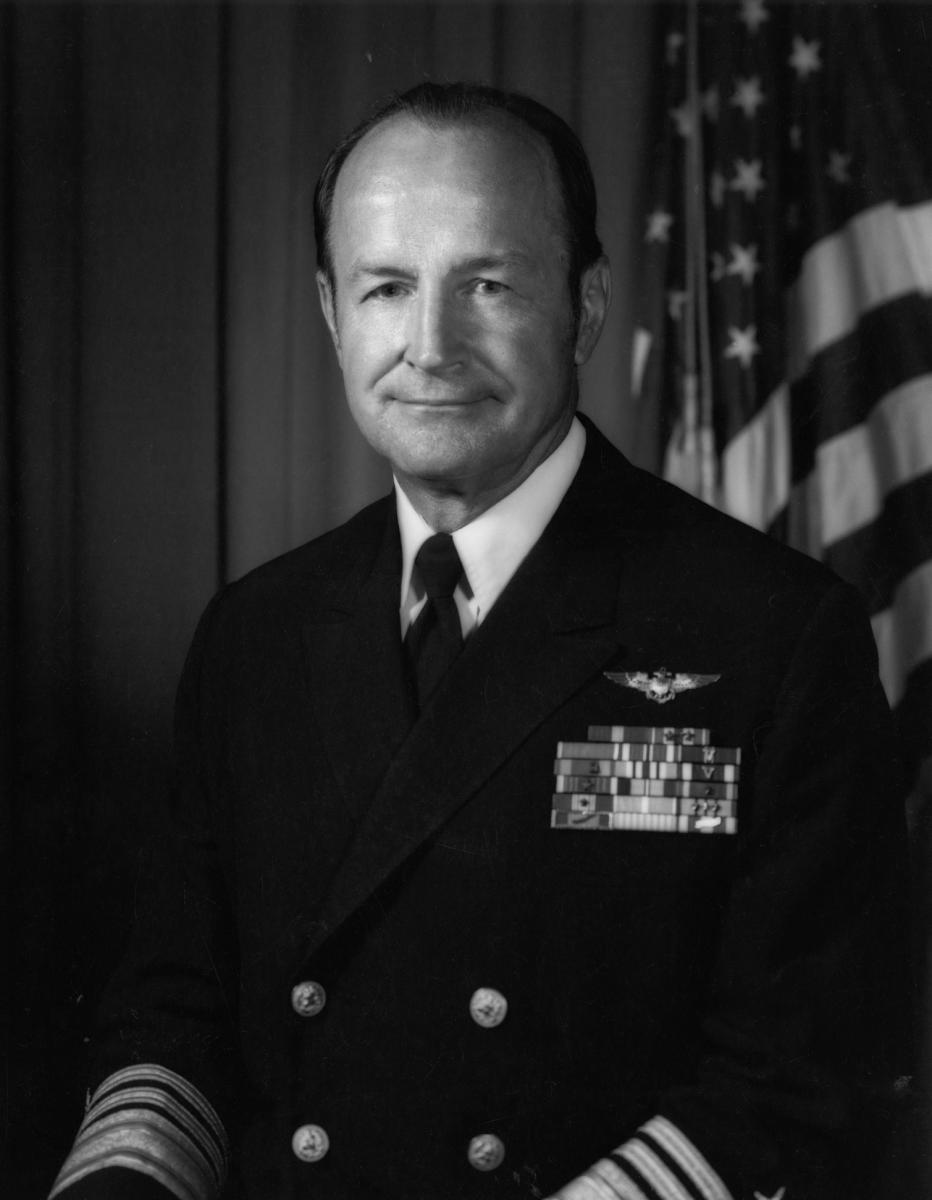 Lawrence, William P. (Bill), Vice Adm., USN (Ret.)
(1930–2005)
This memoir reveals a great deal about the character and personality of an individual who lived his life with a thoroughgoing sense of honor. As a midshipman he was a leader in devising the Naval Academy's honor concept.  During his five and a half years as a prisoner of war in Vietnam, he was stalwart in his resistance to his captors. His achievement has been honored by the naming of the guided missile destroyer USS William P. Lawrence (DDG-110). His oral history is a treasure trove of material on the Naval Academy, both during Lawrence's midshipman years and in his tenure as superintendent, during which the first women graduated. Throughout the volume, the values of his native Tennessee come through.  dmiral Lawrence told his story with integrity and candor. After his graduation from Annapolis in 1951, Lawrence took flight training and became a member of Fighter Squadron 193 (VF-193), 1952-55, during a time of pioneering work in night carrier operations by jets. Among his shipmates was future astronaut Alan Shepard. Lawrence was subsequently a test pilot for the F8U-3 Crusader III and, on the staff of Commander Carrier Division Six, served as flag lieutenant to future Chief of Naval Operations Thomas H. Moorer. After duty in 1960-61 in Fighter Squadron 101 (VF-101) to prepare for the fleet introduction of the F-4 Phantom II, Lawrence took a break from naval aviation to serve as navigator of the heavy cruiser USS Newport News (CA-148). While he was in Fighter Squadron 14 (VF-14), 1962-64, it transitioned from the F3H Demon to the F-4.
He served 1964-66 as executive assistant to Commander in Chief Strike Command, Army General Paul D. Adams. Lawrence was XO and then CO of Fighter Squadron 143 (VF-143) from 1966 until he was shot down over North Vietnam in 1967, then was a POW until his release in March 1973. After being repatriated, he spent a year at the National War College, was selected for flag rank, and in 1974-75 commanded Light Attack Wing Pacific Fleet. From 1975 to 1978 he was in OP-05, the office of the DCNO (Air Warfare) in the Pentagon. From 1978 to 1981, as a vice admiral, Lawrence was superintendent of the Naval Academy. He commanded the Third Fleet, 1981-83, including running two multi-carrier exercises in the North Pacific. His final tour of active duty, 1983-85, was as Chief of Naval Personnel when John F. Lehman Jr. was Secretary of the Navy. Lawrence retired on disability because of a case of depression that lasted until his cure in 1989. The oral history discusses his illness openly. His post-retirement activities included writing, teaching, speaking, and serving as president of the Association of Naval Aviation.
Transcripts of this oral history are available in many formats including bound volumes, and digital copies.
Order Oral History
"28,000 Pounds of Thrust"
In this clip from his oral history, Vice Admiral Lawrence discusses how he took an XF8U-3 Crusader to Mach 2 in 1958, becoming "the first naval aviator to go twice the speed of sound in a Navy airplane."
Admiral Lawrence: The F8U-3 had the same basic plan form configuration as the F8U-1 — the two-position wing, everything.[*] But it had a much thicker fuselage, because it had a J75 engine, which had the capability of about 28,000 pounds of thrust. The old F8U-1 had a J57, which was about 18,000 pounds of thrust. So you had a 10,000-pound thrust increase, and so that made it Mach 2 capable. I was selected to be the project pilot on that.
The F4H had the two J79 engines, and they gave it about 30,000 pounds of thrust.[†] Dick Gordon, who later on was an astronaut, was the project pilot for that.[‡] Other members of the team were Captain Bob Elder, who's one of the famous naval aviators; Commander Larry Flint, who went on to distinguish himself, some high-altitude records; and Commander Don Engen, who retired as a vice admiral.[§] We were the principal members of the team that did the joint evaluation.
So we went out to Edwards Air Force Base to fly these airplanes.[**] Captain Bob Elder, as our team leader, decided he would do the first flight in the F4H, and he would let Commander Larry Flint do the first flight in the F8U-3. The manufacturer was just McDonnell in those days; it wasn't yet McDonnell Douglas.[††]Mr. Mac, the old Mr. McDonnell who formed that company, controlled everything in that company.[‡‡] He was very, very conservative, so even though his own pilots had flown the F4H on quite a few flights-he laid down the requirement that on that first flight by a Navy pilot, he should only go out to 1.5 Mach number. The pilot should just do some maneuvering and come back in and do some slow flight, practice landings, and so forth.
Well, it was my plan, as the project officer of the F8U-3, that on our first flight, if it felt comfortable, we were going to fly 2.1 Mach number. Larry Flint was going to take the first flight about the same time as Bob Elder taking the first flight in the F4H.[§§] We were briefing for the flight, and Larry Flint was very hoarse. Finally, he turned to me and said, "Hey, Bill, you're going to have to take this flight, because I don't feel too good. I'm coming down with some laryngitis and a fever."
I said, "Great, I'll take it." So I took the first flight in the F8U-3, and I got airborne just about the time as Bob Elder in F4H. He went out to 1.5 Mach number, and I went out to 2.1, so I became the first naval aviator to go twice the speed as sound in a Navy airplane.
---
[*] The plan form is the view looking down from above the airplane.
[†] The McDonnell Douglas F4H Phantom II first entered fleet squadrons in 1961 as the F4H; it was redesignated F-4 in 1962. It was a two-seat airplane with the pilot in the front and the radar intercept officer (RIO) behind him. The F-4B version had the following characteristics: length, 58 feet; wingspan, 38 feet; gross weight, 54,600 pounds; top speed, 1,485 miles per hour. It was armed as a fighter with either Sparrow or Sidewinder missiles and also could carry bombs. It had a maximum external stores capacity of 16,000 pounds.
[‡] Lieutenant (junior grade) Richard F. Gordon Jr., USN.
[§] Captain Robert M. Elder, USN; for a detailed article on his career, see Barrett Tillman, "Where Are They Now? Bob Elder," The Hook, Fall 1989, pages 12-17. Commander Lawrence E. Flint Jr., USN; Commander Donald D. Engen, USN; his oral history is in the Naval Institute collection and includes discussion oft he testing of the F8U-3.
[**] Edwards Air Force Base is on the border of Kern County and Los Angeles County, California, about seven miles east of Rosamond. It is located next to a dry lake that provides an extension of the base's runways. Edwards has long been used for experimental flight testing.
[††] In 1967 the McDonnell Aircraft Corporation merged with the Douglas Aircraft Company to form the McDonnell Douglas Corporation. A merger with Boeing in August 1997 produced the Boeing Company.
[‡‡] James S. "Mac" McDonnell (1899-1980) founded the McDonnell Aircraft Corporation in 1939.
[§§] This test was in September 1958.
About this Volume
Based on 22 interviews conducted by Paul Stillwell between September 1990 and March 1991, the volume contains 612 pages of interview transcript plus a comprehensive index. The transcript is copyright 2011 by the U.S. Naval Institute; the interviewee placed no restrictions on its use.