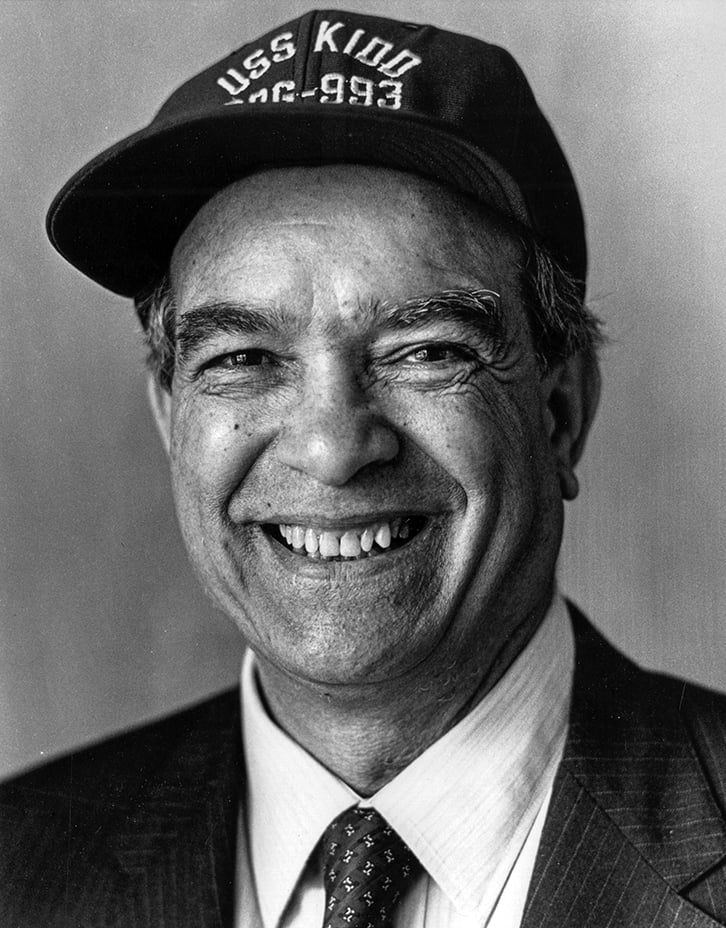 Hair, James E. — Member of the Golden Thirteen
(1915–1992)
As the member of a large family, Mr. Hair grew up in South Carolina and Florida at a time when life in the South was still rigidly segregated.  In 1935 his brother-in-law Estes Wright, a man Hair idolized, was lynched.  For two years Hair studied at Bethune-Cookman College in Daytona Beach, Florida, and worked with the noted educator Mary McLeod Bethune.  He subsequently held various jobs before entering Xavier University in New Orleans and completing his bachelor's degree in 1942.  Mr. Hair enlisted in the Navy in July 1942 and then underwent recruit training and specialized training in the quartermaster rating at Great Lakes, Illinois.  In 1943 he served in the crew of the Navy tugboat Penobscot (YT-42), based in New York City.  He went through officer training at Great Lakes in early 1944 and in March of that year was commissioned as one of the Navy's first black officers, a group that came to be known as the Golden Thirteen.  Mr. Hair commanded the Navy tugboat YTB-215 in the New York City area in 1944-45 and in the spring of 1945 joined the crew of the destroyer escort Mason (DE-529).  In 1946 he was first lieutenant on board the tank landing ship LST-1026, which operated in the Far East.  After leaving the Navy in 1946, Mr. Hair received postgraduate education in social work and had a long career in that field, mostly in New York City.  In his later years he and other members of the Golden Thirteen were active in promoting naval service.
Transcripts of this oral history are available in many formats including bound volumes, and digital copies.
Order Oral History
About this Volume
Based on two interviews conducted by Paul Stillwell in November 1986 and November 1998.  The volume contains 220 pages of interview transcript plus a comprehensive index.  The transcript is copyright 2011 by the U.S. Naval Institute; the interviewee placed no restrictions on its use.