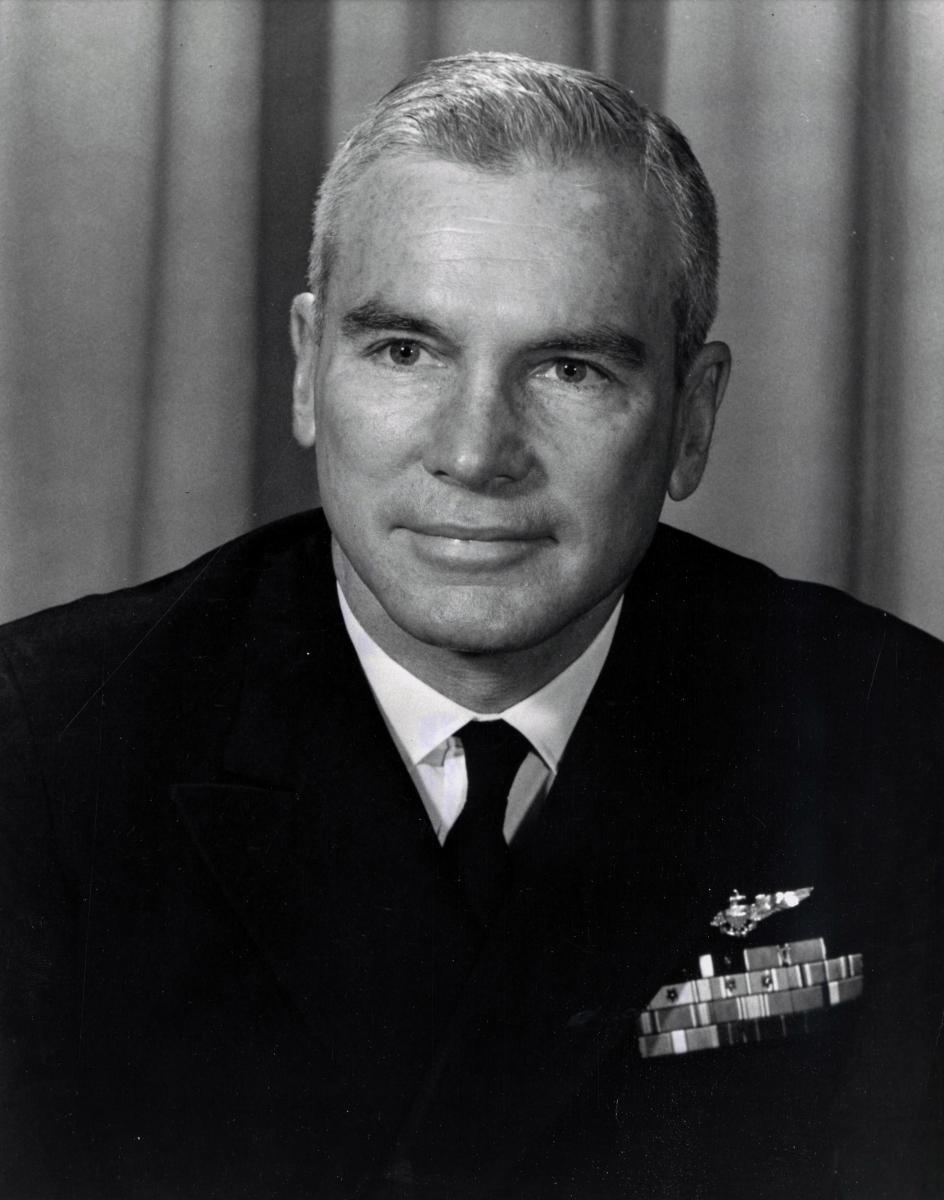 Gayler, Adm.Noel A. M., USN (Ret.)
(1914–2011)
Gayler grew up in a Navy family and thus was exposed to a variety of locales as a youth. He attended a West Point prep school in Hawaii before entering the Naval Academy, from which he graduated in 1935. As a junior officer, he served in surface ships: the battleship USS Maryland (BB-46), 1935-38; destroyer USS Maury (DD-401), 1938-39; and the destroyer USS Craven (DD-382), 1939-40. He received flight training at Pensacola, Florida, in 1940, and then served in Fighting Squadron Three (VF-3) and Fighting Squadron Two (VF-2) from 1940 to 1942. He was one of the Navy's first fighter aces in World War II; his carrier, the USS Lexington (CV-2), was lost in the Battle of the Coral Sea.  Subsequently, he served 1942-44 as a test pilot, commanded Fighter Squadron 12 (VF-12) in 1944-45, and from May to September 1945 was on the staff of Vice Admiral John S. McCain. Gayler served 1946-48 as executive officer of the Special Devices Center, Office of Research and Inventions, Fort Washington, New York, and as operations officer of the escort carrier USS Bairoko (CVE-115), 1948-49. From 1949 to 1951 was in the Fighter Design Branch, Bureau of Aeronautics and from 1951 to 1954 commanded Air Development Squadron Three (VX-3). Tours in the mid-1950s included the Air Warfare Division, Military Requirements Branch, of OpNav; command of the seaplane tender USS Greenwich Bay (AVP-41); and as operations officer on the Pacific Fleet staff. From 1957 to 1959 he was aide to Secretary of the Navy Thomas S. Gates Jr., then commanded the aircraft carrier USS Ranger (CVA-61) in 1959-60. In 1960-62 he was U.S. Naval Attaché in England; in 1962-63 commanded Carrier Division 20; and from 1963 to 1967 served as Assistant DCNO (Development). Gayler was Deputy Director of the Joint Strategic Target Planning Staff from 1967 to 1969 and from 1969 to 1972 was Director of the National Security Agency. His final active-duty tour, 1972-76, was as Commander in Chief Pacific, during the end of the Vietnam War. Admiral Gayler's oral history is noteworthy for his discussion of nuclear weapons. Early in his career he was involved in developing tactics for delivering such weapons; later he campaigned for the abolition of them.
Interview
In the following selection, taken from the third of nine interviews with Paul Stillwell in the admiral's office at the American Committee on East-West Accord in Washington, D.C. in December 1983, Admiral Gayler relates a peculiar incident during the sinking of the Lexington in the Battle of the Coral Sea.
Admiral Gayler: It was at least two and a half or three hours from the time I landed until the time the captain gave the orders to abandon ship. There was a lot of things going on, explosions in the ship. One main plane elevator went up on a column of fire and turned over and landed on the deck with a clang. There was a lot of concern about fighting fires. I was trying — fruitlessly, it turned out — to get another strike organized, because I knew there was at least one undamaged carrier in the Japanese force. At the time, we thought the planes would be able to launch, but we found out we couldn't fuel, so that was the end of that. But I spent a lot of time on that. I was mustering people in the squadron and rushing around taking care of squadron business while all the rest of the fire fighting was going on.
Finally, we were sort of driven by the fire to the extreme end of the ship, the stern. I know you've heard this story, but the ship's service ice cream plant was in the extreme port quarter, and some clown passed the word that there was free ice cream. So while they were abandoning ship, sailors were lining up for free ice cream. Of course, they puked it up as soon as they had been swimming in salt water a little while. People don't realize how young they were. God, they were only 18 or 19-20 at the most.
About this Volume
Based on nine interviews conducted by Paul Stillwell between October 1983 and July 1984, the volume contains 345 pages of interview transcript plus a comprehensive index. The transcript is copyright 2012 by the U.S. Naval Institute; the interviewee placed no restrictions on its use.