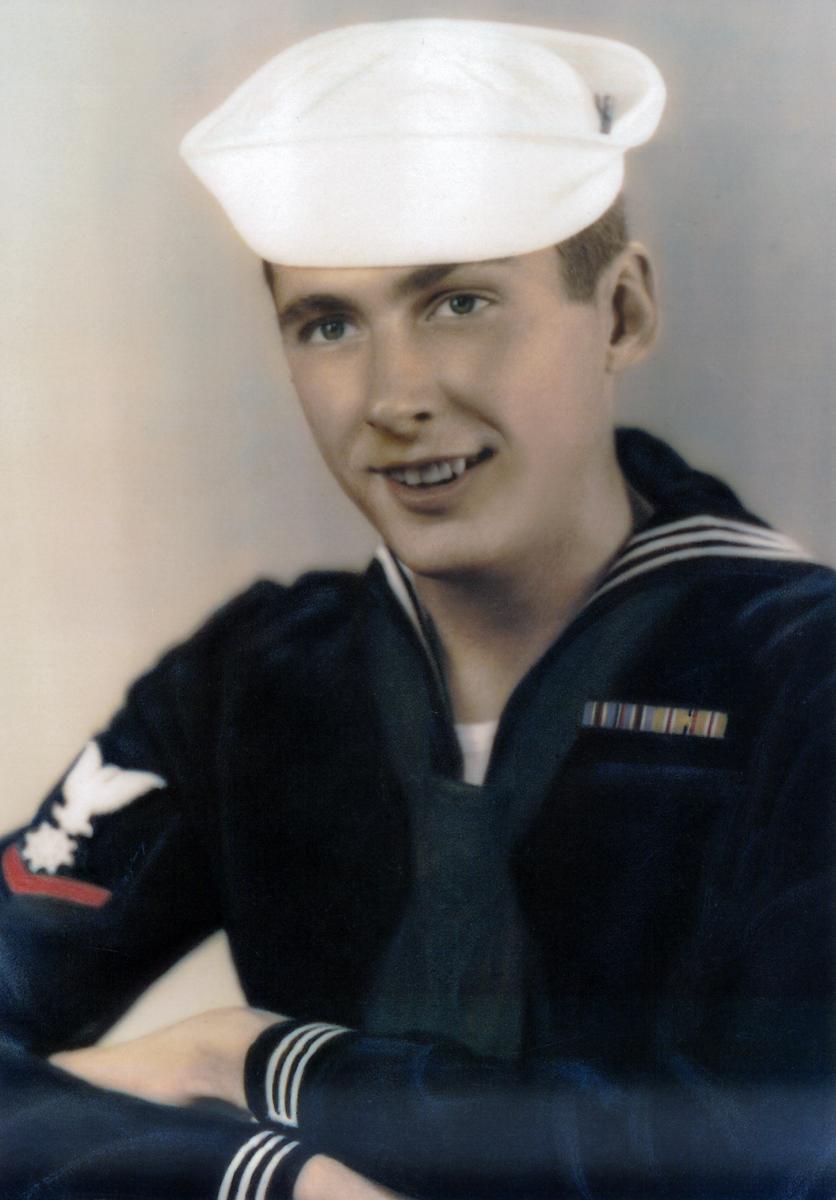 Bond, Roger L.
(1925–2011)
In this engaging memoir, based on two interviews conducted by Paul Stillwell in October 1987, former Quartermaster 3rd Class Bond serves as a representative for hundreds of thousands of enlisted men whose only active military service was during World War II. He enlisted in the Navy in 1942, took boot training at San Diego, and then reported to the destroyer USS Saufley (DD-465). He was on board for operations around the Solomons late in 1942. In 1943 he joined the navigation gang of the aircraft carrier USS Saratoga (CV-3), which had been in commission since 1927. Bond paints a vivid word picture of the living and working conditions in a ship that was outdated but still called upon to take part in a modern war. He talks about the ship's air operations against the Japanese, including a stint in the Indian Ocean with the British. He provides a valuable discussion of the professionalism of the ship's quartermasters.
Detached from the Saratoga in 1945, Quartermaster Bond was attached to the patrol craft USS PCE(R)-858, commonly known as a "Peecer," and served during her shakedown cruise, training cruises, and her role in minesweeping operations around Japan after the war was over. He was discharged in 1946 and had a successful career in the trucking industry.
Transcripts of this oral history are available in many formats including bound volumes, and digital copies.
Order Oral History
Memoir
In this selection from his second interview at his daughter's home in Oakdale, Minnesota, Quartermaster Bond relates a humorous incident steering the PCE(R)-858 down the Illinois River on a delivery run from the building yard to the Navy in New Orleans.
Quartermaster Bond: You know, when you're at deep sea one thing you don't ever want to do is run aground — certainly not on purpose. But I remember one time when we were coming along and just sort of drifting with the current. There was a railroad bridge and this just unending train of coal cars going across. Finally, the pilot said, "Well, just run her ashore right over there. That's a nice place."
"What do you mean?"
He says, "Just nose her in. We'll wait for the train." So we waited for the train, and the train left, and we just backed off. But he said he parked there a lot of times.
Paul Stillwell: Did the bridge then open up?
Quartermaster Bond: Yes, then the bridge opened up and we went through. We were getting into Peoria towards the evening, and it was getting dark. He said, "Now, when you hear a dog barking ahead, I want you to come right, right away. Don't wait for me."
We were going along, and there was this big bluff up ahead. All of a sudden I heard a dog bark. He said, "Come right, come right!" So I came right, and the river made a right-angle turn.
I said, "What's going to happen when that dog dies?"
He said, "The next guy's going to have problems. But after that everybody will know."
About this Volume
The volume contains 260 pages of interview transcript plus an index. The transcript is copyright 1995 by the U.S. Naval Institute; the interviewee has placed no restrictions on its use.