Antisubmarine warfare (ASW) capability can be expensive. Most navies use shipborne helicopters to employ dipping sonars and—sometimes—sonobuoys. Typically, the ship (often a frigate) makes an initial detection through its own long-range hull-mounted or towed-array sonar. The helicopter then moves in to confirm and prosecute a contact. But in peacetime, frigates and helicopters have other duties, and the ASW loadout is heavy, particularly the dipping sonar. This imposes a fuel cost with an impact on patrol time and range. Competing demands also affect crew expertise, as ASW is a perishable skill.
At the October 2018 Euronaval trade show, Ultra Electronics offered one possible solution—its Sonobuoy Mission Pod, suitable for helicopters and unmanned aerial vehicles (UAVs). The concept raises important questions about the possibility of relocating expertise, in this case from aircraft to an ASW center on board a ship—or even ashore.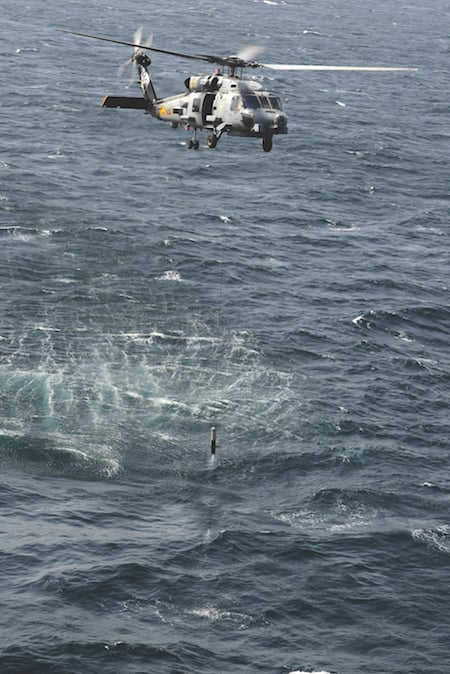 The company's field-changeable pod carries small sonobuoys and an optional processing unit that communicates with a remote command center. This allows a navy to eliminate the cost of maintaining dedicated ASW aircraft—and their expensive crews. Ultra's miniature buoys (G- and F-size) are lightweight. The company offers pods carrying 25, 40, or 63 of them. The effects of Moore's Law (the idea that processor density doubles every 18–24 months) have made buoys both more affordable and more capable, raising the possibility that fields of buoys might be viable substitutes for dipping sonars.
Navies always have to balance the demands of peacetime (which is most of the time) with the very different ones of a possible war. Cold War–era NATO navies spent heavily on ASW capability, but that spending had peacetime value, because the Soviets constantly challenged NATO fleets with submarines. Demonstrated NATO ability to track (and therefore destroy) Soviet submarines was valuable for deterrence. With the demise of the Soviet threat at the Cold War's end, many NATO navies discarded frigates optimized for wide-area ASW. To the extent ASW continued to attract attention, it did so primarily in terms of the demands posed by diesel-electric submarines operating in littoral waters. 
Large-scale ASW has always been expensive because it has always been about numbers—large numbers of assets to deal with the vast ocean spaces in which enemy submarines can operate; large numbers of potential targets in need of protection; and large numbers of skilled, expert ASW practitioners to cover the spaces and targets. Ultra is suggesting a way past this problem. 
The company's key argument is that the expertise can be concentrated in control centers to deal with the mass of information collected by the remote pods and vector attack assets into position (perhaps armed ASW UAVs) in the few cases in which a threat is present. The experts—the specialist crews—and their need for continual practice probably represent the greatest cost in any ASW system. But because absolute submarine numbers are small (China possesses about 70 nuclear- and diesel-powered subs; Russia, about 60), only a few ASW experts can be expected to be prosecuting contacts at any given time. Thus, concentrating experts in a small number of control centers might make sense.
The MH-60R is an antisubmarine warfare helicopter. It possesses capabilities, such as the dipping sonar shown, that might better be included in payload modules that could be employed by a wide variety of manned or unmanned airframes. Data analysis and control could then pass to centers on ships or even ashore. U.S. Navy (Kenneth Abate)
Against this is the possibility that submarines may concentrate in numbers. World War II German submarines sometimes operated in packs specifically to saturate defenses. Inundation almost certainly was a tactic employed in Soviet operations against carrier battle groups; the Soviets were much enamored of massed, coordinated operations. (To that end, they incorporated submarine-to-submarine links in their integrated sonars.) Since the Chinese learned the art of submarine warfare from the Soviets, they might well have doctrine for group operations against U.S. carriers. If that is true, the U.S. Navy may find itself requiring decentralized ASW, the aircraft benefiting from a carrier ASW center if not quite being controlled from it. 
Centralization creates risks, even without packs to defend against. How vulnerable is the link between pod and tactical center? High-capacity communication beyond line-of-sight generally depends on satellites. But in an era of likely space warfare, satellites are increasingly vulnerable.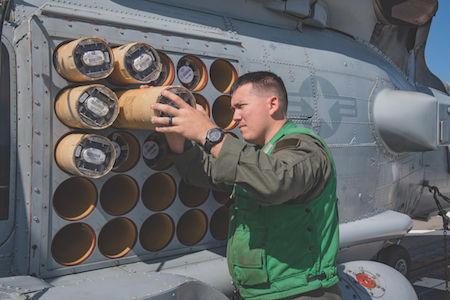 The integrated launcher on the MH-60R can hold 25 sonobuoys. But, along with the dipping sonar, the permanent system adds weight and takes up space, reducing the helicopter's endurance and utility for other missions. U.S. Navy (Jonathan Clay)
Even supposing high-altitude communications satellites could be made more survivable and immune to jamming, remote-control warfare demands a very high standard of navigation. The submarine killer has to be sent to where the sonobuoys say the submarine is, not an easy proposition without the global positioning system (GPS). (Any reading of World War II history will reveal numerous cases in which some force was spotted by reconnaissance, but follow-up proved impossible—the Battle of Midway is a case in point.) The Chinese have demonstrated intense interest in -anti-information space warfare (including anti-GPS). GPS jammers have existed for some time, and the U.S. government now spends heavily on hardened receivers. Even though a variety of GPS alternatives are under development, none works very well on the open ocean. 
The U.S. Navy experimented with attack aircraft–mounted ASW pods in the latter part of the Cold War. The idea was to use the carrier's attack aircraft to enlarge the searchable area around the carrier. Given an indication of a submarine, the relatively small number of fully equipped ASW S-3 Vikings could have confirmed and prosecuted contacts. That is not too different from the way Ultra's pod might be used, except the aircraft used today are likely to be unmanned.
The pods and their potential are an aspect of a wider argument about long-range, long-endurance reconnaissance. What does a crew do that cannot or should not be done remotely by a computer and a ground operator? Is a U-2 with a pilot on board more useful or valuable than a long-endurance UAV? 
A UAV equipped with a sonobuoy pod hardly could be mistaken for a remotely controlled P-8 Poseidon maritime patrol aircraft. The P-8 has numerous sensors, and its crew can use them to decide when and whether to lay sonobuoys. A P-8 also can be directed by long-range sensing; indeed, without such direction, it cannot possibly carry enough sonobuoys to search the vast ocean. The P-8 thus embodies the realization that long-range communications have limits and decision-makers need to be close to their sensors.
It seems, at least for now, that human creativity plays so important a role that UAVs and remote links are not sufficient. A pilot or expert crew can conclude that what is being received indicates that something should be investigated, which in reconnaissance terms often means resetting or redirecting sensors. With sufficient bandwidth, someone on the ground far away might reach the same conclusion and order the same resets. But bandwidth is not infinite, and the combination of distance and other demands on the command center imposes an unacceptable delay for now. And if space warfare becomes reality, the Navy may be at the high point of remote operation, and decentralization may grow rather than decline.
---
Dr. Friedman is the author of The Naval Institute Guide to World Naval Weapon Systems, available from the Naval Institute Press.