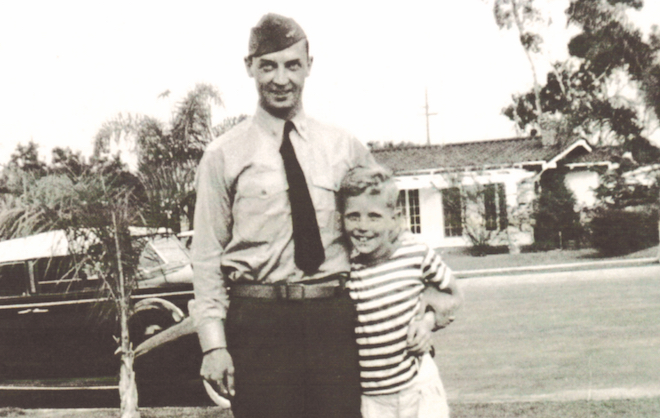 Then nine years old, the author poses with his father at their Coronado, California, house only a few months before the accident that would take his father's life. (Courtesy of the author)
In May 1942, my father, Lieutenant Commander Donald Lovelace, was executive officer of Fighting Squadron Three (VF-3), assigned to the USS Yorktown (CV-5). During transit back to Hawaii from leave, he received orders to take command of VF-2.  
Arriving in Oahu, my father was warmly welcomed back by his commanding officer, Lieutenant Commander John "Jimmy" Thach, and quickly brought up to speed on the urgent challenge of preparing VF-3—short of experienced pilots—to join the Yorktown's rapidly reconstituting air group. In the face of immediate deployment and likely combat, and aware that VF-2 was weeks away from standing back up, my father volunteered to stay in place as VF-3's executive officer.
On 30 May, VF-3 and its assigned air group flew from Kaneohe, Oahu, to land on board the Yorktown, now part of Task Force 17, under way toward anticipated battle. Following a successful arrestment in his Grumman F4F-4 Wildcat, my father taxied forward past the folding barriers to await final parking directions. His wingman, one of VF-3's rookies, followed in order but landed badly, missing the arresting cable and floating over the barriers, to settle on top of my father's aircraft. The propeller blades ripped into my father's cockpit, killing him.
This accident, often recounted by naval aviation historians, took a sudden and severe toll on tactical leadership in VF-3, because Thach was counting on my father to assist him—not only as a division leader in the air, but also as a tactical instructor in the ready room, especially in explaining the innovative Thach Weave—a new combat flight maneuver. The timing of his tragic loss also played heavily on the morale of VF-3's new pilots about to enter combat for the first time. Nonetheless, VF-3 executed well. Their carrier, however, suffered the hardships of war, being sunk on 7 June 1942 at the Battle of Midway.
In May 1998, the Yorktown was found three miles deep in the Pacific Ocean by oceanographer Robert Ballard. Shortly after, I was called by someone at the Associated Press who wanted to know if my father's body might be entombed in the carrier. I replied that I did not know.
I contacted retired Rear Admiral Bill Leonard, who had stepped into my father's role as executive officer of VF-3. He had no recollection of how my father's remains were handled, but he was sure there was no burial at sea. I followed with a call to retired Captain John W. Crawford, author of the June 2017 Proceedings article "Seven Days at Midway." He acknowledged having witnessed the crash on deck, and said he had never seen a burial at sea. He would have been present had there been one.
In April 2016, at a symposium on board the Yorktown (CV-10) that featured four CV-5 survivors, I met E. H. "Gene" Domienik, a former machinist mate in CV-5's Engineering Department before and during Midway. His battle station was with a damage control team. The author of four books, including I Remember the Yorktown, Gene told me he had witnessed my father's remains being placed in the ship's storage reefer following the accident. Having read the book, I was impressed with his remarkable recall and his knowledge of activities that took place on board the Yorktown.
As a result of these encounters, I am at long last confident that my father's remains are in a good place, very likely the only sailor entombed in the USS Yorktown. 
---
Commander Lovelace, a 1955 graduate of the U.S. Naval Academy, served in the Supply Corps on board three ships and at various shore commands, including Commander-in-Chief Atlantic Fleet Headquarters and Mine Warfare Command, Charleston. After retiring from the Navy, he was employed by RCA, Vitro, and MSA as a logistics engineer and senior engineer.