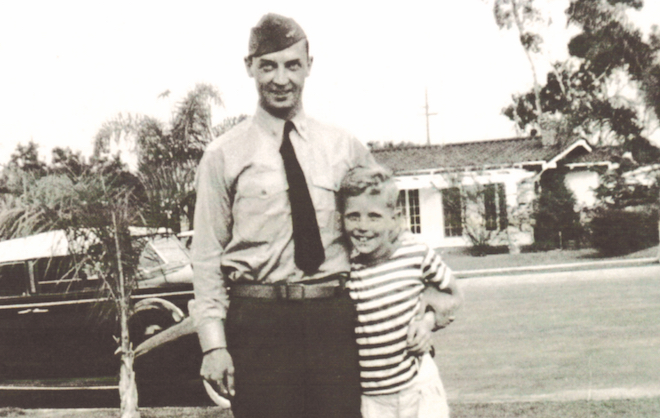 Then nine years old, the author poses with his father at their Coronado, California, house only a few months before the accident that would take his father's life. (Courtesy of the author)
In May 1942, my father, Lieutenant Commander Donald Lovelace, was executive officer of Fighting Squadron Three (VF-3), assigned to the USS Yorktown (CV-5). During transit back to Hawaii from leave, he received orders to take command of VF-2.  
Arriving in Oahu, my father was warmly welcomed back by his commanding officer, Lieutenant Commander John "Jimmy" Thach, and quickly brought up to speed on the urgent challenge of preparing VF-3—short of experienced pilots—to join the Yorktown's rapidly reconstituting air group. In the face of immediate deployment and likely combat, and aware that VF-2 was weeks away from standing back up, my father volunteered to stay in place as VF-3's executive officer.