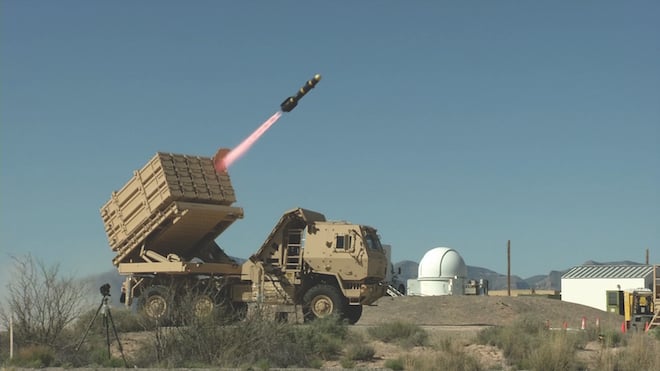 The Army's multimission launcher (part of the indirect-fire protection program) will provide 360-degree protection and engage threats arriving from different azimuths simultaneously. To meet budget goals, the initial system will employ existing interceptors and sensors, limiting development and testing mainly to the fire-control system, launcher, and system integration. (U.S. Army/John Andrew Hamilton)
With international proliferation of aircraft and missile threats growing, the Marine Corps finds itself at a crossroads. Its rebranding as an agent for sea control in contemporary expeditionary advanced base operations (EABO) doctrine creates an opportunity to recapture an expeditionary air-defense capability that was a crucial 20th-century Marine Corps capability. Expeditionary air defense continues to demonstrate its effectiveness in response to present-day crises—as Russian deployment of long-range S-300 and S-400 missile systems to Syria and Chinese deployment of the HQ-9 missile system to the South China Sea show.
In the absence of a near-peer competitor, the post–Cold War Department of Defense of the early 1990s reduced troop levels and either eliminated or deferred modernization programs. By 2002, the Marine Corps had phased out the last of its missile batteries without a fieldable replacement. The long-standing triad of short-range air defense, medium-range air defense, and defensive counter-air became only a duo with the elimination of medium-range air defense capability from the Marine air-ground task force (MAGTF). This created a critical gap between the point-defense capability of Stinger missiles and Marine Corps fighter aircraft with often conflicting, close-air support missions.
But the emergence of China, resurgence of Russia, and virulence of Iran have increased the demand for medium-range air defense capability. These countries continue to field and sell ever-more-lethal cruise missiles, ballistic missiles, unmanned aerial vehicles (UAVs), and advanced aircraft. Spread across the globe, these antiaccess/area-denial capabilities make both amphibious assault and follow-on defense of the sea base difficult, if not impossible. The absence of a Marine Corps medium-range air defense capability creates a significant risk not only to the mission, but also to the unprotected force, as history shows.
The Early Days of Air Defense 
Following World War I, the Marine Corps struggled to identify and consolidate its function within the armed services. In the face of unprecedented force contraction and fiscal austerity, the interwar Marine Corps whittled its core competencies to amphibious assault and island defense.1 Defense battalions evolved to provide land, air, and sea defense for forward bases critical to operational success in the maritime domain. While the prewar Army maintained its traditional garrisons at home and abroad, the Marine Corps built up and maintained rugged frontier outposts to support a probable war at sea. Thus, the defense battalions relinquished "tactical mobility" to ensure "strategic mobility" for offensive operations.2
When war came in December 1941, only a few hours after the Japanese surprise attacks against U.S. forces at Pearl Harbor, Wake Island, and the Philippines, the Japanese destroyers Ushio and Sazanami bombarded Midway Atoll to neutralize its airfield and prevent an attack against the Pearl Harbor strike force. The ships took just under an hour to fire some 300 rounds at the island with minimal effect.3 During the barrage, the 6th Marine Defense Battalion returned coordinated fire from its five-inch naval guns, harassing the Japanese combatants and forcing their withdrawal.
---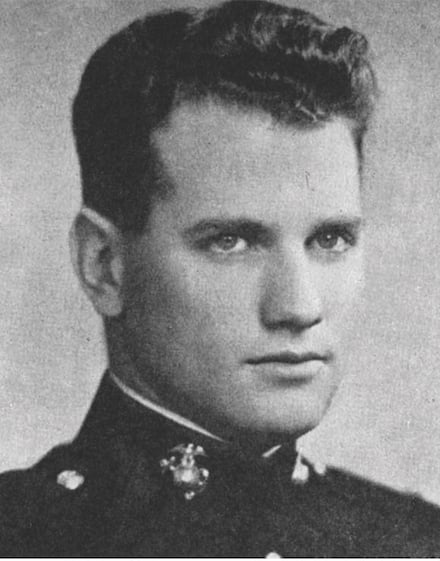 As commander of Hotel Battery at Midway Atoll in December 1941, First Lieutenant George Cannon was one of the Marine Corps' earliest air defenders. He commanded a force of specially mounted Browning M2 .50-caliber antiaircraft machine guns paired with 3-inch M3 guns—weapons that, combined, formed the foundation of Marine Corps air defense across the Pacific theater. In an exchange of fire with Japanese destroyers on 7 December, a Japanese shell struck the electrical plant serving as the battalion communications center. With his pelvis smashed by the explosion, Cannon refused evacuation until communications were restored and his junior Marines were treated. His heroic action resulted in his death. In recognition of his selflessness and devotion to duty, he was posthumously awarded the Medal of Honor, the first Marine to earn this distinction in World War II.
---
At Wake Island in the following days, the 1st Defense Battalion was supported by a detachment from Marine Fighter Squadron (VMF) 211 of 12 F4F Wildcats, only a handful of which survived the initial Japanese attack. With close coordination, combined arms repelled the initial Japanese invasion. This initial setback required the Japanese to commit additional forces—including two aircraft carriers—to seize an island defended by only 500 Marines and four aircraft.4 In the aftermath of Pearl Harbor, these austere forward expeditionary units provided the U.S. public with its earliest victories and examples of heroism. These Marines established the warfighting necessity and grit of Marine Corps air defenders and paved the way for modern low-altitude air defense (LAAD) and light antiaircraft missile (LAAM) battalions. 
Postwar Developments
The efficacy of  the prewar .50-caliber machine gun/3-inch gun combination declined as aircraft speed and maneuverability increased. To support tactical mobility, air- defense systems became increasingly agile to support rapid advance. Mature, stationary air-defense batteries fused state-of-the-art radar to provide early warning and target data. 
This sensor-weapon fusion dramatically increased the effectiveness of both British and German antiaircraft batteries during the war. By the early 1940s, Nazi Germany began exploring the use of both guided and unguided flak rockets (missiles) for air defense.5 After Germany surrendered, much of its technical expertise and applied missile research flowed west. This migration of technical knowledge ensured the United States was prepared to meet the newest challenges in air defense: jet aircraft and ballistic missiles. By 1953, Bell Technologies had given the Army its first operational Nike antiaircraft missile system. However, these large immobile systems lacked tactical practicality for a maneuvering force. In response, the U.S. defense industry worked to develop both mobile surface-to air-missiles (SAMs) and man-portable air-defense systems (MANPADS).6
This development culminated in 1960 in the Hawk ("homing all the way killer") mobile interceptor missile (MIM-23), composed of a launcher, fire-control radar, search/track radar, and three semiactive homing missiles. The system could take on supersonic aircraft, cruise missiles, and short-range ballistic missiles and had a range of 22 miles, a 40,000-foot operational ceiling, and a speed of Mach 2.2 (1,688 mph). For short-range air defense, Philco-Ford developed the shoulder-fired Redeye system (predecessor to today's FIM-92 Stinger missile) with a range of 1.6 miles, an altitude of 9,000 feet, and a speed of Mach 1.7 (1,300 mph).7 These technologies and their successors formed the foundation of Army and Marine Corps air defense for the next 50 years. 
Conventional Deterrent
The Hawk system's mobile capability against diverse threats made it a fixture of crisis response. Its by-design adaptability allowed for incremental modification and improvement to meet evolving threats.8 To make way for Hawk, the Marine Corps decommissioned its remaining antiaircraft artillery battalions, reconstituting them as LAAM battalions of 450–500 Marines. Each LAAM possessed a headquarters element and four batteries of six launchers with three missiles per launcher. Heavy-lift helicopters provided the lift capacity for all the required equipment.9 All three LAAM Battalions descended directly from the World War II–era Defense Battalions, and—like their predecessors—each soon deployed to points of friction. 
In mid-October 1962, U.S. U-2 reconnaissance aircraft photographed Soviet medium-range ballistic missiles in Cuba, sparking the Cuban Missile Crisis. Within days, the Navy and Marine Corps began to buttress defensive positions at Guantanamo Bay, Cuba, to defend its aerial and sea ports of debarkation. A U.S. invasion of Cuba and/or a Soviet attack appeared probable. Commander-in-Chief, Atlantic Fleet, Admiral Robert Dennison requested the mobilization and deployment of the 3d LAAM from Twentynine Palms, California, to protect Guantanamo Bay's 5,000 U.S. personnel and tactical aircraft from the Soviet Ilyushin Il-28 light bombers and MiG-21 fighters in Cuba.10 The entire battery deployed by air to Cherry Point, North Carolina, but only Charlie Battery deployed to Cuba, with a 48-missile augment, because of the Cuban base's small size.11 It positioned on John Paul Jones Hill overlooking the bay to optimize radar coverage. The battery took just eight days to achieve full operational capability.12 Marine Corps air defense had demonstrated its capacity to deploy rapidly in defense of expeditionary forces.
In Vietnam in February 1965, the Viet Cong killed 7 and injured more than 100 in a coordinated mortar attack against U.S. and South Vietnamese forces in Pleiku and Tuy Hòa. In response, the carriers USS Ranger (CVA-61), Hancock (CVA-19), and Coral Sea (CVA-43) executed combined strikes with South Vietnam against targets in the north. Assessing the vulnerable position of U.S. forces against both conventional and asymmetric threats, President Lyndon B. Johnson ordered the deployment of a Hawk battalion to Vietnam.13 On 10 February, the Soviet Union signed a joint communique with North Vietnam, which promised to strengthen North Vietnamese defensive capacity in light of U.S. escalation.14 By 16 February, Alpha Battery, 1st LAAM, arrived in Da Nang by air. Amphibious sealift brought the remaining batteries soon thereafter. The 2d LAAM also mobilized and deployed to defend Chu Lai Air Base, a forward jet base then under construction. The arrival of the LAAM batteries prompted the 8 March arrival of 1st Battalion, 3d Marine Regiment, and the 9th Marine Regiment to assume defensive responsibility for the airbase and force protection for the batteries.15
By July 1965, U.S. intelligence began to report the arrival of Soviet SAMs, antiaircraft batteries, MiG-21 jets, and Il-28 light bombers.16 Marine air defenders already were on station. U.S. Army Hawk missiles relieved the 2d LAAM in 1968, while the 1st LAAM departed Da Nang in 1969 without relief. Marine Corps Hawks served as an effective deterrent against new Vietnamese jets, and consequently never required use. LAAM battalions had deployed by air and sea into an undeveloped country without supporting infrastructure and once again demonstrated the value of expeditionary air defense. 
The First Gulf War
When Iraqi forces invaded Kuwait on 2 August 1990, rapidly deployable air defense again became crucial. As part of Operation Desert Shield, the 2d and 3d LAAM battalions deployed to Bahrain and Saudi Arabia to protect air bases, port facilities, and headquarters elements from Iraqi aircraft and missiles. The LAAMs defended the Marine Tactical Air Operations Center (TAOC) and assumed the unusual position as the forward line of troops ahead of the ground combat element (GCE) supporting the build-up of an advanced air base and port near at Ras Al Mishab.17 When Operation Desert Storm commenced, 2d and 3d LAAM batteries established positions along the breaching corridor into Kuwait. This position provided the advancing GCE with area air defense at a critical chokepoint.18 The ground force's rapid advance and limited aim prevented further LAAM deployment.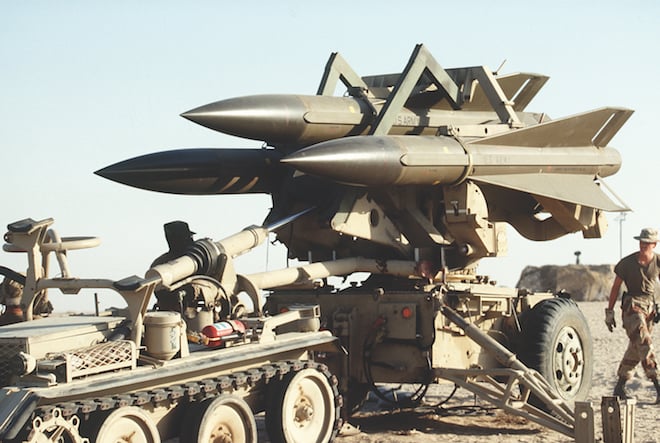 The Hawk missile played a key air-defense role for soldiers and Marines during operations Desert Shield and Desert Storm in 1990–1991. (U.S. Naval Institute Photo Archive)
On 25 February 1991 an Iraqi Scud, a short-range ballistic missile, crashed into an Army barracks at Al Khobar, Saudi Arabia, killing 28 U.S. service members. The barracks was protected by multiple Army Patriot ("phased-array tracking radar to intercept on target") missile batteries, but one battery experienced a radar casualty and the second suffered a weapons computer fault, rendering it inaccurate.19 The Al Khobar attack represented the worst loss of U.S. life during the entire campaign. This failure of joint air defense illustrates its criticality in support of ground forces as they both stage and maneuver. For the Marine air defenders, operations Desert Shield and Storm highlighted their ability to form a composite, distributed force, integrate and support the TAOC, and maneuver to the point of friction in support of the GCE. 
Mind The (Air-Defense) Gap 
With the demise of the Soviet Union, the Department of Defense conducted its 1993 Bottom-Up Review with an eye on creating a "peace dividend." Faced with austerity, the services began to look for capabilities and forces to cut. Leaders had planned to replace the Marine Corps' Hawk missile system with the Patriot, but the latter's poor tactical mobility forced the Marines to look at an Army program called (confusingly) Corps SAM. Secretary of Defense Les Aspin then deferred the program, and in the late 1990s it was incorporated into the NATO-led Medium Extended Air Defense System (MEADS). However, the post-9/11 ground wars in Iraq and Afghanistan delayed MEADS development and the Army began to divest in 2009.20 But in 2014, the Army requested an appropriation for a medium-range missile. The developmental program, known as indirect-fire protection capability (IFPC), is now in testing with the Army, which plans to field it in 2021.21 Fiscal constraints and protracted contingency operations created delay and an underappreciated capability gap across the joint force. 
While Marine Corps doctrine recognizes the medium-range, ground-based air-defense gap, it has not closed it:
Without [such a] SAM, the MAGTF lacks the ability to destroy enemy aircraft and missiles at medium altitudes until they are within weapons release parameters. Augmenting joint air defense assets is critical to deny the enemy altitude sanctuaries against the MAGTF's low altitude surface to-air missile.22
Seize the Initiative
Unless the Army, Navy, and Marine Corps are prepared to embark Army multimission launchers on amphibious or prepositioning ships, the Marine Corps needs to acquire and field rapidly its own organic capability to create an air-defense umbrella from the sea base. With the introduction of the advanced AN/TPS-80 ground-air task-oriented radar (GATOR), the sensor foundation exists for integration of the Army's developmental mobile, multimission launcher (MML). While the MML attempts to leverage existing missile systems, integrated fire control requires the fusion of sensors, weapons, and platforms with high-fidelity data. This requires the development of new, active-seeker, mini-missiles to equip the 15-cell MML. (Missiles such as the AIM-9X Sidewinder, Hellfire Longbow, Stinger, and others have been tested with the MML.) An active-seeker warhead would conserve radar resources and lessen the footprint for both sealift and airlift. The Marine Corps benefits as a latecomer to MML development but brings valuable operational experience with Hawk to the process. 
The challenge for the Marine Corps is not merely to recognize its air-defense deficiency as it has done, but also to close the capability gap within the MAGTF. The Marine Corps can lead the fusion of platforms, sensors, and weapons to attain integrated fires and rewrite the doctrine on area air defense in maneuver warfare. Should some doubt the need, they can ask the surviving Marines who defended Midway and Wake Island; who went to Cuba on the verge of nuclear war; who landed in Da Nang and Chu Lui; or who went to the Persian Gulf and saw the consequence of failed expeditionary air defense. Each case validates the necessity of the Marine Corps air-defense triad as an essential element of expeditionary combined arms.
1. David J. Ulbrich, Thomas Holcomb and the Advent of the Marine Corps Defense Battalion, 1936–1941 (Quantico, VA: Marine Corps University, 2004), 4.
2. Ulbrich, Thomas Holcomb, 14.
3. Paul S. Dull, A Battle History of the Imperial Japanese Navy, 1941–1945 (Annapolis, MD: Naval Institute Press, 1978), 21. 
4. John F. Wukovits, Pacific Alamo: The Battle for Wake Island (New York, NY: New American Library, 2003), 62–63, 140. 
5. Kenneth P. Werrell, Archie, Flak, AAA, and SAM: A Short Operational History of Ground Based Air Defense (Washington, DC: Air University Press, 1988), 37–43.
6. Werrell, Archie, 82. 
7. Werrell, Archie, 86. 
8. Werrell, Archie. 
9. Naval Aviation News Staff, "Marine Hawk Unit Ready," Naval Aviation News, May 1960, 32. 
10. Rafael Lima, "Cuba During the Missile Crisis," Smithsonian Air and Space Magazine, November 2012.
11. Blaine Lee Pardoe. The Fires of October: The Planned U.S. Invasion of Cuba during the Missile Crisis of 1962 (Stroud, England: Fonthill Media, 2013), 153–54; John Mayfield, "Marine Hawk Missile Battalions," 6th Battalion, 56th Artillery Hawk History, 6thbattalion56thartillery.com/LAAM_Bn_Patches__USMC_.html.
12. Pardoe, The Fires of October, 153–54.
13. Department of State, "The Department of State Bulletin," version 52, part 1, 12 February 1965, Hathi Trust Digital Library, 239–40.
14. Ilya Gaiduk, "Soviet Policy Towards US Participation in the Vietnam War," History 81, no. 261 (January 1996): 48.
15. Ray Stewart, Marine Corps Tanks and Ontos in Vietnam (Bloomington, IN: Xlibris Publishing, 2018), 26–29.
16. Gaiduk, "Soviet Policy," 48. 
17. L. L. Boros, "Desert Storm Historical Collection and Battle Assessment," (official memorandum, Cherry Point, NC: Department of Navy, March 14, 1991), Marine Corps History Department Archive, Quantico, VA.
18. Boros, "Desert Storm Historical Collection," 1–7. 
19. Eric Schmitt, "U.S. Details Flaw in Patriot Missiles," New York Times, 6 June 1991, www.nytimes.com/1991/06/06/world/us-details-flaw-in-patriot-missile.html; Howard Wolpe, PATRIOT Missile Defense: Software Problem Led to System Failure at Dhahran, Saudi Arabia, GAO-IMTEC-92-26 (Washington, DC: Government Accountability Office, 1992), 1–10.
20. Defense Industry Daily Staff, "Beyond Patriot? The Multinational MEADS Air Defense Program," Defense Industry Daily, 17 August 2018. 
21. Sydney Freedburg, "Army Accelerates Air & Missile Defense Five Years: MSHORAD, MML, Lasers," Breaking Defense, 29 March 2018. 
22. Department of the Navy, "MCTP 3-20C Antiair Warfare" (Department of the Navy, 2016), 3–9. 
---
Lieutenant Miller graduated from the U.S. Naval Academy in 2011 with a bachelor of science in political science. After commissioning, he earned a master of philosophy in development studies and economic and social history from the University of Cambridge. He has served as the ordnance officer on board the USS Barry (DDG-52) and the fire control officer on board the USS Monterey (CG-61). He currently serves as an action officer at the Navy Warfare Development Command.