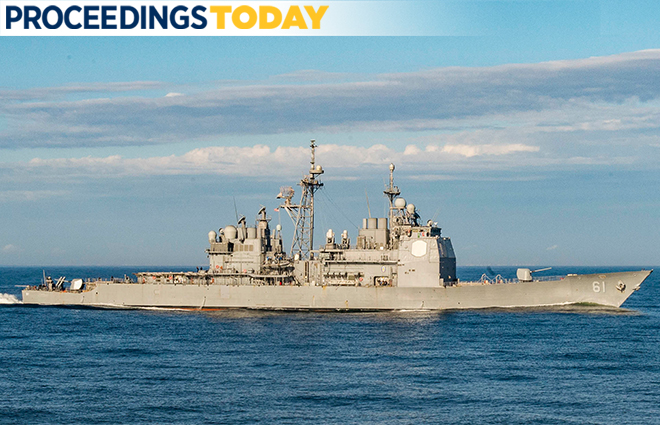 USS Monterey (CG-61) executed a short-notice deployment in 2018 to Fifth and Sixth Fleets to fill the C7F obligation.
In the Navy, sailors typically know the long-term life-cycle of the ship or squadron, which affords them time to prepare for long family separations and execute successful deployments. Disruptions in the status quo generate a diverse range of human reactions and emotions. Sailors look to their chain of command to make sense of an uncertain future. To successfully meet this challenge and retain the warfighting readiness of the force, leaders must prepare for these interactions to bring both assets and operators to the future fight.
The Problem In Context
In August 2016, I reported to the USS Monterey (CG-61) in the midst of a scheduled, eight-month deployment. At this early juncture of the deployment and sustainment cycle, the ship retained a high level of leadership and watch-team continuity, and when paired with months of continuous operation, maintained a high level of material awareness and operational competency. In January 2017, the ship returned from deployment with her operational schedule clear of another deployment for several years. Over the next few months, we executed only a limited amount of underway training, including a shortened ten-day sustainment exercise and a trip to New York City Fleet Week. The ship then entered an emergent maintenance availability to resolve longstanding material issues.
In June 2017, the USS Fitzgerald (DDG-62) collided with a merchant ship south of Yokosuka, Japan. In August 2017, the USS John S. McCain (DDG-56) collided with a merchant ship near the Strait of Malacca. The rapid loss of two ballistic-missile defense assets created an operational gap in Seventh Fleet and, within a week, the Monterey received informal notification to prepare for a deployment. In 49 days, the ship surge-deployed with a composite MH-60R Seahawk detachment. This rapid change in our operational schedule caused a range of emotions from anger and fear to apathy and excitement. Without a formal deployment order, the crew worked and lived in uncertainty, tirelessly preparing to deploy.
Cumulative Loading
As the possibility of a deployment solidified, we reviewed watch team replacement plans, identified training shortfalls, scheduled medical and dental appointments, prioritized material shortfalls, ordered consumables, evaluated systems, verified certifications, and built a plan of action and milestones to rapidly mobilize and deploy. These bureaucratic and managerial functions seized the majority of leaders' attention and left little time to address personnel issues. The most important list that we made included sailors who we believed were at risk due to ongoing legal, marital, financial, physical, or psychological issues. With little time before an unexpected deployment, some sailors carried a significant load of stressors both at home and at work, which made them vulnerable to destructive behavior. We minimized this risk by maximizing leader "touches," or interactions, with these sailors to give them a sense of belonging and to offer support and resources. This allowed us to intervene and prevent losing sailors through self-destructive acts. Every sailor on our list did not deploy; however, they all received the support they required and since have returned to the fleet fully fit for service.
Readiness In Question
Following the Fitzgerald and McCain mishaps, the Navy, its sailors, and their families understandably questioned the readiness of the surface force. In response to this crisis in confidence, we encouraged sailors to share their concerns. We also challenged them to identify and report known material issues within their systems to better understand our overall readiness. In turn, we offered a promise that we would critically report and rectify known-issues as a team. This compact on the divisional level allowed our commanding officer to articulate his concerns about our system to our operational commander. His superiors responded in-kind with a promise that we would not go over the horizon until we were operationally and materially ready. This open communication up and down the chain of command, both on and off the ship, built confidence that leadership would do the right thing. It also allowed sailors to return home to reassure their families that the Navy is addressing and remedying operational and material shortfalls to keep them safe.
Task and Purpose
The propensity of millennials to ask "why" and to challenge authority is more than a generational idiosyncrasy. In a letter to a friend, Baron Friedrich von Steuben, the Inspector General of the Continental Army during the American Revolutionary War, lamented: "You say to your soldier: 'Do this and he doeth it'; but I am obliged to say: 'This is the reason why you ought to do that and then he does it.'" U.S. service members always have sought a sense of purpose to define their action. As we attempted to mobilize our team, we recognized the necessity to define our collective purpose to respond to questions like: Why are we deploying? Why can't the capability be gapped? Why us? Defining a collective purpose allowed us to build a team, which understood the operational environment, the mission, and each individual's role in achieving the desired outcome.
The Buck Stops Here
Between the conclusion of deployment in January 2017 and redeployment in October 2017, our ship experienced the turnover of the commanding officer, executive officer, command master chief, and three department heads. On the beach, our ombudsman and family readiness group leadership changed. With changing philosophies, expectations, and priorities, we built on our organic continuity. Our divisional triad (division officer, leading chief petty officer, and leading petty officer) remained intact, so we were able to provide a stable presence and insulate our sailors from the churn. This continuity allowed us to leverage strengths and offset weaknesses. We regularly gathered senior petty officers and executed real planning, leveraging their technical knowledge and experience to forge the way ahead. This vested sailors in every process and gave them a sense of ownership.
Between and across the two deployments, many divisions and departments experienced drastic turnover. In several departments, every officer and chief turned over before or during the surge deployment. While this created more uncertainty, it also allowed petty officers to seize the day as leaders and managers. To be an effective junior officer, it is important to identify these pieces of leadership continuity, evaluate them, and leverage them. In some cases, you may be the leadership continuity in your division.
As the Navy shifts to a new operational paradigm with dynamic force employment, leaders must focus on balancing operational uncertainty with the stability sailors and their families need. In the face of uncertainty, we empowered sailors to command their sphere of influence. This reinvigorated their sense of trust, ownership, purpose, and control in the face of ambiguity. These sailors grew capable of leading both up and down the chain of command. Our division became stronger and more resilient, ensuring long-term leadership continuity. To build a force capable of operating in uncertainty and winning the next fight, the Navy must foster a similar environment and culture at every echelon of command. This process begins by challenging and empowering every officer, chief, and sailor to take command of their respective domains and lead. It requires risk by superiors, yet promises great rewards as we increase the lethality of our force.
---
Lieutenant Miller graduated from the U.S. Naval Academy in 2011 and earned a master of philosophy in development studies and economic and social history at the University of Cambridge. Operationally, he has served as the ordnance officer on board the USS Barry (DDG-52) and as the fire control officer on board the USS Monterey (CG-61). He currently serves as an action officer at Navy Warfare Development Command.