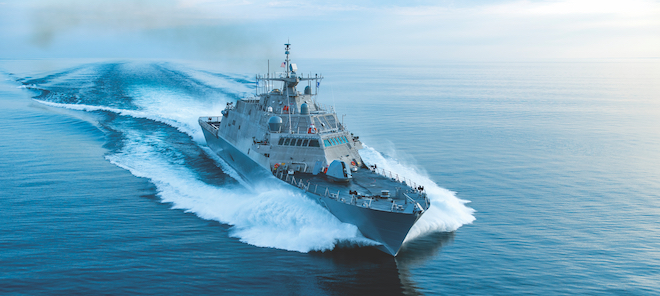 To Innovate, Doctrine is More Important than Technology 
(See S. Humr, Proceedings Today, December 2018)
I want to argue with Major Humr, but I have difficulty even grasping the point he was making about Marine Corps doctrine. In it, he references doctrine of old (such as that of Major Earl Ellis and his planning for war in the Pacific in the run up to World War II) and then relates it back to current Marine doctrine in the form of MCDP-1. 
The two things, however, could not be more different. One was a comprehensive study of a looming military struggle and sought to address it in terms of preparation for how that conflict might play out. The other is a vague book of platitudes that occasionally reads like a fortune cookie. 
Current Marine Corps doctrine, both as it is taught and as it reads in official publications, is so noncommittal compared to actual doctrine that its sections on maneuver warfare could as easily have been written by General Westmoreland in 1966 as General Krulak in 1997. I don't question General Krulak's acumen in actual warfighting; however, in the Marine Corps' never-ending struggle to justify its own existence, it holds up as its doctrinal Bible a book and philosophy that lack depth or vision. 
In the halls of Quantico, it is common to hear MCDP-1 quoted ad nauseam. But that's hard not to do when the book is filled with gems such as "Since it is relative speed that matters, it follows that we should take all measures to improve our own speed while degrading our enemy's." There obviously is nothing to argue with there—and also not much to take from it.
The Marine Corps should stop trying to create a philosophy for all wars instead of just the kind we find ourselves fighting. There are so many lessons to be learned from the French and U.S. wars in Vietnam; the conflicts in Rhodesia, Algeria, and South Africa; the Marxist insurgencies the world over; and, yes, even our failings in Iraq and Afghanistan, that I find it hard to believe we can't do better than talking vaguely of "maneuver" vs. "attrition," in the most abstract terms. If MCDP-1 is what passes for doctrine today, I'll take the technology. 
—2ND LT Jordan Zammit, USMC
Eliminate Retirement as a Misconduct Sanctuary
(See R. Warfield, pp. 74–75, November 2018)
Major Warfield is right on with his comments about retirement being a sanctuary for misconduct—especially by senior officers. Unfortunately, the news is replete with accusations and admissions of guilt by military officers.
Their bad behavior is not only an embarrassment to the United States, it also is a huge burden on taxpayers. In the 1960s there was a TV show starring Chuck Connors called Branded. In it, Connors played Army Captain Jason McCord, who was literally drummed out of the military. At the beginning,
he was paraded in front of a fort's command. His rank was ripped from his uniform, the buttons were cut off his blouse, and his sword was snapped in half. 
McCord was revealed to have been falsely accused (for dramatic purposes), but this nonetheless should be the fate of any officer who is convicted or admits guilt for a crime while serving in the U.S. armed forces. It's unconscionable that general and flag officers can retire following misconduct charges and get to keep their titles of rank and full pension benefits.
—CDR Thomas Boyer, CEC, USNR (Ret.)
---
USS Wichita (LCS-13) Joins the fleet
By Jim Dolbow
The Navy will commission the USS Wichita (LCS-13) during a ceremony at Naval Station Mayport, Florida, on 12 January 2019, with Commander Nathan Rowan, U.S. Navy, in command.  
The Wichita is the third U.S. Navy ship named for the city in Kansas. The first, a heavy cruiser (CA-45), served from 1939 to 1959. The second, a replenishment oiler (AOR-1), served from 1969 to 1995. The third Wichita was laid down on 9 February 2015 at Marinette, Wisconsin, by Fincantieri Marinette Marine. She was launched on 17 September 2016 and is sponsored by Kate Lehrer, nationally known author and wife of Wichita native Jim Lehrer, the former anchor of The MacNeil-Lehrer News Hour.
The Wichita continues the strong historical connection between the land-locked state of Kansas and the Navy. According to the Kansas State Historical Society, "At least fifty-four vessels in World War II were named for Kansans, or for cities, counties, and rivers of the state. Of these 54 vessels, five were named for war heroes, 29 for other individuals associated with Kansas, nine for cities of the state, eight for counties and three for rivers."  Other notable U.S. Navy ships with ties to the Sunflower State include the Civil War–era gunboat Kansas, the battleship USS Kansas (BB-21), and the attack submarine USS Topeka (SSN-754).
The littoral combat ship is a modular, reconfigurable ship designed to meet fleet requirements for surface warfare, antisubmarine warfare, and mine countermeasures missions in the littoral region. A mission package is embarked on each LCS and provides the primary mission systems in one of these warfare areas.
---
Lack of Medical Readiness is a War Stopper
(See A. Smith, pp. 38–41, November 2018)
While few can argue with Captain Smith's premise, he omitted an important program.
The Civilian-Military Contingency Hospital System was established in 1983. A reserve unit that would be activated when needed, it was tasked with organizing a program that would be prepared to receive, triage, and assign casualties from a non-nuclear war in Europe to appropriate hospitals in Philadelphia and its surroundings. A senior chief petty officer, a Nurse Corps officer, and three Medical Service Corps officers manned the unit. U.S. Naval Hospital Philadelphia provided our office space. I was a plank owner and the first commanding officer.
By the time of my retirement in 1985, we had commitments from 32 hospitals and many of the ambulance companies in the general area. We held drills in hangar space at Philadelphia International Airport.
More could be said, but the important point is that a Navy Bureau of Medicine reserve unit had planned for and was prepared to handle emergency medical needs that might arise from a conflict 3,000 miles away.
—CAPT Edmund Shimberg, MSC,
USNR (Ret.)
Future Captains Must Be Tested
(See S. Antcliff, et al., pp. 77–79,
October 2018)
I read "Future Captains Must Be Tested" with great interest and a bit of nostalgia. The authors, three submarine force prospective commanding officer (PCO) instructors, make some important points regarding the influence a commanding officer can wield to gain the most from his or her crew. They point out that only the captain can lead the skilled and trained individuals in the crew and make the whole better than the sum of the parts. They further emphasize that we must expect every unit to perform at peak effectiveness and that the commanding officer is key to that performance. 
During a career in the submarine force, I saw many commanding officers. Some drove their crews; some led. Some were hands-on for every activity, while others stood back and monitored those given responsibility. Some of each method were highly successful—and some were not.
I am sure each author was a successful commanding officer. However, I suggest caution if the PCO instructors believe that they can evaluate those who will struggle based on observations in the highly structured PCO course or based on their own successful leadership. 
The instructors can assess functional skills. They can assess the presence and tactical skills in the trainer or the control room. But there is no crew for the PCOs to lead. Trying to assess how a PCO will relate to, form, and lead a crew is a less precise evaluation—that cannot be done in the environment of the PCO course.
—CAPT William L. Hicks, USN (Ret.)
Fly to Fight, Fight to Win
(See R. Swain, pp. 58–63, October 2018; R. Healing, p. 8, November 2018)
Captain Healing's tale of the Helicopter Attack (Light) Squadron Three "Seawolves" and the Coast Guard's participation in Operation Market Time in Vietnam brought back memories of my own.
I sat in on a Navy SEAL planning session in May 1971, in which I remember thinking to myself, "John Wayne wouldn't do this."
There was intelligence that a Viet Cong POW camp was located in the Mekong Delta not far inland from the Delta's East Coast. The SEALs were to take sampans up a small, possibly boobytrapped canal at night to locate the camp and bring back POWs. My task—as leader of a flight of two Seawolf UH-1 Huey "Slicks"—was to fly and land the SEALs on a Coast Guard cutter stationed off the coast in the dark. We succeeded and departed, heading back to our home base in Binh Thuy. The SEALs took sampans tied up alongside the cutter and headed toward the coast. 
The next day I inquired about the operation and was told the sampans had developed leaks or took on water on the way to the coast and the mission was scrubbed.
I salute all Coast Guard veterans and active-duty personnel.
—CDR O. C. Fowler Jr., USN (Ret.)
Institutionalize the 'Comprehensive Review' Process
(See J. Cordle, pp. 15–18, December 2018)
Captain Cordle's article is accurate and not overstated. His recommendation for annual reviews looks to be a sound and necessary one. Talking to sailors at all levels could lend valuable insight that otherwise would be unknown. At my own level—having just completed a tour as weapons officer on the USS McFaul (DDG-74)—I have been asked for more input as to what training is repetitive or contradictory, and I have had more dialogue with the Commodore (maybe because I'm a department head now). I do see changes on my level to address the collisions, but not to the extent I expected. 
I wholly agree with the assessment of current department heads. There is a vast inconsistency in my year group's competence or awareness of the issues stemming from the 2017 destroyer collisions. The majority have had to rely on their own initiative, driven by individual COs, to meet current Navy standards. The focus had been on first- and second-tour division officers (DivOs), yet we department heads are expected to train them. We are not incompetent in our tasks—but there is a lack of quality control.
My DivOs have made good use of shiphandling simulators. I have noted an increase in availability and a push to take advantage of them, but scheduling is tight as multiple ships try to get the same blocks of time. The scheduling process is cumbersome; submissions by phone or web page often are not reflected on the site schedule. The "lessons," too, can improve: I see the same ones I heard multiple times as an ensign. When I asked the simulator teams about possible re-creations of the collisions, they said they had no plans to make any. The focus remains on basic shiphandling.
On the McFaul, we held small-group discussions on what happened with the collisions, recognizing that officers and sailors might not read the full Comprehensive Review. We learned by polling participants to see what they retained (not much) that this wasn't fully effective. Officers were asked detailed questions about the incidents on officer-of-the-deck and surface-warfare-officer evaluation boards; they answered with varying degrees of success. The key is repetition of the lessons. 
Our executive officer implemented a "no repercussion" near-miss reporting system and generated lessons learned for the destroyer squadron to share. If the incident showed there was gross incompetence or a lack of confidence, he implemented an "upgrade" program (similar to one nuclear engineers use). This was extremely helpful and well implemented—and effective, once the people bought in.
There is always resistance to change. Until it is forced, people seem to be content with accepting the status quo.
—LT Brian Ocampo, USN
What is a Cutter?
Knight's Modern Seamanship (11th edition) states, "The 'sloop' differs from the cutter so far as rig is concerned in having a short, fixed bowsprit instead of a long, moveable one, and carrying only one headsail. The most important distinction, however, between the sloop and the cutter, as at present recognized by yachtsmen, has to do with the hull rather than with the rig." I and other Coast Guard friends have sailed and raced in many cutter-rigged yachts.
Federal legislation of August 1790 authorized construction of some revenue cutters for law enforcement purposes. Although some of these served gallantly in the Quasi-War with France, and perhaps the War of 1812, there have been no actual "cutters" in the Coast Guard or its precursor services since the early 1800s.
All presently serving Coast Guard vessels should more correctly be designated "motor ships" or some other modern descriptive designation—not with the irrelevant "cutter."
Although it may be sad to give up this traditional term, it would help dispel unneeded confusion among the citizenry about Coast Guard vessels.
—CAPT John H. Byrd, USCG (Ret.)
Why a Triad
(See W. Holland, pp 21–24, October 2017)
Rear Admiral Holland wrote more than a year ago that the cost of modernizing the nation's nuclear forces has awakened discussions of strategic nuclear weapons systems. As 2019 begins, the much larger crisis the country faces regarding national security is our inability to continue to fund the Defense Department at the currently authorized 2019 level of $733 billion—much less higher.  
Recognizing that our national debt is more than $21 trillion and rising at an alarming rate and that the Defense Department can no longer be funded on the credit card, Congress passed the Budget Control Act (BCA).
The BCA provisions that will kick in in 2019 will take effect in the 2020 Defense budget, capping it at $650 billion, $74 billion of which is allotted for contingency reserve, leaving the actual amount that matters for planning purposes at $576 billion. This will not only dramatically decrease defense funding but will also increase oversight. The big loser will be nuclear modernization at a time when tensions with our adversaries are increasing.
Both fiscal solvency and mission capability are crucial to national security. 
—CAPT Reg Mitchell, USNR (Ret.)
China Has Learned the Value of Amphibious Operations
(See W. Bowers and C. Yung, pp. 24–28, November 2018)
The largest post–World War II amphibious operation was not Inchon or Suez. It was the invasion of China's Hainan Island in April 1950. Some 2,100 junks, riverboats, coasters, and barges manned by 4,000 sailors carried 100,000 Communist Chinese troops across the 19-mile Hainan Strait to fight 120,000 Nationalist Chinese troops.
—CAPT Murdock M. Moore, USAF (Ret.)
Erratum
On p. 12 of the December 2018 Proceedings, the last name of PO2 Amanda Bednarchick, USCG, was misspelled. We regret the error.