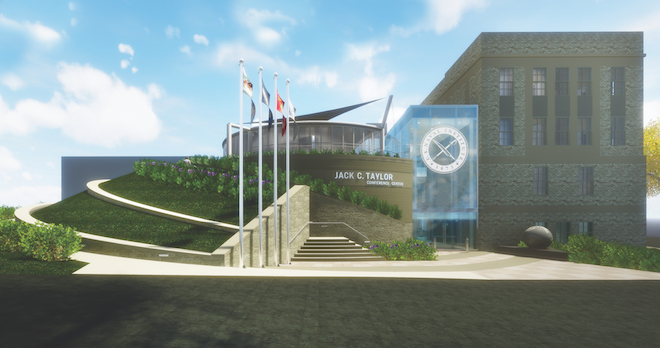 Jack C. Taylor Conference Center
Last month we launched the public phase of our first ever comprehensive fundraising campaign. The cornerstone of the Power to Inform, Convene, and Inspire campaign is the Jack C. Taylor Conference Center. The Institute will stimulate new thinking by creating a physical flagship to draw people into the heart of the Naval Institute's cherished open forum. Situated adjacent to the Naval Institute's headquarters on the Naval Academy Yard, the new Center will include a 400-seat auditorium, break-out rooms, and a rooftop terrace. It will also feature integrated television production for livestreaming, broadcast, and webcast. The Center will be able to accommodate classified meetings. 
Construction is slated to begin in 2019 and be completed in 2020. 
Save the Dates
We hope you will join us at WEST 2019 in San Diego from 13–15 February. Now in its 29th year, the conference and exposition gather a stellar line-up of flag officers from the Navy, Marine Corps, and Coast Guard, as well as senior Department of Defense officials who will address "Sharpening the Competitive Edge: Are We Ready to Compete, Deter, and Win Globally?" The exhibit floor features innovative industry leaders and military commands as well as stimulating nuts-and-bolts conversations with operators in the engagement theater. Confirmed keynote speakers across the two-and-one-half days include:
 • The Hon. Ellen M. Lord, Under Secretary of Defense for Acquisition and Sustainment
 • The Hon. Thomas B. Modly, Under Secretary of the Navy
 • The Hon. James F. Geurts, Assistant Secretary of the Navy for Research, Development, and Acquisition
 • ADM Christopher W. Grady, Commander, U.S. Fleet Forces
The event caps off with a town hall discussion between the Sea Service Chiefs: Gen. Robert Neller, USMC, Commandant of the Marine Corps, ADM John Richardson, USN, Chief of Naval Operations, and ADM Karl Schultz, USCG, Commandant of the Coast Guard. A full program and registration are available at www.westconference.org. Naval Institute members get a discount on registration.
If you find yourself in the San Diego area on 14 February, please plan to attend the annual Naval Institute Member Event at the Ultimate Skybox. Join fellow Naval Institute members and supporters and Sea Service leaders in a casual reception at this rooftop venue that offers scenic views of the city and Petco Park. Space is limited. Please be sure to register online at www.usni.org/memberevent to secure your attendance.  
Fair winds and Fellowing Seas
In late December, our publisher—Bill Miller—retired. Bill was of immense help to me as we launched several new initiatives at the Institute. His contribution was important, and he will be missed!