Enlisted Prize Essay Contest - 3rd Place Winner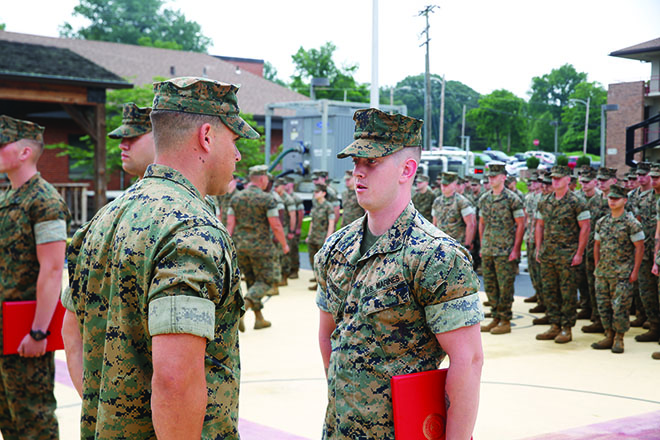 The Marine Corps needs to treat its Marines as an investment and promote based on merit, not seniority. 
In 1995, "disruptive innovation" was defined as any innovation that creates a new market by supplanting old values and unexpectedly takes over an existing establishment.1 Marine Corps Commandant General Robert Neller invoked the phrase at a symposium in 2016, calling on "disruptive thinkers" to challenge the status quo, as a way to harness the creativity of rank-and-file Marines and to encourage their leaders to listen.2
What General Neller is seeking is a cultural revolution; the obstacle in his way is an attrition rate that threatens to endure—77 percent of first-term enlisted Marines separated from the service in 2016.3 The rate rose as high as 82.6 percent in 2010 and never dipped below 70 percent in the intervening years. Marines are fleeing the service because there is nothing honorable or courageous about being promoted by default and micromanaged. They do not re-enlist because the Corps is not committed to investing in their success. And a revolution cannot occur when the people most likely to sustain it are leaving in droves. 
Meritocracy vs. Seniority 
The Marine Corps is an institution in which rank dictates reality. Marines are taught instant obedience to orders from Day One in boot camp, and Devil Dogs who refuse to chase the tail of dogma are replaced by those who will. Any challenge to the status quo is taken as a subversion of authority. As General Neller put it, "Most people with good ideas are annoying because they are frustrated. The Marines that we want to re-enlist don't want to stay because they get tired of being around stupid people . . . they get tired of beating their head against the wall."
The Corps must decide if it wants to retain disruptive thinkers who innovate or continue to reward line-toeing conformists by reinforcing the idea that the standard of excellence is maintaining the status quo. Junior enlisted must be promoted on merit instead of relying on seniority as the major qualifying factor. The Corps needs to treat its Marines as an investment and not as though they belong in the meat grinder of "gainful employment." 
Innovate to Survive
There is a dichotomy that alienates those who think outside the box and fosters a sense of complacency for those who live inside it. "Every Marine is a rifleman" is the axiom responsible for the cognitive dissonance Marines experience on an institutional scale. Mother Nature punishes overspecialization because it breeds weakness. But when overgeneralization strangles growth, it could sound the death knell for the Corps' relevancy and institutional survival. 
In Colonel Norman L. Cooling and Lieutenant Colonel Robert B. Turner's analysis of Marine Corps service culture, they insist that a productive, and justified, institutional paranoia is one of the ontological tenants that characterize the service's evolution: "Marines plan for the next war even while fighting a current one, and they are willing to innovate and often accept great institutional risk to preserve their national value."4
In spite of dissenting opinions from leading military thinkers of the day, the development of an amphibious warfare doctrine during the Banana Wars allowed the successful prosecution of an island-hopping campaign against Imperial Japan in later years. And, although they have amphibious roots, Marines have stayed relevant throughout the conflicts in the Middle East, which are proving to be the most protracted land campaign in U.S. history.5 This adaptability has allowed the Corps to survive. Permitting strict reverence to traditions at the expense of adaptability is fatal sentimentalism. 
Empower NCOs
With the Corps' history, growth from within is the obvious solution to retention and innovation, but in practice there exists a cultural norm of standardization that inhibits such efforts.
For example, unit physical training (PT), which is designed to maintain the fitness of the lowest common denominator, denies Marines with first-class fitness scores the opportunity to develop top-end performance. Marines are obliged to go through the Marine Corps martial arts program when they could be honing their lethality with specialized martial arts (such as Brazilian Jiu-Jitsu, Western Boxing, or Muay Thai) and testing their skills in competitions that allow greater risk and greater reward. 
 The quality that most falls victim to bureaucracy also is the most essential to the success of the Corps: the leadership of noncommissioned officers (NCOs).
In the same article where he coined the phrase "the Strategic Corporal," former Commandant of the Marine Corps General Charles Krulak asserted, "The remaining vestiges of the 'zero defect mentality' must be exchanged for an environment in which Marines are afforded the 'freedom to fail' and with it, the opportunity to succeed."6 Twenty years later, the zero defect mentality is still the order of the day, and the effects are precisely what General Krulak aimed to stamp out: "NCOs that have been stripped of the latitude, the discretion and the authority necessary to do their jobs." 
A sentiment shared by many Marines is that the hallmark of "good leadership" has become copy-pasting a text message—passing word through a convoluted game of telephone that leaves NCOs without the ability to implement common-sense fixes at the ground level. They are chained to the chain of command. Information is hoarded, and NCOs are subjected to centralized leadership that turns them frail and fails in combat. NCOs have become babysitters.
To establish a meritocracy as the basis for promotion, command must step away from the bureaucratic processes that make decentralized leadership impossible. Armed with a clear understanding of their commander's intent and the freedom to accomplish the mission or fail trying, NCOs will have the opportunity to thrive and become the leaders the Corps needs. Realistic training and high standards in the workplace can enhance this environment. Promotions would be determined by efficiency, resourcefulness, and mission accomplishment. Quantitative criteria would be used to compare a Marine against his or her peers in line for promotion, even at the lowest ranks. This cannot be done under the current climate of micromanagement.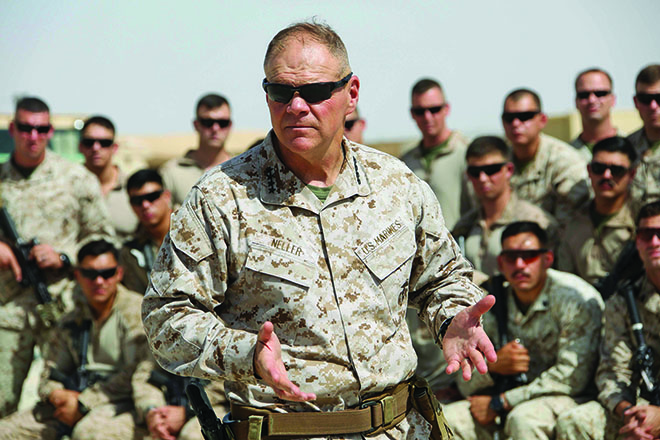 Commandant of the Marine Corps General Robert Neller is seeking a way to harness the creativity of his rank-and-file Marines.
Unbind Disruptive Thinkers
General Krulak believed character was the bedrock on which institutional competency could be built, just as virtus was the defining societal impetus for the Roman Republic. Most Marines join the Corps already possessing the core values. But they leave because disruptive thinkers find nothing inspiring about celebrating the status quo, and they refuse to endure a flawed promotion system that places less competent people in positions of authority because they enlisted three months earlier. 
As long as it takes only a modicum of effort for the least qualified people to stay in the Corps, highly qualified Marines will continue to flock to the private sector where their skills are valued. Why bother trying to disrupt the minds of inculcated men and women content to milk their 20 for their pension, when they could disrupt entire establishments if only freed from the red tape a dysfunctional bureaucracy uses to gag their mouths and bind their hands?
1. Clayton Christensen, Michael E. Raynor, and Rory McDonald, "What Is Disruptive Innovation?" Harvard Business Review (December 2015), 44–53.
2. Lance Bacon, "Commandant Looks to 'Disruptive Thinkers' to Fix the Corps' Problems," Marine Corps Times, 4 March 2015. 
3. Headquarters Marine Corps Marine & Family Programs, The Marine Corps Demographic Update as of June 2017 (June 2017) 30.
4. Col Norman L. Cooling and LtCol Roger B. Turner, USMC, "Understanding the Few Good Men: An Analysis of Marine Corps Service Culture."
5. Ben Westcott, "Afghanistan: 16 Years, Thousands Dead and No Clear End In Sight," CNN, 31 October 2017. CNN Library, "Operation Iraqi Freedom and Operation New Dawn Fast Facts," CNN, 8 March 2018.
6. Gen Charles Krulak, USMC, "The Strategic Corporal: Leadership in the Three Block War," Marine Corps Gazette 81, no. 1 (January 1999).
---
Corporal Swain enlisted in the Marine Corps in May 2014. He graduated from the Defense Language Institute in May 2015 and currently serves with Company H, Marine Corps Headquarters, as a cryptologic linguist.