Every surface warfare officer should read the October 2017 "Comprehensive Review of Recent Surface Force Incidents." Woven into its eight sections are lessons and action items, but also the frantic moments on the bridge of the USS John S. McCain (DDG-56), when a group of stressed and tired sailors, from the commanding officer to the most junior member of the crew, tried to save their ship. The incident resulted in multiple losses: ten sailors, a ship of the line for more than a year, and more than $200 million in repair costs. Imagine these proud sailors, trying to regain control of this 10,000-ton vessel plowing through the water at 20 knots, in the dark, while a giant merchant ship looms off the beam, as they drive in front of it like a car cutting off a tractor trailer. 
This tragedy—described by Chief of Naval Operations Admiral John Richardson as "completely preventable"—came about because of a series of failures, and the operational chain of command, from the crew to the fleet leadership, have been held accountable. But what about the acquisition system, where a series of errors was committed that span the scope of human systems integration (HSI)? How do you hold a system accountable? By changing it. A quick summary of the issues at play in this scenario:1
• A modernization effort with an interface that the operators found unusable 
• Limited design review by HSI professionals—despite some being on station
• A system overdesigned and too complicated for its purpose (steering the ship)
• System flaws that were not discovered before installation
• Incomplete training or documentation provided to the user
• Operators who reported being "fatigued" and even "exhausted" while operating the equipment
There were many factors in the 2017 Seventh Fleet accidents, but HSI was a common one. The Secretary of the Navy's "Strategic Readiness Review" also had strong recommendations: 
• Establish a process to measure the true workload of ships' crews, both periodically and after upgrades and modernizations, to determine if manpower models adequately predict personnel requirements at sea and in port. This should include added demands that affect readiness and technical qualifications.2
• Adjust ship manning levels to allow for adequate crew rest, performance of extraneous and collateral duties, and training (routine, on-the-job, and new hardware/software) that occurs while on board ship. This should include some excess capacity.
Sustained commitment to application of HSI would improve readiness and decrease incidents in the surface fleet. 
Reducing COSTS BY CUTTING MANPOWER
In the U.S. Navy, innovations over the past decades have delivered technological wonders such as the SPY radar and Aegis weapon system, heads-up display, and electronic navigation to the bridges of ships and the cockpits of airplanes.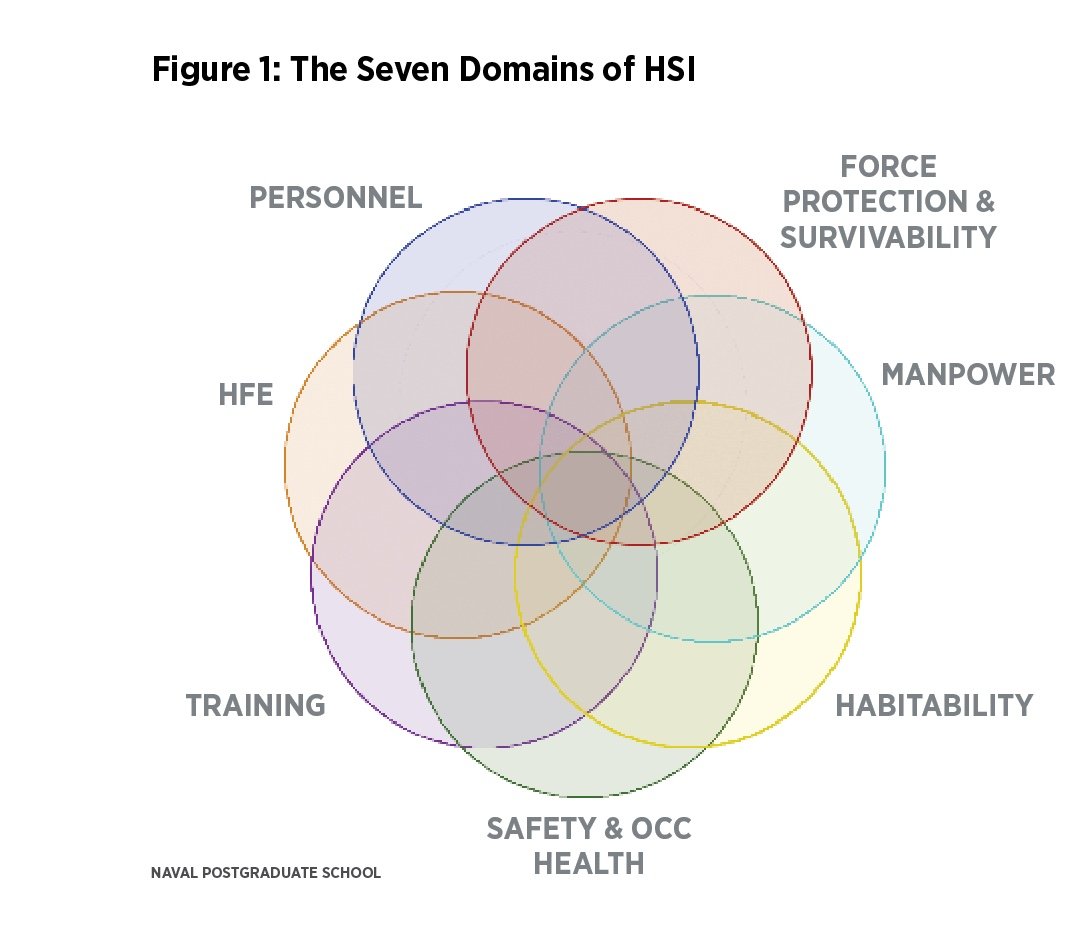 Budget analysts and engineers saw in some of these technologies a way to reduce the manpower requirement and solve one of the Navy's largest dilemmas: The Navy's most important resource, its people, are also its most expensive. Up to 40 percent of total life-cycle costs are attributable to the humans in the system. This makes personnel an easy target; advances in technology that could replace a watch stander or a technician could save millions of dollars over the total life cycle of a ship. 
Many of these changes were implemented and funded with the savings expected to be reaped by reduced manning. Then reality set in. Technologies that showed promise for reduced manning either did not come to fruition, had unacceptable operational performance, or required a different kind of operator or maintainer from the one they replaced, with no net gain. Nevertheless, "optimal manning" was adopted as a predetermined success. Although it has been rescinded, the effects have been pernicious and generational, and manifested themselves in scenarios such as the one on the bridge of the John S. McCain. 
HSI'S UNIQUE PERSPECTIVE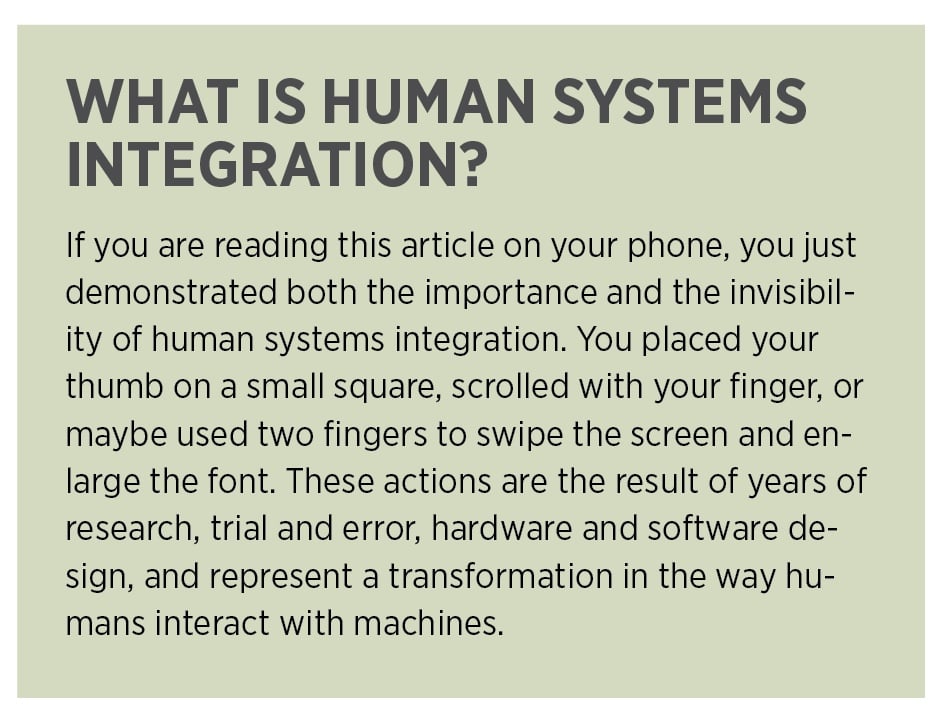 How could the consequences of decisions to reduce costs by cutting manpower have been avoided or anticipated? According to doctrine, HSI has seven fundamental domains—manpower, personnel, human factors engineering, training, personnel survivability, habitability, and environment, safety, and occupational health. These domains integrate and support a process designed to ensure fighting forces have the latest technology and best equipment and that they are trained and ready to employ them. To accomplish these goals, the following areas must be addressed:
Manpower and Personnel 
The Office of the Chief of Naval Operations (OPNAV) manpower instructions use outdated algorithms and formulas.  For example, the standard manning for Condition III steaming, which is a "ready to fight" condition that can be maintained almost indefinitely, is a three-section watch.3 This standard assumes that if there are enough personnel to station three watch sections, they will encompass the necessary capacity to perform corrective and preventive maintenance, as well as sustain duty sections when the vessel is in port. 
Studies by the Naval Postgraduate School, the Government Accountability Office (GAO), and others have chipped away at these assumptions. In studies of performance of individuals standing a rotating three-section watch, fatigue-related reaction times are similar to those seen in individuals with a blood alcohol concentration at or over the legal driving limit. Page 97 of the "Comprehensive Review" (CR) states that "many watch standers reported being fatigued, even exhausted" while standing watch. This is no surprise to those who sail on ships, but the CR may be the first official recognition that fatigue is  a contributing factor to mishaps. 
Implementation of a circadian watch rotation is a recent and important step toward decreasing fatigue, but three-section circadian rotations such as 4/8, while perfect for a merchant or cruise ship crew, may not be sustainable for a Navy ship with a packed operational schedule and significant planned and corrective maintenance. And yet, three underway sections continue to be the basis for Navy manpower calculations. Combined with manning shortages, this amounts to "baking in" fatigue on Navy ships despite the best intentions of these programs.
Exacerbating the manpower issue is the subset of sailors who are not available for detailing to sea duty. While this issue is central to multiple GAO studies and warrants a mention in the CR analysis, the magnitude of the current shortages and the trend—gaps at sea increasing from about 1,500 in 2016 to more than 6,500 in 2017—are relegated to a footnote in an enclosure.4 Given an already understated and underfunded manpower requirement, the Navy cannot continue to ignore the natural losses of a system filled with human beings. In addition to recruiting, retaining, training, and promoting the right personnel, it must build in a buffer for attrition, or the fleet will have operators who are fatigued while on watch and impaired in their judgment and decision making. 
The Navy has studied this problem for years and has procedures and requirements to address the issue of fatigue at sea, but this is just the beginning.5 A culture shift takes more than an instruction, and if these policies are to succeed and become part of the Navy culture, another domain must be considered: human factors engineering.
Human Factors Engineering 
The Navy has a Human Systems Integration Management Plan, published in 2011. While it established guidelines for new systems, it is probably behind the pace of technology. The dilemma inherent in many control systems, such as steering and engine controls, as well as the combat system, is the density of information displayed and the ability of the operator to interpret and interact with it. In the case of the John S. McCain, the CR report notes that the display on the steering control console was "so dense that it was unusable, so they automatically switched to the alternate mode of steering control." 
Sailors must be able to provide feedback to the Navy about newly installed equipment and determine if it is not working as designed. Any design review should include a questioning attitude: Is the new technology necessary, or is it overdesigned? What is the gain in reliability and effectiveness weighed against the risk of failure? 
Failure analysis often is a binary outcome: the failure was either a technical design issue or "human error" when in fact the actual interface, or point of interaction between man and machine, may be the key. A June 2018 Proceedings article by Dr. Kimberly Culley and Captain Chris Haskins put it well: "Operational risk management that fails to address human-machine interaction and other human performance factors results in a myopic view of potential hazards and human error traps…. Given the insights derived from recent mishaps and evolving perspectives rooted in science, it is critical that automation is applied with discretion and a consideration of second and third order effects."6
Training
The standard Navy process for modernization includes a requirement to provide approved training to the sailors assigned to the ship. Some installations—Aegis baselines, for example—are staffed with a robust and comprehensive training plan that includes required naval enlisted codes, critical schools, and other training such as on-the-job training and personal qualification standards to support these systems. This training should include a basic understanding of the system components, functionality, display and interface characteristics, and modes of operation (to include casualties) and must include tailored products for each level of operator, maintainer, and supervisor.  This is another area where review of design and training curricula by an HSI professional would be useful.
Habitability, Occupational Health, and Safety 
While naval aviation squadrons are billeted for a full-time, trained safety officer, the surface force provides a school to the operations officer as a collateral duty, and sometimes a junior officer is assigned as an assistant and pro-forma bookkeeper. 
Operational risk management (ORM) is a required portion of most pre-evolution briefs, but culturally ORM is only as good as the willingness of the supervisor to accept an outcome that involves either delaying or canceling an evolution—not a likely outcome on a surface ship. Research on circadian watch rotations has shown the benefits of building a fixed watch bill and modified schedule to support "protected sleep" and focus on the endurance of the watch stander, thus creating a safe environment for operating at sea.7
Evaluating a shipboard environment through an HSI lens, one would make changes to berthing compartments to reduce light and noise and limit vibrations. Berthing would be assigned by watch section/team instead of by division or sectioned off so individuals on the same watch team berth together to avoid unnecessary disturbances, keeping those in one area on the same work/sleep schedule. An HSI-trained safety officer also could look at a given rotation, evaluate fatigue predictions for the individuals on watch, and make recommendations to mitigate fatigue.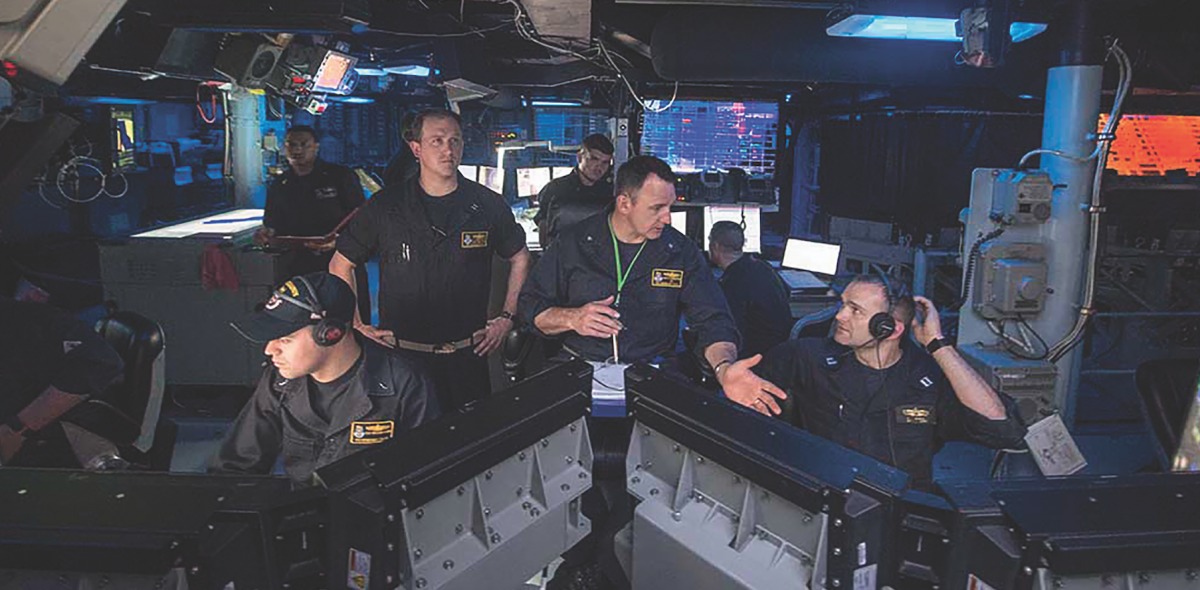 In a Navy ship's combat information center (CIC), sailors rely on monitors and sensors to detect other vessels and aircraft and control their own weapon systems. Better HSI would improve readiness and combat capability. (U.S. Navy/Justin DiNiro)
HSI SHORTFALLS
It is wonderful that the CR calls for actions involving HSI expertise in various locations, but there are not many HSI professionals in the Navy, and they are spread among multiple organizations with no formal networking or sharing system. In addition, there is no real path to increase the number of certified individuals; the only certified HSI curriculum in the Navy is at the Naval Postgraduate School. The Operations Research Department offers resident and distance-learning master's degrees and four-course graduate credit certificate in HSI to members of the military, Department of Defense (DoD) civilians, and DoD contractors. Because there is no formal designation for uniformed HSI professionals, no Navy students have graduated from the resident master's program in the past five years. 
It might be possible to fill some positions in the short term with contractors, but that is not a viable long-term solution. An action plan is needed to make immediate improvements in this field and mitigate current and future risk of another catastrophic incident. 
Recommendations
1. End stovepipes; establish a single HSI "process owner" with formal oversight at OPNAV. Establish forums and requirements for collaboration across type commanders (TyComs) and communities.
2. Initiate four watch sections instead of three to maximize the safety and crew endurance. Review OPNAV manpower documentation using HSI principles and crew endurance research.
3. Use the latest HSI technology and include human factors in all crew manpower calculations. 
4. Fund the Naval Postgraduate School (NPS) to fully staff the HSI curriculum to include the full master's program and the four-course certification program.
5. Designate a key billet at each echelon II (TyCom) staff to require HSI expertise and mandate completion of the NPS four-course certificate for the incumbent and any follow-on personnel and establish a formal personnel code requirement for HSI designation and requirements.
6. Solicit participation in the NPS graduate curriculum. Set a goal of at least five Navy graduates in 2019 and five per year after that.
7. Mandate the NPS four-course HSI certificate for all acquisition professionals to be completed within the next two years and make it a requirement for individuals transitioning into the acquisition community.
8. Include an overview of HSI principles in applicable officer pipeline training, to include available resources and procedures to address shortfalls.
9. Insert a mandatory TyCom HSI review at milestone "A" of acquisition programs, to include an evaluation of the man-machine interface by individuals at realistic levels of fatigue based on representative manpower and manning levels, and at fatigue levels that might be expected under actual conditions.
In a 2007 article titled "Avoiding a Second Hollow Force: The Case for Including Crew Endurance Factors in the Afloat Staffing Policies of the US Navy," Nita (Miller) Shattuck and the late Captain Robert Firehammer stated, "If the U.S. Navy is to [avoid a hollow force and] deliver the combat capability demanded by our government and stated in Navy governing documents, sleep and rest requirements must be accounted for in staffing methodologies. To achieve full combat capability, the Navy must change its culture and adopt programs that promote crew endurance. Human systems integration can provide a means to accomplish this goal."8
These experts made a compelling case, and the Navy should have listened. The ship collisions of 2017 should serve as a pivot point for the Navy to take immediate action to incorporate human systems integration into the mainstream of ship design and naval operations. The time is now.
1. Department of the Navy, "Comprehensive Review of Recent Surface Force Incidents," 26 October 2017.
2. Department of the Navy, "Strategic Readiness Review," 11 December 2017.
3. OPNAVINST 1000.16L, Navy Total Force Manpower Policies and Procedures, April 2016
4. Department of the Navy, "Comprehensive Review."
5. Commander, Naval Surface Force, U.S. Pacific Fleet, "Comprehensive Fatigue and Endurance Management Policy," 30 November 2017.
6. Kimberly Cully and  CAPT Chris Haskins, USN, "Mariners or Machines: Who Is at the Helm," U.S. Naval Institute Proceedings 144, no. 6 (June 2018), 80–81. 
7. CAPT John P. Cordle, USN, and Nita Shattuck, "A Sea Change in Standing Watch," U.S. Naval Institute Proceedings 139, no. 1 (January 2012), 34–39.
8. Nita Lewis Miller and CAPT Robert Firehammer, USN, "Avoiding a Second Hollow Force: The Case for Including Crew Endurance Factors in the Afloat Staffing Policies of the US Navy," Naval Engineers Journal 119, no. 1, 83–96.