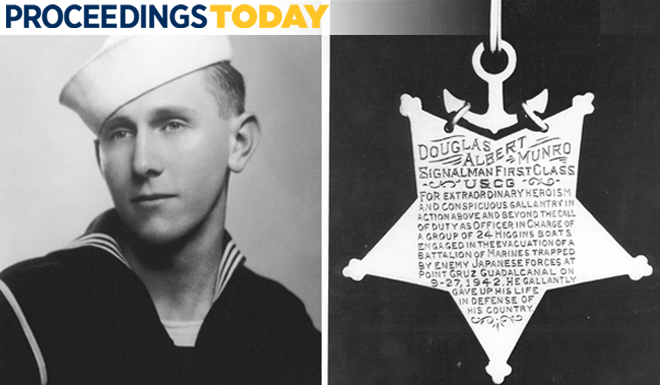 In the U.S. Coast Guard's illustrious 227-year history, only one of its members has ever been recognized with the Medal of Honor. Signalman First Class Douglas Munro earned the decoration in September 1942 at Guadalcanal in the Solomon Islands. He was awarded it posthumously for heroism while leading a group of Higgins boats to evacuate a Marine battalion trapped by a larger Japanese force at Point Cruz. The evacuation was successful, with Munro using his own boat both for evacuation and to draw enemy fire from other boats.1
Munro was born to U.S. parents in Vancouver, British Columbia, on 11 October 1919. He grew up in South Cle Elum, Washington. He attended Central Washington College of Education for one year before enlisting in the Coast Guard in 1939.2
Munro served in both the Atlantic and Pacific prior to Operation Watchtower—the August 1942 U.S. invasion of Guadalcanal. On 27 September 1942, he was in charge of the Higgins boats landing Marines who were to move along the Matanikau River to drive back Japanese forces and make Henderson Field more secure for Allied air operations. The Marines ran into intense enemy fire from entrenched Japanese, who were present in larger numbers than expected, forcing the Marines to call for an emergency evacuation. Munro volunteered to lead the Higgins boats back in under intense enemy fire.3
His citation reads: 
For extraordinary heroism and conspicuous gallantry in action above and beyond the call of duty as Officer in Charge of a group of 24 Higgins boats engaged in the evacuation of a battalion of Marines trapped by enemy Japanese Forces at Point Cruz, Guadalcanal on September 27, 1942. After making preliminary plans for the evacuation of nearly five hundred beleaguered Marines, Munro, under constant strafing by enemy machine guns on the island and at great risk of his life, daringly led five of his small craft toward the shore. As he closed the beach, he signaled the others to land and then in order to draw the enemy's fire and protect the heavily loaded boats, he valiantly placed his craft, with its two small guns, as a shield between the beachhead and the Japanese. When the perilous task of evacuation was nearly completed, Munro was killed by enemy fire, but his crew, two of whom were wounded, carried on until the last boat had loaded and cleared the beach. By his outstanding leadership, expert planning, and dauntless devotion to duty, he and his courageous comrades undoubtedly saved the lives of many who otherwise would have perished. He gallantly gave up his life in defense of his country.  
The Marines Munro and the others saved were from 1st Battalion/7th Marines, commanded that day by Lieutenant Colonel Lewis B. "Chesty" Puller, one of the most famous and highly decorated Marines in history. Puller himself was one of several hundred Marines from 1/7 evacuated. 
Munro was hit as he maneuvered his boat to cover another Higgins boat stuck on a reef. His last words were after being hit were, "Did they get off?" Told the Marines had been evacuated, he smiled, then died.4 It is believed that Puller himself may have written and sent up the chain of command a letter of recommendation for award recognition of Munro's actions.5
One poignant note in his story involves Munro's mother Edith. After his death, she sought to join the Coast Guard female auxiliary, the SPARS (Semper Paratus, Always Ready). Though the Coast Guard initially was reluctant to have a Gold Star mother serve, she was persistent. When commissioned as an officer, she insisted on going through basic training. Though at 48 she was twice the age of her fellow recruits, she successfully completed the training and was the first female officer on a Coast Guard district staff.6   
Recognition of Douglas Munro's bravery and sacrifice has taken different forms since 1942. A Navy destroyer escort serving from 1944–1960 and a Coast Guard high endurance cutter both bore his name. A new national security cutter named for him was commissioned in April 2017. 
In the 1960's the Coast Guard built a Munro Hall at the Coast Guard Academy and another Munro Hall at Cape May, New Jersey housing recruits at the training base. A statue of Munro stands at Cape May, and his Medal of Honor is also on display there. Since 1971, the Douglas A. Munro Award is given annually to an enlisted Coast Guard member for inspirational leadership in the performance of his or her duties. Finally, in 2013, the Coast Guard headquarters building in Washington, DC, was named for him.
---
1. Henry Shaw, First Offensive: The Marine Campaign for Guadalcanal, Marines in World War II Commemorative Series. 1992.29.
2. Gary Williams, Guardian of Guadalcanal – The World War II Story of Douglas A. Munro(Kendall Park, NJ: Lakota Press, 2014) 9-15.
3. Stanley Jersey, Hell's Island: The Untold Story of Guadalcanal(College Station: Texas A&M University Press, 2008) 240-244.
4. Joseph Wheelan, Midnight in the Pacific, Guadalcanal, The World War II Battle that Turned the Tide of the War(Philadelphia: Perseus Books, 2017) 130-132.
6. Michael Mink, Douglas Munro's Devotion To Duty Helped Save Hundreds Of Marines, May 5, 2017; June 6, 2018.
---
Lieutenant Colonel Lane is an Army ROTC staff member and instructor at Austin Peay State University (APSU). He holds a B.A. from The Citadel and an M.A. from APSU. He has served active duty assignments with the 101st Airborne Division (Air Assault), U.S. Army Garrison–Camp Page, Korea, 5th Infantry Division (Mechanized), APSU Army ROTC; and Army Reserve assignments with the Military History Institute at Carlisle Barracks, Pennsylvania, and the 100th Division.