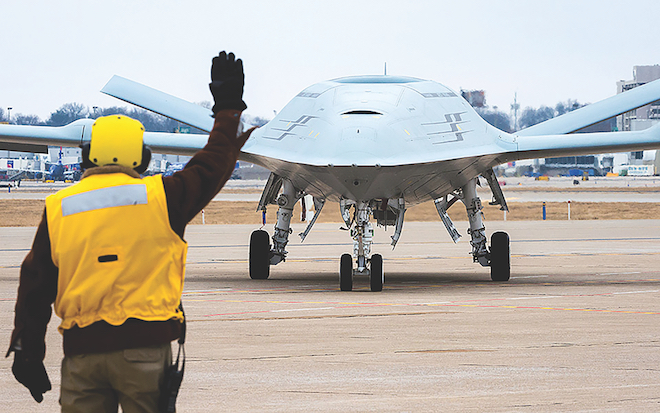 The U.S. Navy has selected the Boeing MQ-25 Stingray as its first carrier-based unmanned aerial vehicle (UAV), to operate at least initially as a tanker. (This will free the F/A-18E/F fleet from the air-to-air refueling role that has worn it down since the S-3 Vikings were retired.) But it seems obvious that the MQ-25 was not conceived solely as a tanker. 
Photographs show a stealthy shape that may not provide sufficient internal volume for the specified 15,000 pounds of fuel; possibly some will reside in external tanks. The stealthy shape, with a flush air intake on top, will increase the challenge of carrier landings. The Navy's tanker competition did not include low-observable requirements, however, which only invites speculation given the apparent design choices.
On the other hand, the tanker mission seems to have been made for a robot. Pilots are expensive to train and retain and are better used for combat missions—where their initiative and adaptability are far more important. Perhaps most important, the tanker mission demands long endurance. A UAV does not get tired or bored; its endurance is limited only by the reliability of its parts and its fuel capacity. The UAV also flies only when it is needed, considerably reducing its maintenance demands. 
It is possible that the aircraft's low-observable form will make new kinds of tactics possible. Low-observable tankers could operate much closer to a defended area, for example. (Indeed, Vice Admiral Mike Shoemaker told Proceedings in an interview in 2017 that the Navy wanted a tanker that could "extend the air wing out probably 300 or 400 miles beyond where we typically go.") An attack element that could be sure of tanking just outside enemy territory could arrive with a heavier bomb load, penetrate deeper, and maneuver more violently. 
Using a UAV as a tanker suggests other possible roles that depend on routine, such as the long-range antisubmarine warfare mission also carried out by S-3 Vikings until their retirement. Now that the Navy faces a large Chinese submarine force and increasingly capable Russian and other submarines, UAVs may be the right tool to revive the mission.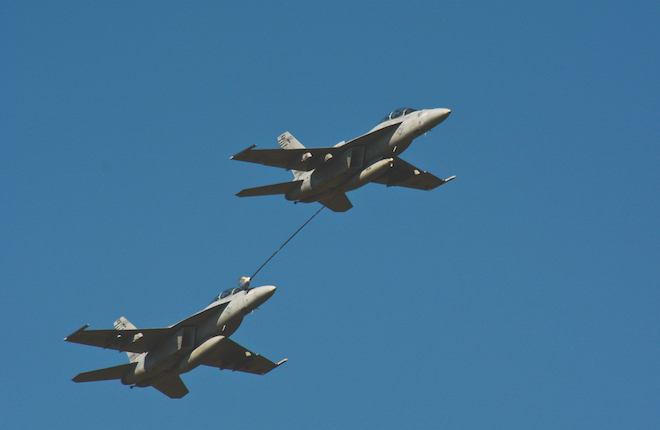 Remote reconnaissance systems are more important than ever in finding targets. Remotely operated UAVs can orbit, watching areas of interest—a road along which a target car would likely come, for example. When the operators see the car, they can order the UAV to strike. A key tenet of operating armed aircraft, whether manned or unmanned, is that responsibility for any use of force must be assignable; a human must be in the loop. 
The Navy already operates an armed UAV (although it is not called that)—the Tomahawk land-attack cruise missile (TLAM). TLAMs can be retargeted in flight, and they can pass back data and images to their operators. (The one way in which a TLAM is not like a carrier-operated UAV is that it is never recovered.) The great question for UAVs continues to be the extent to which the unmanned systems will possess sufficient intelligence to continue to function effectively when their datalinks fail— in other words, to carry out attacks autonomously. It is difficult to assign responsibility when a target is nothing more than a set of coordinates for a GPS-guided bomb. 
Probably the most important result of the MQ-25 program will be to generate experience: The carrier force will learn how to operate UAVs at sea. The part of carrier operations that a pilot might consider among the simplest may prove most difficult for a UAV: maneuvering the aircraft on deck. The same UAV that can follow way-points hundreds of miles to a target and drop munitions to within feet of it may find it difficult to taxi out of arresting gear and take an appropriate position on a busy deck. A human pilot has little trouble following hand signals. A UAV has significant difficulty. (This is typical in many applications of artificial intelligence: Computer systems can learn to solve structured problems, such as finding cancers on scans or winning highly structured games, but applying experience flexibly seems to be far more difficult.) For now, the solution appears to be an external ground-handling station on board the UAV, similar to those on other systems such as the MQ-9 Predator.
People tend to focus on airplanes rather than on the systems within which they operate. How many readers are familiar, for example, with the way in which a carrier intelligence center works to direct the carrier's strike aircraft, or the way in which individual pilots are assisted in planning their flights in and out of a target area? If you think of the carrier strike aircraft as part of a larger attack system, the intelligence center becomes something like the Aegis system directing antiaircraft missiles. 
This system looms larger when the airplanes are unmanned. The military already invests heavily in UAV control systems, including software and datalinks. The UAV airframes themselves often are comparatively inexpensive, but their sensors and the central system are not. UAVs may be most analogous to missiles wielded by a complex weapon system like Aegis (despite not being expendable). One of the biggest investments in the MQ-25 program, then, is the new carrier-based UAV control system. It has to combine the sort of mission planning a carrier already does with active control en route. The farther away UAVs fly, the more the system must work through satellite connections. These create time lags. 
An important difference between carrier UAVs and land-based ones is that the ship-based ones must return to a base that has moved. Carrier pilots do that all the time, and GPS helps considerably—at least until it is jammed or otherwise disrupted. How well would a carrier-based UAV function if it lost its source of precise navigational information? How well can it adapt to fuzzier information, the kind humans know how to use? The great wartime successes of UAVs to date have come in very permissive places, but the carrier force is valued for its ability to fight where it is opposed.
The MQ-25 may cost as much as $180–$200 million per aircraft (including development costs)—at least as expensive as a manned carrier airplane. Its life-cycle cost should be lower, however. It flies only when it is needed; there is no need for proficiency flying, either decreasing a carrier wing's demand for jet fuel (and hence forward underway replenishment) or increasing training hours available for the manned component of the wing at no increased cost. There also will be less need for a complex training pipeline. 
All of these are positive outcomes with economic implications. But if the MQ-25 or its derivatives eventually take on additional roles, there really would be economic impact. Carriers might become less expensive to operate. The United States might even operate more of them, at a time when their strike power is more and more vital.
⎯ Dr. Friedman is the author of The Naval Institute Guide to World Naval Weapon Systems, available from the Naval Institute Press.