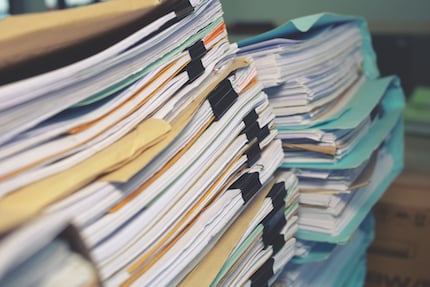 A surface ship's training officer must print more than 11,000 pages each year to properly document training.
The quality of shipboard training has received justly deserved criticism in the wake of a tragic 2017 for the surface navy. However, a dispiriting pall of administrative absurdity has somehow survived the recent deep dive into the practices, procedures, and culture of the surface Navy. The surface force's latest Shipboard Training Programs Manual is an amalgamation of well-intentioned but obscenely cumbersome regulations only the most devoted paper-pushing bureaucrat could love.1  It is most certainly not a useful tool for aggressive, agile, and highly effective surface combatant teams critical for warfighting success. 
The manual represents the predictable output of an over-bureaucratized and over-administered peacetime Navy. Without the ability to test our ships' mettle in actual combat, well-intentioned staffers and afloat training program managers shift attention to metrics that can be more easily measured and quantified. Instead of seeking to enhance a shipboard training team's ability to organically improve combat ability, these metrics count as "effective" shipboard training programs that simply document attendance and subjectively assess  efficacy.  
This is akin to a major league baseball team prioritizing a player's amount of batting practice over how well he hits in games. Anyone can spend hours in the batting cage, but it takes an extraordinary talent to hit in the major leagues. With much higher stakes than hitting a small leather ball, why would the surface Navy organize shipboard training programs to focus on practice rather than on actual watchstander/team performance?
Paperwork Behemoth
Per the new manual, approximately 984 pages will be needed every month to document and assess shipboard training for a typical surface combatant.2  That's 11,808 printed pages each year for a ship to properly document and assess training—and that figure does not include any actual materials such as tactics and technical manuals that would be printed and distributed in a typical training session. It has been a few years since I served as an afloat training officer responsible for producing the monthly report, but my mouth was agape when I saw the revised administrative behemoth that current training officers must consolidate and produce.
To contrast this current state of affairs with the U.S. submarine force in World War II, William Tuohy's book The Bravest Man: Richard O'Kane and the Amazing Submarine Adventures of the USS Tang reveals some distinct cultural differences between that force and ours. At the outset of the war, a defective torpedo and overly passive peacetime submarine commanders stymied  initial efforts against Japanese shipping. While the U.S. submarine force overcame both issues by firing more than a third of its commanding officers and ultimately correcting the defunct torpedo, the training certification process to prepare ships like the Tang for patrol remained relatively straightforward with little administrative burden. 
The submarine squadron commodore embarked the ship and observed its conduct and drill performance. On returning to port, the commodore declared the submarine ready or not ready for patrol. That was it. The leadership mentality that led the most successful submarine wartime effort in history was chasms away from the current readiness generation and certification bureaucracy.
The point here is not to advocate for  Destroyer Squadron commodores certifying a modern, complex warship in 21 different mission areas after only a short embarkation. A World War II–era submarine with essentially only one tactical task—to close within torpedo firing range of an enemy target—could indeed have been competently judged as proficient in such a manner. The success of that submarine force speaks for itself. However, today's surface force is not well served by directives requiring more than one thousand pages of training documentation per month.
 For example, a typical Arleigh Burke (DDG-51)–class destroyer, the mainstay of our surface fleet, is subdivided into 19 manpower divisions. For a non-ballistic-missile-defense-capable DDG, the Surface Force Readiness Manual directs that such a ship will certify and maintain proficiency in 21 different warfare areas. In addition, there are other organic training groups afloat, such as the wardroom, chief's mess, and in-port duty sections. Given current guidelines, each is responsible for laboriously documenting, both on paper and electronically, training attendance and subjectively assessing training effectiveness. What end does this serve? To prove that training happened? We have bigger problems to solve.
A Warfighting Culture
In the coming naval fight, the force that consistently and effectively employs offensive firepower will prevail. While some manner of administration is required to manage afloat training, we must carefully balance the value of increased administrative requirements that allow additional staff oversight against the potential distraction from actual training. Requiring already overworked sailors to produce hundreds of pages of near-worthless training documents each month is an unnecessary administrative burden that detracts from warfighting effectiveness.
We can learn something from the culture of that World War II submarine force that excelled against a determined, competent, and lethal foe. Instead of meticulously mandating how commanding officers train their ships, why not simply hold them responsible for meeting standards? What good is it if a commanding officer produces all 11,808 pages of the required training and assessment documentation at the end of the year, but can't field a combat-ready ship? As an experiment, how about prototyping a single ship entering the training cycle? Empower the commanding officer to conduct the shipboard training program and preparations for certification events as he or she deems fit. If the commanding officer can achieve the same standards without the accompanying administrative burden, wouldn't that improve afloat quality of life and help invigorate a war-fighting culture?
We cannot know exactly when the missiles will start flying, but when they do we will depend on competent, effective, and lethal teams to succeed in battle. At the individual ship level, modern naval warfare against a peer enemy is likely to be an all-or-nothing affair. We owe it to those ships who will be in harm's way to cast loose the dated, bureaucratic, and burdensome peacetime training systems that fail to meaningfully enhance combat effectiveness. The Navy should empower and hold responsible commanding officers for training their ships to engage and defeat the enemy.
---
1. CNSP-CNSLINST 1500.1 Shipboard Training Programs Manual, 14 July 17.
2. Figure arrived at by using the templates provided on the Afloat Training Group ToolBox for mandatory monthly muster sheets, training evaluations, and divisional/warfare area reports, multiplied by the number of training groups notionally present on a non-BMD Flt I DDG.
---
Lieutenant Cordial is assigned to the staff of the Chief of Naval Operations, Surface Warfare Division. He previously served as an assistant professor of naval science at the George Washington University NROTC unit.