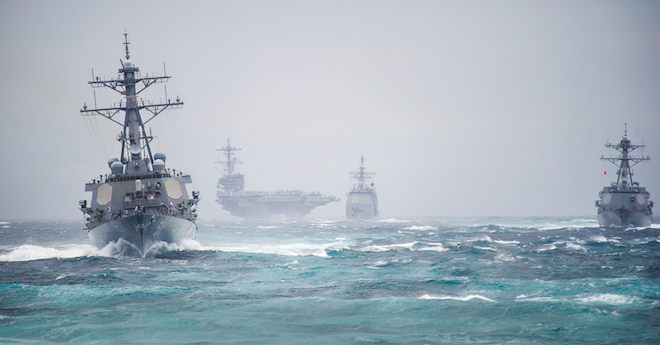 The Navy should rethink the operational employment of carriers and other ships as part of the 30-year shipbuilding plan.
The eight appendices of the Navy's 30-year shipbuilding plan do a thorough job describing the costs, funding requirements, shipyard capacity, and acquisition profile required to build a fleet of 355 ships.1 But Vice Admiral Bill Mertz, Deputy Chief of Naval Operations for Warfare Systems, has conceded that although a life extension for guided-missile destroyers will "[get] the Navy to 355 ships in 2036 or 2037, . . . it's the wrong mix of ships," adding that the Navy is "very focused on getting the right mix . . . in the end."2
To help define the correct mix, the shipbuilding plan needs an Appendix 9, focused on operations. Such a postscript should challenge current assumptions about how best to employ the fleet. It should articulate a "fundamental naval force" (FNF) concept to organize ship and ship-group roles around warfighting, strategic deterrence, crisis-response, and forward-presence missions.3 Most important, the Navy should rethink the role of carrier strike groups (CSGs), moving them away from conducting presence missions and toward preparing multiple CSGs to become the FNF for warfighting. 
These FNF roles would provide a framework for evaluating the mix of ships and align their operational functions with the 2018 National Defense Strategy (NDS). It need not delve into precise numbers (capacity) or detailed requirements (capabilities), because both will vary over 30 years. But the roles themselves likely will not change dramatically during that time. 
Creating Appendix 9 also would offer an opportunity to define key elements of the dynamic force employment notion presented in the strategy. It would outline the key elements of a new paradigm for how to deploy naval forces so as to avoid predictability while maintaining a more lethal and more capable force. 
Rethinking the Fundamental Naval Force
The FNF concept is a taxonomy that will guide the employment of a force of 355 aircraft carriers, submarines, surface combatants, and amphibious assault ships.4 It rests on four assumptions: No major alterations to the 30-year shipbuilding plan are likely; the Navy will continue to execute its traditional missions; naval forces will continue to be in high demand globally; and, the return to great power competition has reemphasized the importance of preparing for war at sea. 
The concept also assumes national and military strategies will continue to rely heavily on naval forces. It does not require immediate action or new funding but will require cultural change inside and outside the Navy regarding how the service should meet its range of operational responsibilities.
Secretary of Defense Jim Mattis introduced the term "dynamic force employment" this year to describe the effort to avoid predictability in deployment patterns. As the NDS puts it,"Dynamic Force Employment will prioritize maintaining the capacity and capabilities for major combat, while providing options for proactive and scalable employment of the Joint Force."5 The Navy already has seen change as a result. The fleet has begun a move away from predictable CSG-centric six-month deployments, with the Harry S. Truman Strike Group ordered home to Virginia in July after only three months. 
Deployment patterns for CSGs and amphibious ready groups/Marine expeditionary units (ARGs/MEUs) have required predictability to complete maintenance, achieve certification levels, and then meet combatant commander (CoCom) presence requirements. By rethinking which units can or should meet those requirements, the FNF concept will retain the quantity and quality of maintenance and certification times but will align better with dynamic force employment. This will provide more opportunities to train for high-end threats and prioritize combat capacity and capability while still providing CoComs with effective, scalable naval forces.

The Functions Defined
The FNF concept describes four fundamental naval functions—warfighting, strategic deterrence, crisis response, and forward presence. These broad mission areas are performed by operational naval forces, based on traditional naval missions.6 Each of these responsibilities is linked not only to an FNF, but also to a supplemental naval force (SNF) as well. 
The FNF is the critical operational "unit of action" that executes a function. In general, a given function will be the primary mission of a given FNF. 
An SNF is an important operational unit of action that supports or enables the execution of a function. Alternatively, it is a "unit of action" that may perform a given function, but less capably than the FNF. 
Executing the Concept
Based on the functions outlined for naval forces, the FNF concept maps those functions to the naval forces yielded by the 30-year ship-building plan and updates the force-employment construct. 
Carrier Strike Groups
Identifying CSGs as the warfighting FNF results in the biggest paradigm shift within this concept. Specifically, the Navy must stop deploying aircraft carrier strike groups principally for forward presence. This practice diverts resources, attention, and training from warfighting. A CSG represents unparalleled naval power—pound for pound, a strike group is among the most capable naval forces ever assembled. Carriers must be funded, trained, and deployed as warfighters, not primarily to meet routine CoCom presence requirements. The strike group must refocus on preparing to deploy and fight when called upon—and with the lack of operational predictability called for in the NDS. It should be prospective adversaries—not U.S. presidents—who worry "Where are the carriers?"
Current CSG operational tempo is based on the Optimized Fleet Response Plan cycle of predictable maintenance, training, certification, deployment, and sustainment, with an emphasis on effective sustainment around the deployment window. Under the new concept, the goal would be to deploy a CSG from each coast in a "shuttle run" fashion, transiting from homeport through the numbered-fleet areas of responsibility, and then returning in three to five months. This scheme of maneuver places the emphasis on maintenance, training, certification, and ultimately warfighting readiness, rather than tethering CSG schedules to forward-presence missions in a "heel-to-toe" fashion.
Such a cycle would allow a CSG to support crisis response and forward presence during its "round trip" deployment. The CSG also would train and experiment in home as well as unfamiliar waters to maintain proficiency and develop new tactics, techniques, and procedures. By linking up during deployments with other CSGs, maritime patrol aircraft, submarines, and ARGs/MEUs (which will have taken over routine CoCom presence), CSGs can develop new tactics and strategies for the kinds of large-scale deployments and task force operations that will be needed to prevail in a peer or near-peer fight. (See, for example, Admiral Scott Swift's "A Fleet Must Be Able to Fight" in the May 2018 Proceedings.)
This new construct for CSG deployments can be viewed as a hybrid between that of the pre–World War II fleet, which operated primarily in home waters and then deployed as necessary, and today's, which provides overseas presence, regardless of an actual crisis.
Attack Submarines and Maritime Patrol Aircraft 
Although the CSG is the warfighting FNF, the contributions of the nuclear-powered attack submarine (SSN) force and P-8 Poseidon maritime patrol aircraft (MPA) will be critical to winning any great-power fight, particularly in the vast Pacific or in strategic chokepoints. Both platforms provide offensive power to strike the enemy surface and subsurface fleets. They also can defend friendly forces, bastions, and sea lines of communication—particularly against opposing submarines. Their limited striking capacity and the MPAs' limited range make them warfighting SNFs, but very capable ones performing mission-essential tasks.
OPNAV Instruction 3501.316C ("Force Composition of Afloat Navy and Naval Groups," dated 10 November 2017) does not include SSNs or MPAs in the standard CSG composition, allowing those naval forces to operate independently from the CSG and limiting interaction opportunities. Post–Cold War and Global War on Terror operational requirements (and a reduced SSN inventory) exacerbated this lack of integration. From both a doctrinal and operational perspective, however, it would be desirable to integrate SSNs and MPA squadrons with each CSG. This would clarify their importance and provide more robust, regular opportunities to improve CSG warfighting proficiency, particularly in the antisubmarine warfare mission.
Ballistic-Missile Submarines
The FNF concept does not imply any changes to the operational employment of the ballistic-missile submarine force; it remains the strategic deterrence FNF. Appendix 9 can help the Navy emphasize its critical component of the nuclear triad in a comprehensive narrative.
Amphibious Forces
With the CSGs refocused on readiness for offensive warfighting against a high-end adversary, the ARG/MEU becomes the force in readiness for crisis response. (Almost any naval force can serve as an SNF in a crisis, depending on its nature.) The ARG/MEU will continue today's six-month deployment construct and will take over the Navy's primary contribution to CoCom presence requirements and requests for forces. 
The ARG/MEU lacks the offensive punch of a CSG but has a wider variety of capabilities for crisis response. For example, an ARG/MEU is far better equipped to execute a non-combatant evacuation operation than a CSG. Nevertheless, the advanced capabilities that the F-35 brings to the air combat element of a MEU give the ARG strong capability for a variety of contingencies that previously only a CSG could have provided. The upgunned expeditionary strike group concept—adding a guided-missile cruiser or destroyer to the ARG/MEU—would increase those capabilities further and deserves renewed consideration.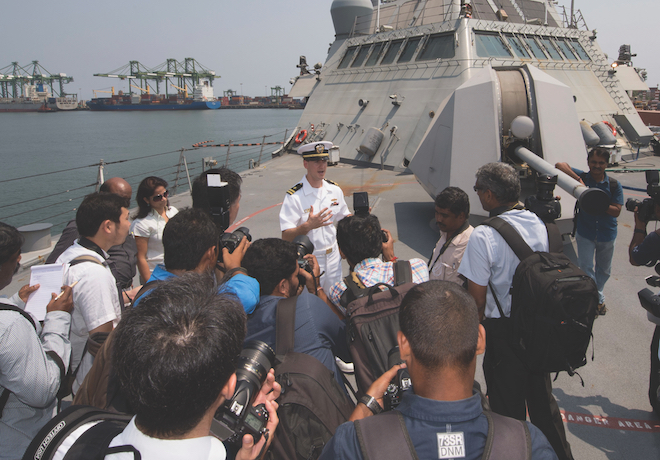 Littoral Combat Ships
Littoral combat ships (LCSs)—and eventually future frigates (FFG[X]s)—will constitute a significant percentage of the future battle force and will operate from a variety of forward bases. These factors make these ships ideal as the FNF forward-presence platform. The LCS does not need to win the fight by itself or in groups. Rather, it can be a first line of defense for U.S. interests, showing the proverbial flag or disrupting an adversary until crisis response forces arrive to take the lead. The forthcoming lethality and survivability upgrades to the LCS will enhance its effectiveness. 
The LCS also has the inherent advantage of integrating well with partner and coalition navies, particularly for forward maritime security operations. Although it neither has nor needs the "long legs" of larger surface combatants, it may be enough to quell emerging tensions before a full-scale shooting match erupts in one of the many global hot spots. 
The Way Ahead
Unlike many innovations, this FNF concept can be implemented immediately with little additional funding; it may even save money. But the true benefit lies in two results: improved warfighting capability against high-end threats; and banking strike group capacity for a major conflict through reduced CSG operational tempo. 
The hypothetical Appendix 9 does not advocate eliminating or reducing forces. Thus, sponsors and stakeholders should be able to analyze the implications of the FNF without the kind of bureaucratic infighting that comes from perceived intraservice threats. The Naval War College and the Navy Warfare Development Command, among others, have the experience and ability to begin wargaming this concept. 
Rethinking the structure of the Navy necessarily means rethinking the employment of the ships and people who will have to fight when battle comes. Today's model of CSG and ship deployments was designed for a different world. The sooner the Navy acknowledges this, the more capacity and capability can be marshaled to compete with, deter, and if necessary defeat great-power competitors. 
---
1. U.S. Navy, Report to Congress on the Annual Long-Range Plan for Construction of Naval Vessels for Fiscal Year 2019, February 2018. 
2. Megan Eckstein, "Navy Will Extend All DDGs to a 45-Year Service Life; 'No Destroyer Left Behind,' Officials Say," USNI News, 12 April 2018, news.usni.org/2018/04/12/navy-will-extend-ddgs-45-year-service-life-no-destroyer-left-behind-officials-say.
3. These are derived from the functions listed in U.S. Navy, A Cooperative Strategy for 21st Century Seapower (March 2015), www.navy.mil/local/maritime/150227-CS21R-Final.pdf. The document describes five fundamental naval force capabilities: all-domain access, deterrence, sea control, power projection, and maritime security. In the present case, for example, "power projection" and "sea control" combine to become "warfighting."
4. The FNF concept could be expanded to include two additional functions: logistics and afloat staging/command support ships, whose FNFs would include auxiliaries, command ships, and mobile bases. 
5. Department of Defense, Summary of the National Defense Strategy of the United States of America (January 2018), 7, www.defense.gov/Portals/1/Documents/pubs/2018-National-Defense-Strategy-Summary.pdf.
6. Naval Doctrine Publication 1 lists deterrence, forward presence, naval operations (other than war), sealift, joint operations, and naval operations in war as roles of the Navy. 
---
Captain Donegan retired in 2017 after 25 years of service. His last active-duty tour was as the U.S. Fleet Forces Command liaison officer to the OPNAV Staff. At sea, he served as executive officer of the USS Trenton (LPD-14) and commanded the USS Laboon (DDG-58).