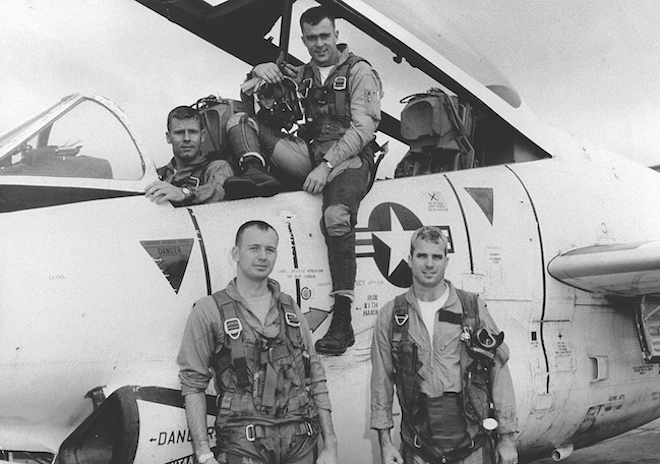 In the spring of 1976, Proceedings was making plans to publish a special issue on naval aviation. The office of the Deputy Chief of Naval Operations (Air) arranged for me to go on a one-week orientation visit to East Coast commands. 
One of my stops was a visit on 15 June to Attack Squadron 174 (VA-174), the Atlantic Fleet replacement air group for the A-7 Corsair II light attack aircraft, at Cecil Field Naval Air Station in Florida.
The individual who served as my host and guide was Commander John S. McCain III, VA-174's executive officer. When I first met him, his metal cap device—eagle, shield, and anchors—was hanging upside down. I couldn't resist a moment of flippancy, so I remarked, "I hate to say this, Commander, but you have a screw loose." He took it well. Humor was one of his trademarks.
From that visit, I remember him as remarkably energetic. Even so, the effects of his experience as a prisoner of war in Vietnam were apparent. He got winded easily, and his hair was almost totally gray, though his face looked young. Even though he moved with a pronounced limp, he hustled to show off the squadron. At no time did he play the role of former POW. He talked about the experience only when I raised the issue. 
A particularly vivid recollection is his using a simulator to try to teach me how to land a plane on a carrier deck. I had my hand on the stick as the electronic plane came in, but my multiple efforts ended in failures. I wasn't a video gamer, and I was clueless; McCain seemed impatient that I wasn't picking up the technique.
In talking up the squadron he told me he was giving me the facts, whereas spokesmen for other squadrons were putting out "BS"—perhaps a preview of his "Straight Talk Express" while running for president years later. During the visit, McCain introduced me to Commander Bob Musgrove, a member of the staff of Commander, Light Attack Wings Atlantic Fleet. The two had graduated from the Naval Academy in 1958. As McCain made the introduction, he said Musgrove had finished closer to the class of '57 and himself closer to '59. He was five steps above the bottom. I enjoyed the visit and, as I wrote in my diary at the time, "I was really impressed by him."
Two weeks later, on 1 July, McCain fleeted up to become skipper of VA-174. His tour lasted nearly 13 months—the only command he held in his active naval service. During his tenure the squadron improved in flight readiness and safety and was awarded its first Meritorious Unit Commendation.
Some years later, I interviewed Vice Admiral William Lawrence for a Naval Institute oral history. He had been a POW in Vietnam at the same time as McCain and demonstrated similar courage and leadership. The two were released in 1973 at the end of hostilities. Lawrence, who had been awaiting a reunion with his wife, learned she had divorced him in absentia and married someone else. Lawrence wanted her to divorce her second husband so he could fulfill his marriage vows, but friends convinced him that would not be a good idea. 
While McCain was recovering from the grievous damage to his body from his prison experience, his physical therapist was Diane Rauch, recently divorced from Rear Admiral Charles "Chick" Rauch. McCain set about to play Cupid and introduced her to Lawrence. As Lawrence explained in his oral history, at that point he had little use for women and Diane had little use for naval officers, but they eventually got over their qualms and had a long and successful marriage.
In the late 1990s, McCain's long-time Senate legislative aide Mark Salter visited the Naval Institute. He was researching for his boss a book that was to be part memoir and part family history. Salter came to review oral histories that covered the senator's grandfather, Admiral John S. McCain, and father, Admiral John S. McCain Jr. He was pleasantly surprised to learn the senator's dad had recorded an interview. 
The interview was intended to be the first in a series covering the admiral's career, but for some reason, no more followed, and the one interview had not been made public. The senator had not been aware of its existence and immediately authorized its release. Material in the interview was included in the book that became the best-selling Faith of My Fathers (Random House, 1999).
Mr. Stillwell is a contributing editor to Naval History magazine and a past director of the Naval Institute's Oral History Program.