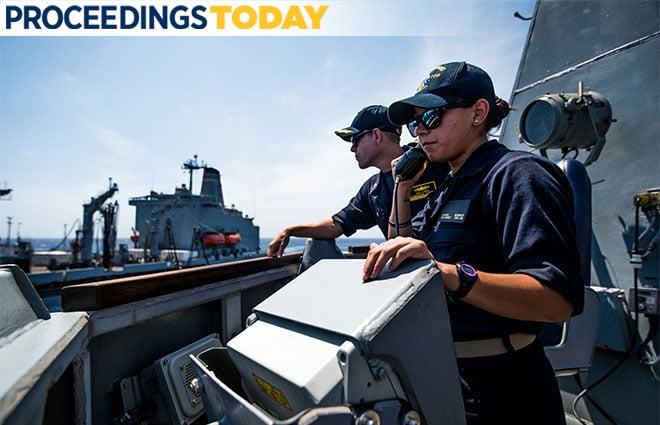 Ensign Amanda Skinner on the bridge of the USS Dewey (DDG-105) off Southern California, July 2018.
The United States has been at war for 17 years, often referred to as "the long war."[1] Military personnel who have experienced direct combat include particularly those in special operations but also sailors. During the hardest years of the campaigns in Iraq and Afghanistan, some sailors and officers in seagoing rates and designators were even plucked off ships to mitigate manning shortfalls in the ashore counterinsurgency effort. And yet members of the surface warfare officer (SWO) community have never fired an antiship missile in anger, rushed to general quarters under fire, or prosecuted a submarine under battle conditions. Neither have their sailors.
For those who serve on ships, the long war has been distant. They may have driven ships that launched land-attack missile strikes, or defended others who did; such roles are certainly essential to the fight. But they are not the primary objective of surface warfare.
Today's SWOs are in a peacetime mindset. They have grown accustomed to a supporting role in warfare, rather than being supported themselves. During the long war, the community has forgotten that it represents the maritime combat arms branch of the joint service. The warship's primary role is naval combat, not plane guard or presence operations. Traditional seapower, as characterized by fleet-on-fleet engagements, has been relegated to a subsidiary endeavor.
Yet in historical great-power rivalries, direct naval engagements have turned the tide. Leyte Gulf, Hampton Roads, Lepanto, and Salamis are a few examples. Great-power rivalry, moreover, is back. U.S. grand strategy has recently (and belatedly) caught up to this reality. Dispensing with the long war, the 2018 National Defense Strategy unequivocally states that "Inter-state strategic competition, not terrorism, is now the primary concern in U.S. national security."[2]
In such an environment, fleets unprepared for traditional engagements with peer competitors face disaster. If those who write checklists and battle orders fail to appreciate this new international setting in which ships vie for sea control, operators will not move beyond rote procedural compliance during battle. Thus, while SWOs must remain proficient in their supporting role in the long war, they must elevate to the highest priority preparation for combat at sea. This requires a wartime mentality, and junior SWOs can develop it through what they read and what they do.
What to Read
The prevailing attitude is that junior SWOs should read mostly the captain's standing orders, the Rules of the Road, and engineering procedures. Sometimes this extends to technical and warfare manuals. A bolder approach would add joint publications and the naval canon, including Alfred Thayer Mahan's The Influence of Seapower Upon History. The Chief of Naval Operations and the U.S. Naval Institute already provide reading lists that should be used.
The lists are extensive and the fleet officer's time is limited, with a division to manage and watches to stand. In addition, a junior SWO's primary goal is the acquisition of tactical knowledge, with limited emphasis on operations. Most junior officers are hardly aware of the operational or higher-level tasking they are executing while on watch. Some argue that these big-picture strategic questions will be addressed during the Joint Professional Military Education (JPME) career phase.
But those who drive ships, stand most watches in the combat information center, and run deck operations are usually junior officers who have not completed JPME. Additionally, wartime officer attrition will be a reality, and division officers will have to hit above their paygrade when a department head is killed or incapacitated.
Junior SWOs must understand how their micro-level efforts contribute to the big picture. They must learn to think about when war is likely, against whom it might be fought, and under what conditions. Only then will they know how to prepare their divisions and stand their watches. As Carl von Clausewitz noted: "The whole of military activity must . . . relate directly or indirectly to the engagement. The end for which a soldier is recruited, clothed, armed, and trained . . . is simply that he should fight at the right place and the right time."[3]
To interpret the strategic context underlying daily operations, junior SWOs should first read the news, including publications with strong international coverage, such as the New York Times, Washington Post, and Economist. They should listen to BBC news on the radio or watch it on television. Mobile-application news aggregators such as Google News, Apple News, and AP Mobile are also readily available. Officers can integrate these sources into their daily routine, along with checking e-mail and message traffic.
Reading cover-to-cover is not necessary. The officer with limited time may review the headlines and read one or two articles of interest, paying particular attention to emerging conflict zones. Those seeking deeper analysis on security questions might consider the Texas National Security Review or War on the Rocks, both free online. Many other resources exist for the curious warrior-scholar.
SWOs should think about what could be accomplished—or not—using military force in conflicts described in the newspaper. Whether or why to use force is for civilian leadership to decide. The military officer needs to anticipate likely courses of action. This requires a foundation in the type of theoretical thought that can be helpful for approaching and processing seemingly disparate pieces of information. Two good sources for this are Clausewitz's On War (book one, chapters one, two, and seven) and Thomas Schelling's Arms and Influence (chapters one and two).
What to Do
Surface warfare officers love aphorisms. A SWO should be "brilliant at the basics" and a practitioner of "procedural compliance" and "intrusive leadership." These guidelines share an implicit thread: minutiae. Attention to detail is certainly at the foundation of SWO culture. But with a wartime mentality, it is necessary to understand minutiae as supporting elements that help prepare for the engagement.
Instructions and checklists are a natural starting point. SWOs maintain checklists for everything: restricted water transits, gunnery exercises, space inspections. Checklists are sacred in the peacetime Navy because they reduce risk. However, officers assume a different level of risk in operational conduct, particularly in warfare. Checklists that work in peace may not do so in war, and a procedure written in a strategic vacuum is a risk-multiplier.
Further complicating matters, commanding officers expect watchstanders to memorize immediate and controlling actions and to act automatically without input—but the checklist swells with each fleet mishap, perhaps because a captain's career could depend on a missed item. The checklist comes to take the place of the captain. It represents supervision from afar, not decentralized command and control.
The relationship between tactical proficiency and the checklist is similarly tense. Do you execute the process because you know it, or because you are reading off a script? In peacetime it may not matter, since operations are predictable and little deviation from procedure is necessary. Today's long and deliberate checklists are written for the long war, in which the SWO may launch Tomahawk missiles to support the land component commander, but never has to do so under fire. In combat at sea, however, each checklist item could yield escalating delays due to unforeseen circumstances. Clausewitz called this "friction": "Everything in war is very simple, but the simplest thing is difficult . . . every war is rich in unique episodes. Each is an uncharted sea, full of reefs."[4]
SWOs can prepare now to reduce these sources of friction. Second-tour division officers are the primary instruction and checklist writers: navigators, fire control officers, and damage control assistants. They should see this as a tip-of-the-spear role in preparing for warfare, not as an administrative burden. Battle orders, doctrine, and checklists can be modified so that when missiles are flying, the watch officer understands which steps or permission items can be waived.
First, writers can reduce the length of these instructions. This can be done not only by eliminating redundant or unnecessary items, but even by simply paring down excessive verbiage. In addition, and in consultation with senior officers, junior SWOs could indicate which items absolutely cannot be skipped, even under fire. The goal should be to ensure that in combat, a young ensign or seaman will not adhere to routine or administrative requirements that may preclude an immediate response. Reading about war and the modern strategic context will help the officer produce a product that is a "line of effort" for the crew's ultimate goal—fighting the ship—without creating drag.
Second, watch officers must understand that permission requirements will differ in wartime. The obsession with mitigating operational risk in the peacetime Navy has produced standing orders that impose onerous reporting and permission requirements. Young SWOs socialized in this culture may hesitate when they should act. Checklist and instruction writers should seek guidance from commanding officers about what items do not require permission in combat. Standing orders or checklists could be modified to indicate this (perhaps using parentheses).  
Junior officers are naturally hesitant to ask such questions of seniors or to seek modifications to procedures—just as they are inclined to "stay in their lane" with reading material. But during a war, they will have no time for either asking or reading. Some cornerstones of wartime thinking must be constructed and cultivated in peacetime.
---
1. Bradley Graham and Josh White, "Abizaid Credited with Popularizing the Term 'Long War," Washington Post, 3 February 2006.
3. Carl von Clausewitz, On War, Michael Howard and Peter Paret, eds. (Princeton, NJ: Princeton University Press, 1976), 95.
4. Clausewitz, On War, 119–20.
---
Mr. Panter, a Ph.D. student in political science at Columbia University, served as navigator of the USS San Jacinto (CG-56) and in various billets on board the USS Bataan (LHD-5).