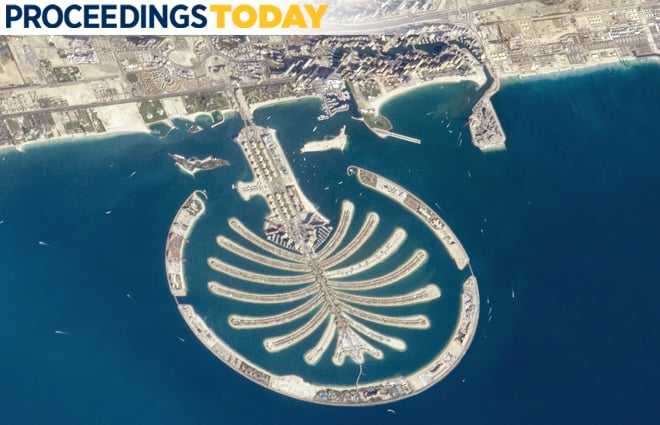 Palm Jumeirah is an artificial island in Dubai. (NASA photo/Tim Kopra)
When Chinese President Xi Jinping flew to Africa on his way to the Brazil, Russia, India, China and South Africa (BRICS) summit this past summer, he followed a route that has become familiar to many Chinese travelers: he stopped in the United Arab Emirates (UAE). Dubai International Airport—the busiest airport in the world by international passengers—has become a major hub for Chinese travelers heading to Africa, South Asia, and Europe. In fact, Emirates Airlines estimates that nearly one quarter of its passengers on Africa flights are Chinese who connected in Dubai.
Of course, President Xi was not interested in shopping at Dubai airport's glitzy duty-free stores while he waited for a connecting flight. Xi visited the UAE to consolidate ties with a country that has become increasingly important as a major China trade hub for the world. It also happened to be the first foreign visit of his second term, a symbolic act not lost on his UAE hosts. They rolled out the reddest of red carpets for the Chinese president, according him the highest civilian honor, lighting up prominent UAE landmarks in the colors of the Chinese flag, and offering a program of China-themed cultural events during the visit.
As trade rifts threaten the global economy, emerging corridors of trade relationships among developing countries (sometimes called "South-South relationships") are still humming and reshaping our global commercial geography. The UAE–China relationship is a good example of that. With some 4,000 Chinese companies and four of China's largest banks operating in the UAE and a trade relationship approaching $60 billion, the UAE–China relationship is one of the most dynamic of all China's relationships in the Middle East and North Africa.
The connection does not fit easily into recent molds. This is not the typical hydrocarbons-for-manufactured-products relationship. Nor is it like other "Belt and Road" investor-investee relationships that position Beijing as either transformative benefactor (witness the Piraeus port in Greece, dramatically revitalized by Chinese investment) or debt-trap "colonizer" (as an increasing number of countries from Malaysia to Sri Lanka describe it).
Consider the following: China exports more to the UAE, a country of 10 million, than it does to India, with 1.3 billion people. The majority of the UAE exports are transshipped elsewhere, mainly through the Jebel Ali port in Dubai, the ninth-busiest container terminal in the world. Dubai is emerging as something of a "Hong Kong West" for China as an air and sea hub as well as a destination for traders and tourists. Last year, China surpassed India as Dubai's largest trade partner, and some 750,000 Chinese tourists visited the city last year.
Dubai seems purpose fit for the Belt and Road Initiative, given the city's growing role as a global logistics center. But the high-flying commercial metropolis of Dubai is not the only city driving the relationship. The UAE capital, Abu Dhabi—home to the country's oil wealth and its foreign and security policy—has embraced China closely.
The UAE–China relationship began to take strategic depth after the visit of Abu Dhabi Crown Prince Sheikh Mohammed bin Zayed al-Nahyan to Beijing in December 2015. Of course, there is oil in the relationship. The UAE is not one of China's major suppliers, barely cracking the top ten, but in March 2018 the oil relationship went from tactical to strategic when China paid some $1.2 billion to take part in two major offshore oil concessions operated by Abu Dhabi National Oil Company.
Another sign of the growing relationship is Abu Dhabi's Khalifa Port. The Jiangsu Provincial Overseas Cooperation and Investment Company Limited (JOCIC) announced in April that 15 Chinese companies had agreed to invest $1 billion in the Khalifa Port Free Trade Zone, currently developed by JOCIC and dubbed the China-UAE Industrial Capacity Cooperation Industrial Park.
Khalifa Port, owned by Abu Dhabi Ports Company, is also home to the Cosco Shipping Abu Dhabi Terminal. The latter is being developed by Cosco Shipping Ports, China's leading state-owned maritime and ports operating company, under a 35-year concession awarded in 2016. Cosco Shipping reportedly paid $400 million for construction, and the new development will nearly double the port's existing 2.5 million twenty-foot-equivalent units.
The terminal is expected to start operations by the end of this year. While Khalifa Port still has a long way to go to challenge Dubai's Jebel Ali as the region's leading container terminal port, Cosco ships gradually will shift from Dubai to Khalifa. Most of the containers landing in Khalifa Port will either be used in the free-trade zone or transshipped elsewhere, but some of them may find their way to the Dubai megamall known as Dragon Mart, the largest Chinese wholesale market outside of mainland China.
The UAE–China relationship seems to be accelerating into the trade-fight winds roiling the world rather than retreating. When two countries with significant surplus capital and broad trading networks across the Middle East, Africa, and South Asia region—as well as Europe—join hands, geo-economic observers should pay heed.
---
Mr. Molavi is a senior fellow of the Foreign Policy Institute at the Johns Hopkins School of Advanced International Studies.
---
Listen to a Proceedings Podcast interview with this author about this article below: