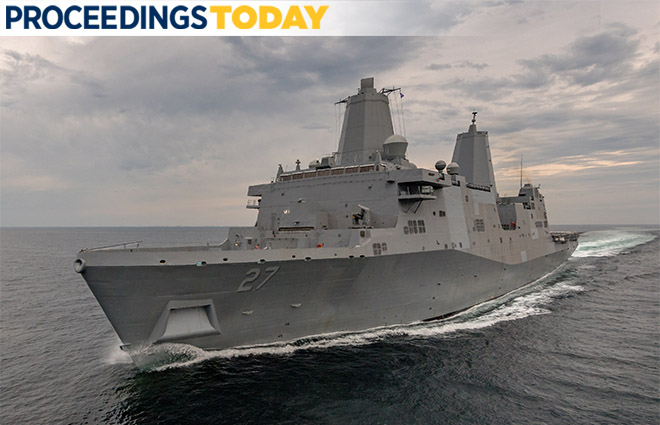 The USS Portland (LPD-17) conducts sea trials in the Gulf of Mexico, July 2017. (U.S. Navy/Lance Davis)
Advances in battlefield medicine over the past century have led to remarkable lifesaving capabilities. Today, injured military members have a 97 percent survival rate.1 This remarkable achievement was made possible by many visionaries willing to address future unforeseen challenges.  A similar innovative vision is needed in choosing the hospital ship of the future.
The Navy's current hospital ships, USNS Mercy (T-AHS-19) and USNS Comfort (T-AHS-20), still offer robust medical capability, but both have severe limitations and no longer meet today's requirements in a contested environment. As these ships quickly approach the end of their service lives, a completely new design is not needed. Instead, the current amphibious transport dock San Antonio (LPD-17) class already exceeds Navy medicine's requirements of greater speed and agility, better patient throughput, a modular construct, better ship-to-shore transport, and better medical sustainment.
The Mercy Class: A Proud Legacy
The tradition of U.S. Navy hospital ships started in 1918. The Mercy and Comfort have carried on the proud legacy of their predecessors since the mid-1980s, when they were launched as the new Mercy-class hospital ships. Originally designed to be San Clemente–class oil tankers, they measure 894 feet in length, have a 106-foot beam and a 33-foot draft, displace 69,360 tons under full load, and attain a maximum speed of 17.5 knots.2 According to the Navy, their mission is to "provide emergency, on-site care for U.S. combatant forces deployed in war or other operations while the secondary mission is to provide full hospital services to support U.S. disaster relief and humanitarian operations worldwide."3 Since being commissioned, the Mercy class has supported Operations Desert Storm, Noble Eagle, and Iraqi Freedom, along with humanitarian assistance and disaster relief (HA/DR) missions across the globe.
Operated and maintained by the Military Sealift Command, both ships can be fully operational in five days and offer Role 3 medical care, defined as "staffed and equipped to provide care to all categories of patients, [including] resuscitation, initial wound surgery and post-operative treatment."4 Medical capabilities include 12 operating rooms, 1,000 beds, a medical-grade oxygen production plant, and dental, optometry and pharmacy support.5 In a future conflict, however, the limitations outweigh these benefits.
Current Limitations
The Mercy-class patient-care design yields a relatively inefficient patient-movement process. Because the original oil storage bulkheads were left in place during the conversion from the San Clemente class, the Mercy class lacks horizontal patient-transport pathways, which means the main deck must be used to navigate from one end of the ship to the other. The ships also lack  defensive capability against antiship missiles and terrorist threats from small boats or divers. Their deep draft prevents entry to many ports, requiring them to anchor at a considerable distance. In addition, they can only accommodate one rotary wing aircraft at a time, which creates a challenge in the event of mass casualties. Lastly, the Mercy class is extremely limited in ship-to-shore movement. In addition to the small flight deck, the ships have no well deck for amphibious craft and inadequate small-craft embark points along the port and starboard sides. 
  The U.S. Navy hospital ship USNS Mercy (T-AH-19) anchored off Bengkulu, Indonesia in March 2018. (U.S. Navy/Cameron Pinske) 
Hospital ships of the future will mainly support HA/DR missions, and because vast parts of the world remain unstable, Role 3 medical care must be able to arrive quickly in theater. If the next large conflict is in the Pacific, a widely dispersed battle front will mean long distances from point of injury to stabilizing care—a worse situation than in even Iraq or Afghanistan.  The Navy must retain its capability to offer high-quality, customizable medical care anywhere in the world with great alacrity. 
International Law for Asymmetric Warfare?
The USNS Mercy and Comfort are protected under the Geneva Convention as "non-warships." The convention has not been updated to account for terrorists and other non-state actors as lawful combatants. It "applies only to international conflicts between states."6 But today's world features warfare with terrorist groups and other non-state actors. As these organizations become more emboldened in their causes, they seek to attack a range of softer targets—such as hospital ships. Frequently anchored offshore, the Mercy class is highly vulnerable to a small craft terrorist attack, similar to what the USS Cole (DDG-67) suffered in 2000.
Antiship missiles have become more prevalent as well, especially off the coast of Yemen, where the USS Mason (DDG-87) had to deploy countermeasures after being fired on in October 2016.7 Before that unsuccessful attack, Yemeni Houthi rebels destroyed the United Arab Emirates–leased HSV Swift with a suspected Chinese-built CSS-N-8 Saccade antiship missile—Cold War–era French technology.8 The Mercy class lacks a defensive counter for even these older weapons. 
In light of today's threats, the San Antonio class meets all the Navy's medical requirements for the Mercy-class replacement. With its decreased hull and modern power plant, the LPD-17's design provides speed and agility. At 23 feet, the draft is 10 feet shallower than that of the Mercy class, making both port entry and support to forces ashore easier.9 The LPD-17 hull brings greater agility in shallow, congested waters and for defensive maneuvers. Because of the modern propulsion plant, the LPD-17 is capable of more than 22 knots, compared with the Mercy class's 17 knots.10   
The San Antonio class can only accommodate 500 beds, half the Mercy class's 1,000 bed capacity.11 While this may seem inadequate, a recent study of the LPD-17 as a replacement for the Mercy class concluded that "the LPD-17's medical facilities can be designed to have increased patient flow efficiency and a greater patient throughput which allows the ship to accommodate the same number of patients as the Mercy class, but with a smaller ship. The replacement ship should be capable of having patients brought on-board, treated, and taken off the ship within 72 hours of arriving."12
This amphibious transport dock ship allows for modular designs that increase mission flexibility while aligning with Navy medical requirements. It can be quickly retrofitted to meet combat support requirements, planned humanitarian operations, or disaster relief missions. Incorporating the modular medical design is feasible by making use of "flex spaces" that give the crew a host of options to tailor medical spaces for specific situations. Another benefit is the ability to have prestaged medical spaces in the well deck that are transportable to shore, in a revolutionary concept for amphibious medical care. 
Better Transport, Water, and Oxygen
Unlike the Mercy class that is extremely limited in terms of patient transport between ship and shore, the San Antonio class's well deck and larger flight deck enhance transport capabilities. The flight deck allows for rotary wing aircraft to operate simultaneously, while the hangar is large enough to accommodate a CH-53 K Super Stallion or a V-22 Osprey. Along with these heavy-lift aircraft, the well deck can accommodate two Ship-to-Shore Connector hovercrafts converted for medical support, thereby further expanding the transport options.
Navy medicine leaders have emphasized the need for enhanced medical sustainment capabilities on the Mercy-class replacement, such as effective sea-keeping at zero knots to minimize disruptions to patient care. While no ship can maintain complete stability at zero knots in even the calmest sea state, the hospital ship replacement study found the LPD-17 to be the best platform of available options. The class has two separate stabilization designs, a series of anti-roll tanks, and an active-fin system to maintain relative stability at zero knots.
Hospital ships are often called to many parts of the world where contaminated water is likely. Therefore, the new ship must have increased freshwater production capability over the Mercy class. The LPD-17 can produce more than 300,000 gallons a day of potable water in support of both the ship and local personnel ashore, through a process of blue water osmosis and coastal ultrafiltration.
Lastly, the Navy requires that the medical-grade oxygen plant be improved. The LPD-17 can produce "390,000 liters of 99.5 percent pure oxygen per day" through an improved generator. This is 23,000 liters more than the requirement.
Worth the Cost
The largest hurdle facing the Navy is justifying the cost to replace the aging Mercy class in a time of financial belt-tightening across the Department of Defense. Even if the upfront cost of $815 million for a new LPD-17 hospital ship seems unattainable, it is imperative to consider the implications of prolonging the service life of the Mercy class. The sheer size of the ships, with their outdated steam propulsion plants, creates an annual average operating cost of $7.2 million when the ships are on standby, and nearly $40 million when they are in an active status.13
Some policy makers have suggested converting the aging amphibious assault ships (LHAs) that are scheduled to be phased out in the next decade. But the cost to convert a 30-year-old platform of the same age as the Mercy class will be steep. The LHA also has a steam power plant, making it too outdated, unreliable, and slow.                    
At one time the pride of Navy medicine, the Mercy and Comfort, offering Level 3 care, are entering obsolescence. Future hospital ships need to be smaller, faster, and more agile. The LPD-17 design is the best choice for the Navy in terms of medical capability in the amphibious environment. Patient throughput, mission flexibility, ship-to-shore transport, and medical sustainment will be greatly enhanced. The time to plan for the Mercy-class replacement is now, not tomorrow. 
---
1. Mark D. Faram, "How Military Medicine Is Preparing for the next War: An Interview with the Navy's Surgeon General," Navy Times, 10 December 2016, 1.  
2. J. R. Potts, AUS 173d AB, USNS Comfort (T-AH-20) Medical Support Vessel (1987), Military Factory, last modified 9 May 2013, 1.
3. United States Navy Fact File, Hospital Ships: T-AH, last modified 20 March 2012.
4. U.S. Navy's Military Sealift Command, USNS Comfort (T-AH 20) Hospital Ship, 1. Joint Publication 4-02, Health Service Support (July 26, 2012).
5. Potts, USNS Comfort, 1.
6. John Yoo, "Terrorists Have No Geneva Rights," Wall Street Journal, 26 May 2004.
7. Sam LaGrone, "USS Mason Fired 3 Missiles to Defend from Yemen Cruise Missiles Attack," USNI News, 11 October 2016.
8. LaGrone, "USS Mason."
9. Hannah Allison, Christopher Mehrvarzi, Rebecca Piks, Beau Lovdahl, "Hospital Ship Replacement," Naval Surface Warfare Center Carderock Division, Center for Innovation Design Technical Report, August 2011, 13.
10. Neil Carey, James Grefer, Robert Trost, Robert Levy, "Future Deployable Medical Capabilities and Platforms for Navy Medicine," February 2002, Center for Naval Analysis (Alexandria, VA), 41.
11. Allison, Mehrvarzi, Piks, Lovdahl, "Hospital Ship Replacement," 17. All details and specifications on the LPD-17 are found in this report, pp. 17–35.
12. Allison et al., "Hospital Ship Replacement," 17.
13. Carey et al., "Future Deployable Medical Capabilities," 37, 42.
---
Lieutenant Palmer currently serves as a medical planner with the 11th Marine Expeditionary Unit in Camp Pendleton, California. He was previously assigned to the Expeditionary Warfare School in Quantico, Virginia.