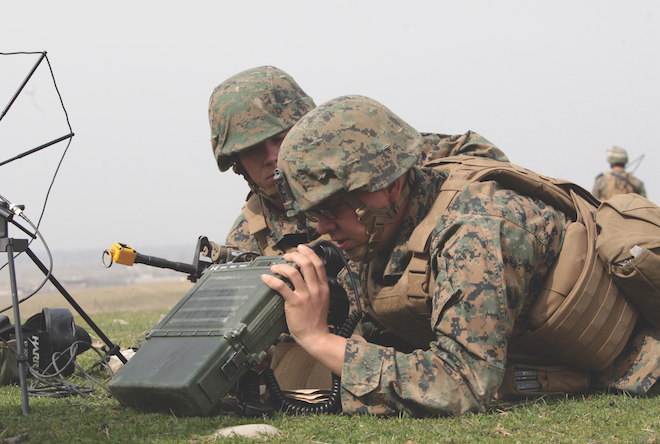 Mission command requires lightweight, reliable comms, not bulky broadband.
Marine Corps Commandant General Robert Neller stated that the number one priority for the entire joint force "is resilient, survivable, reliable command and control."1 The Marine Corps, however, is too dependent on broadband terrestrial and satellite-based communications systems for command and control (C2). These systems provide high-speed, non-secure internet protocol routing (NIPR)- and secret internet protocol routing (SIPR)-based command, control, computers, communications, and intelligence (C4I) applications and have made Marine Corps' staffs overly reliant on immense quantities of data to perform their duties. 
Using Marine Corps doctrinal tenets, the service can win battles using only single-channel radio assets from the maneuver battalion to major subordinate command levels. In a "battle of signatures," the use of single-channel radio assets will make Marine units harder to "target and kill" as these systems are heavily encrypted, not connected to the internet, and emit less electromagnetic radiation.2 The Corps should remove all broadband communications systems from battalion-, regiment-, and division-sized elements across the entire enterprise, and instead use single-channel radio communications systems. In so doing, commanders can once again lead effectively using mission tactics and commander's intent to gain tempo and accomplish the mission.
The Problem Explained
Any Marine who has served on a communications staff has experienced the initial period of an exercise or operation when "comm is down" or when "comm is poor!" The internet—and all applications associated with global connectivity—provides an unprecedented tool for the rapid exchange of information; however, Marines lose momentum while waiting on high-bandwidth systems to provide services—momentum that can be maintained simply by using single-channel radio. 
The network installation phase also is problematic. It is common for Marines to troubleshoot data links for 18 hours straight, several days in a row. This is partly because of the complexity of their systems but it more often is a result of having to coordinate with contractors at hub nodes who work in shift rotations, are unaware of the particular Marine Corps mission, do not operate within commander's intent, and lack unity of effort. 
In addition, the majority of satellite-based communication assets are controlled by Air Force, Army, or civilian contractors housed at hub nodes globally, and pull data services from the civilian-managed Defense Information Systems Agency (DISA). Therefore, Marine Corps tactical networks often are a low priority compared to other services. This all creates a paralysis of command and control when these systems are offline, being established, or degraded. 
Capabilities of Broadband Systems
It is important to understand the capabilities of current satellite and terrestrial broadband C4I systems within the Marine Corps. These capabilities can be associated with the tactical or operational level, respectively. At the maneuver battalion and regimental level, most communications platoons are equipped with man-pack radios that provide voice and narrowband data, satellite-based capabilities. In addition, these units will have two to four multichannel radio systems such as the wireless point-to-point link (WPPL) or MRC-142. MRCs provide a critical line-of-sight, high-bandwidth (50 Mbps) link to a distant end terminal. Connected to a network access point, these links provide the full range of NIPR/SIPR services. These units also will have a very small aperture terminal-small (VSAT-S), which serves as their primary satellite-based transmission system to pull data services. 
At the operational level, namely the major subordinate commands (Marine expeditionary units, expeditionary brigades, and the expeditionary force command element), communications units have similar capabilities but in greater capacity. Notable additions include the VSAT-large, which pulls data services from a hub node/DISA access point and distributes these services to the VSAT family or multichannel radio assets. Operational-level units also typically have a few tropospheric scatter microwave radio terminals. Better known as a TRC-170, this gigantic radio requires two Humvees to transport and provides a 1,500-watt terrestrial, 16-Mbps radio link to extend data services up to 100 km. These major transmissions systems provide the wide area network link, but do not even begin to scratch the surface given all the servers, networking devices, computers, printers, and phones that are ultimately the end user devices.
Single-Channel Radio Capabilities
Compared with satellite and multichannel radio communications systems, single-channel radio may seem underwhelming; however, current Marine Corps single-channel systems can provide high-frequency, secure, long-haul voice reliably over 5 km to 200 km, if not farther; as well as high-frequency tactical chat, which provides instant transmission of text and one-page situation reports. Very-high frequency (VHF) systems provide "on-the-move," secure voice communications from 1 km to 40 km. Ultra-high frequency (UHF) systems provide line-of-sight (LOS), secure voice, and narrowband data communications as far as the eye can see, depending on power. 
The PRC-117G provides a UHF LOS self-healing mesh network, tactical chat, narrowband and broadband data, and even telephony services. The PRC-117F and PRC-117G also provide uplink/downlink capabilities from unmanned aerial systems (UASs) and the ability to communicate with all aircraft in the Corps' arsenal. A well-trained infantry battalion communications platoon can provide a robust, fault-tolerant single-channel radio network in one to three hours. This network can be stored and transported in as few as three or four Humvees for a command operations center and can rapidly maneuver on a battlefield.
Essential for rapid establishment of C2 are the Marines who must configure these systems. Communications Marines, however, are inundated with constantly evolving, complex machines and are unable to get repetitions establishing a basic C2 network. Instead of mastering the basics, communications Marines are jacks of all trades but masters of none. 
While cross-training may sound obvious and is common in some occupational fields, learning to install the internet protocol-based WPPL and MRC-142 is a four-week course alone, in addition to the basic 0621 radio operator course at Marine Corps Communications Electronics School. A trained team can establish two of these systems in 12 to 24 hours, but, the critical LOS system must be erected on a tactical elevated antenna mast system, which requires an additional four to six hours—all for one link that must be connected to a digital NIPR or SIPR backbone to transmit data. 
These systems were created for the forward operating bases employed during Operation Iraqi Freedom and Operation Enduring Freedom. They have no place in an expeditionary environment, and nothing screams "fire for effect" more than an antenna system erected 120 feet in the air transmitting a high-power, broadband signal to a distant-end antenna also standing tall in the sky—not to mention the noise signature emitted by the 30- to 60-kilowatt generators required to power the systems.  
The Future of Comms
MCDP-1, "Warfighting," admonishes Marines not to "become so dependent on equipment that they can no longer function effectively when the equipment becomes inoperable." To break the Marine Corps' reliance on complex and heavy C2 systems, the Corps should remove all broadband systems from all units aside from the Marine expeditionary force. In their place, the Marine Corps should continue to invest in simple, secure, rapidly installable, single-channel radio assets, while seeking to exploit cutting-edge networking capabilities of these radios and other UAS assets.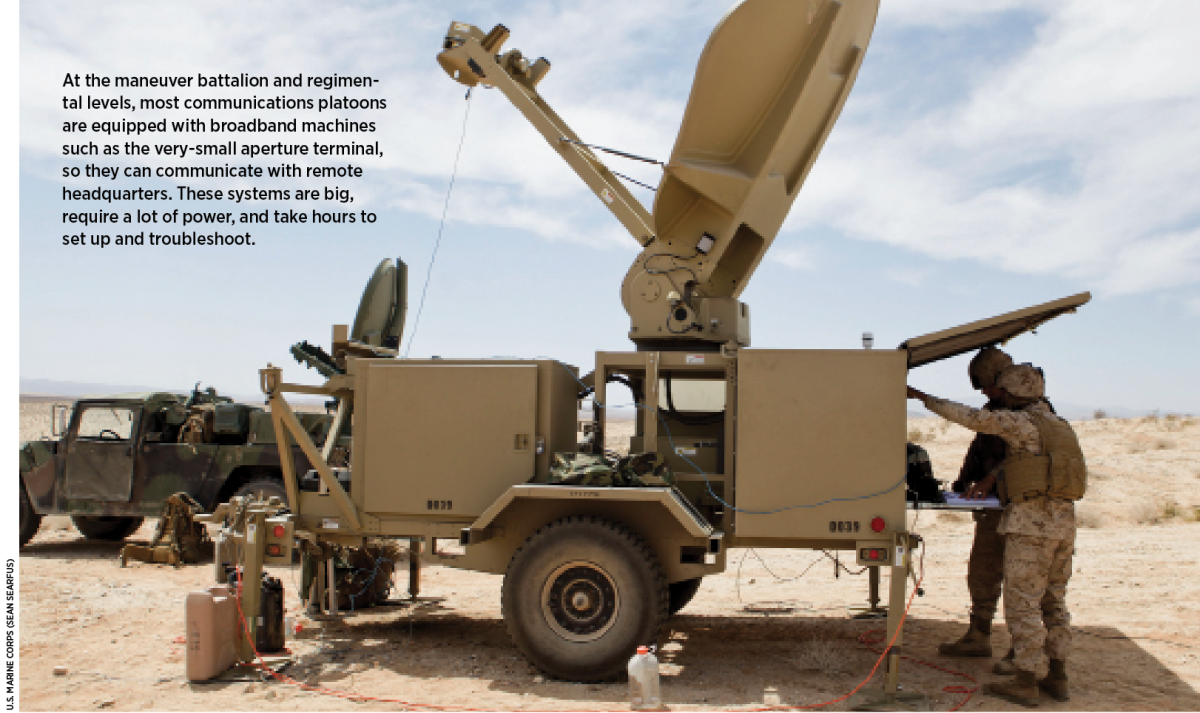 In addition, communications Marines in battalions, squadrons, regiments, groups, divisions, and wings should be 0621 radio operators. All other communications Marines should be stationed at the Marine expeditionary force. This may seem radical, but when not distracted by other cumbersome systems, these radio operators will master their craft and learn to exploit the full capabilities of their systems, providing a more robust C2 network. 
Tactical- and operational-level units no longer will require large logistics trains to get to the field and establish C2. All of the single-channel radio systems can be charged using solar panels; however, rechargeable kits can be used by connecting them to a Humvee. For situational reports (SitReps) to higher headquarters, subordinate units can transmit one-page SitReps via high-frequency tactical chat, or send more robust reports using the PRC-117G data network. For units distributed greater than 100 km to 200 km, maneuver commanders can use single-channel radio assets to relay SitReps to higher headquarters via UAS assets. 
Marines cannot disguise their electromagnetic signature when they must constantly transmit excessively large files or full-motion video conferences to their headquarters. Some flag officers speak of their earlier experiences when Marines relied heavily on high-frequency assets to C2, and some units have "HF Fridays" or conduct field exercises using only single-channel radio assets. While these actions are a step in the right direction, as soon as those communications Marines return from exercises, they must jettison single-channel radio training and return to more complex systems lest they fail the next time they are expected to provide NIPR/SIPR services.  
The Department of Defense is overly dependent on advanced C2 systems that are susceptible to damage, misconfiguration, enemy interference, and require a lot of power. Meanwhile, the Marine Corps fails to exploit the robust single-channel radio assets in its inventory. If the United States faces a near-peer adversary in the next war, most U.S. data systems, especially at the tactical and operational levels, could be compromised or destroyed in 24 to 48 hours. This is why the Marine Corps must be the force that can win battles with single-channel radio, and single-channel radio alone. When the fog of war causes other forces to stall, the Marine Corps, using simple systems that are largely insusceptible to jamming, should be the force that gains momentum, presses the attack against our foes, and wins battles.
---
1. Sydney J. Freedburg Jr., "Marines Need Submarines: Commandant Neller on Major War," Breaking Defense, 9 February 2018, https://breakingdefense.com/2018/02/marines-need-submarines-commandant-neller-on-major-war/.
2. Headquarters Marine Corps, "The Marine Corps Operating Concept."
---
Captain Ruggles enlisted in the Marine Corps as an infantryman in 2001 after 9/11, and commissioned and earned the military occupational specialty of communications officer in 2009. He served in Operation Iraqi Freedom, Operation Enduring Freedom, and deployed with 22nd Marine Expeditionary Unit in support of Operation Unified Protector. He is currently the Company Commander for Company B6, 9th Communication Battalion.