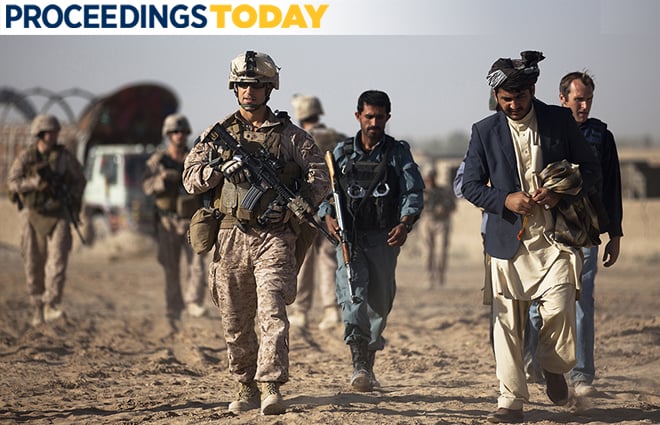 The Marine Corps has a history of flexibility and ingenuity in the face of new challenges, from conventional offensive and defensive operations, humanitarian assistance, and peacekeeping, to stability and security operations. Counterinsurgency (COIN), however, demands proficiency in all of these skills—and indeed many more. Adequately preparing Marines to execute a COIN campaign or operation is one of the most pressing and comprehensive challenges facing the Corps.
COIN requires a high operational tempo, the ability to rapidly transition between conventional and irregular tactics, and the ability to operate with a great deal of endurance, patience, tactical precision, and ethical care. Unfortunately, with a high rate of personnel turnover at all levels and the ever-present requirement to become proficient in conventional offensive and defensive operations before deployment, today's infantry battalion is underprepared for a situation where fire superiority and sound tactics alone do not meet strategic objectives. The Marine Corps can remedy this issue by making small personnel changes, publishing additional COIN documents, and promoting COIN thinking throughout the force. Two case studies, Vietnam and Afghanistan, are instructive.
Although conventional war will continue to be of concern, it is imperative that the military always be prepared for unconventional wars (UWs). These often take the form of civil war and are characterized by a clash between state and non-state actors where the balance of force often greatly favors the state. The non-state actors are usually lightly armed insurgent—or "guerrilla"—fighters who practice hit and run tactics.[1] Such civil wars often create region-wide instability and risk creating greater security problems around the world. UWs also often occur in areas of strategic or national security interest, and the United States has a history of participating in foreign civil wars.
Stanford University political scientists James Fearon and David Laitin have found that 127 intrastate (civil or UW) wars occurred between 1947 and 1999 against only 25 interstate wars. The intrastate conflicts caused 16.2 million direct deaths, compared to 3.33 million deaths from interstate wars. Clearly, people are more likely to be involved in or affected by UWs than by interstate wars. Roughly two new civil wars breakout each year, with an average duration of six years (compared to only three months for an interstate war). This led to an increase from approximately nine active civil wars during the 1950s to roughly forty active UWs by the 1990s.[2] Although the current the number of active UWs has decreased to approximately 30, interstate wars have become an even more rare occurrence.[3] Given current trends, the Marine Corps clearly must do more to prepare for COIN.
High Turnover Hurts Training
But personnel complexities exist. The Marine Corps is composed of incredible people who are intelligent, hard-working, selfless, tough, and unwilling to back down from a challenge or fight. Usually, they are young men and women looking to make a difference, and they are led by older and more experienced Marines who have made "making a difference" their career. However, with a perpetually young and energetic force comes a high turnover rate. In fact, in 2018, according to Marine Corps Administrative Message (MarAdmin) 344/17, the Corps set its retention rate goal for first term Marines at only 22 percent. This means that more than three-fourths of the training and education invested into first term Marines is lost to the civilian sector each year. This results in the majority of training time being spent on the practical fundamentals of each military occupational specialty (MOS).
For a new 0311 rifleman being instructed by the squad leader, he will spend most pre-deployment training time (sometimes only a few months between infantry school graduation and deployment) on patrolling, weapons handling, and offensive and defensive individual actions. Very little time, if any at all, will be spent specifically on COIN training. This lack of focus should not be surprising, as only 2 of the approximately 950 tasks on the Marine Corps Task List ("the authoritative, standardized, and doctrinally-based lexicon of USMC capabilities") mention COIN.[4] Many tasks on the list can be applied to a COIN environment, but no instruction is provided on when and how to do so.
The infantry corporals and sergeants and their platoon commanders who have continued to serve fare little better. In an infantry battalion, operational success often is determined at the platoon and squad level. I was taught that a great battalion starts with great squads. The School of Infantry provides several courses for infantry leaders at the squad level, and one course for platoon sergeants, but none explicitly cover COIN principles or operations.[5] Future platoon commanders do receive COIN instruction at The Basic School—in the form of a 20-page handout mainly derived from the Army/Marine Corps COIN manual.[6] Although better than nothing, it is unlikely this small introduction is enough to convey the significance of COIN to new officers.
The 2014 manual FM 3-24/MCWP 3-33.5, "Insurgencies and Countering Insurgencies," provides an in-depth doctrinal foundation for understanding, preparing for, and executing a COIN operation. There is no doubt the document is comprehensive and instructive. Its major weakness is it is intended for "battalion, brigade, and regimental commanders and their staffs," not company-level Marines.[7] At 122 pages long (roughly half the length of its predecessor), it is not ideal for consumption at the platoon or even the squad level. This should be remedied.
A Mixed Record of Success
Historically, the United States has not been able to uproot and defeat insurgencies consistently. In the Vietnam War, the United States found victory on the battlefield against the North Vietnamese Army (NVA) but ultimately was not able to uproot the vast insurgent network intimately woven into the civilian population. Vietnam taught that to protect and promote national security interests, conventional military operations will not always be enough to meet strategic objectives; they may even sometimes be counterproductive or provide a mirage of success while failing to affect the insurgent center of gravity.[8]
The United States undertook a "pacification" and "search-and-destroy" approach to COIN in which troops attempted to cut off civilians from insurgent influence, while seeking out and defeating NVA and insurgent forces. This often took the form of costly assaults on strategic terrain, followed by the withdrawal of U.S. forces, and reoccupation of the same terrain by enemy troops. In addition, the search-and-destroy strategy contained a "fundamental weakness" as U.S. forces were often unable to find the enemy or fix them in place.[9] For insurgents, maintaining access to civilians is an essential task. Political science scholars note that an alternative strategy, "clear and hold," is more effective when attempting to deny insurgent access to a civilian population.[10] U.S. strategy shifted toward "clear and hold" at the end of the Vietnam War, but the domestic and political will to fight was gone.[11]
More recently, the war in Afghanistan is another example of how a powerful western military can be trapped in a conflict against a seemingly inconsequential enemy. Yet while the fleets and divisions of the Axis powers in World War II could not survive 5 years against the United States and its allies, the Taliban has withstood almost 20. This can only be the result of a failure in COIN thinking. The former U.S. ambassador to Afghanistan notes that the problems started with a lack of political will in Washington, persisted over three different administrations, and resulted in the provision of insufficient resources. Ambassador Robert Thompson argues that commanders should have advocated for a different strategic direction, but this also might be indicative of a service-wide deficiency in COIN thinking. If commanders think they can achieve strategic success through conventional operations, they will be less likely to advocate for more resources to conduct unconventional operations such as training host-nation security forces.[12]
Today, the nation has more than 15,000 troops in Afghanistan. Anthony Cordesman, the Arleigh A. Burke Chair in Strategy at the Center for International and Strategic Studies, and Dan Coats, the Director of National Intelligence, both describe the future of Afghanistan security as "deteriorating." Cordesman also notes that while U.S. and Afghan tactics have improved, nothing has been done to strengthen civil and political stability in Afghanistan (an essential element of COIN success).[13] Military leaders will have to face the reality that they often will deploy in less-than-ideal circumstances with less-than-sufficient resources. Marines will need a better understanding of COIN strategy, tactics, and operations to counter this disadvantage.
The Marine Corps Needs to Specialize Better in COIN
The historical trend points to an operational future characterized by frequent and protracted unconventional wars that are interrupted on rare occasions by conventional wars.[14] More resources should be devoted to training for COIN operations, and more noncommissioned officers (NCOs) in ground-combat roles should receive formal COIN instruction. The Marine Corps also should consider creating a COIN MOS to train counterinsurgency specialists and place them at the company or platoon level. The corps should identify and educate motivated and savvy NCOs looking for a different way to contribute (an added retention incentive).
Like other specialized Marines, COIN specialists would be used to train and educate Marines in COIN while in the rear, and to provide COIN guidance to commanders during operations while deployed. This would result in greater COIN capability where it matters most: the company, platoon, and squad level.
In addition to these personnel measures, the Marine Corps should consider developing its own, more accessible COIN publication aimed at the company level. Just as all Marines are taught to think about warfighting according to Marine Corps Doctrinal Publication 1, so they should learn force-wide COIN thinking: a distinct way to approach the problem of COIN.
The Marines Corps has operated too long under the assumption that it is proficient in COIN operations, or that conventional maneuver warfare proficiency will translate into COIN success. So far, it has not. Something must change.
---
---
Staff Sergeant McFarlin has deployed twice with 3d Battalion, 6th Marines. He was selected for the Marine Enlisted Commissioning Education Program in 2016 and is a political science honors student at the University of  Michigan. He will graduate and commission as a second lieutenant in May 2019.