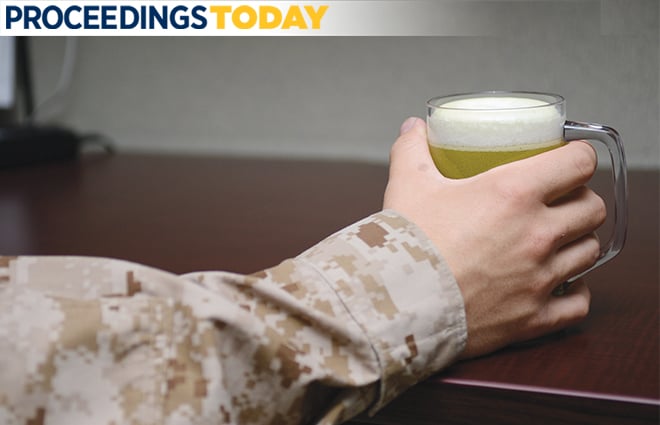 Alcohol abuse degrades Marines' ability to deal with adversity. Commandant of the Marine Corps General Robert Neller has been outspoken about the Marine Corps' problem with excessive drinking, starting with his 2017 message to the force "Seize the Initiative." At the U.S. Naval Institute's DARE 2018 conference, General Neller asked sixty young officers, enlisted members, and civilians from across the Department of Defense what can be done.
The cultural paradox starts with the Marine Corps' birth in a bar on 10 November 1775—a heritage reflected in many long-standing traditions revolving around drinking. The persona of a "Marine's Marine" is a rough warrior who is bold and fearless, especially when it comes to the ramifications of potentially harmful behavior like excessive alcohol consumption, tobacco use, womanizing, and clearing enemy machine gun positions. Marines may believe that using substances to excess is what adults do, having been influenced by an American society that is only beginning to recognize its own problem. They may also be seeking refuge from stress, physical pain, or uncomfortable emotions by self-medicating with the most potent legal means available. Whatever the reason, excessive drinking is a problem and the Corps is grasping for solutions that will not unintentionally weaken its carefully curated warrior culture. While the service is not likely to answer society's problem with alcohol, a start to solving the abuse may be found among leaders and not by any means attempted thus far.   
America has been grappling with the issue of alcohol abuse for many years. In 1991 it was called the nation's number one addiction. The most troubling statistics during that time were those pointing to use among adolescents, 56 percent of whom began drinking in 9th grade, evenly split between the sexes. Additionally, about 85 percent of those considered in need of treatment did not receive it.1 In 2015, 24 million Americans reported binge drinking in the past month, quantified as 4-5 drinks in under two hours. 15.1 million are thought to suffer from Alcohol Use Disorder (AUD), which is a serious diagnosis characterized by compulsive use and negative emotional state when not using. Shockingly, only 6.7 percent of Americans with AUD receive treatment.
Within this society, recruiting efforts that appeal to young people's desire to join an organization of hard-living warriors disadvantage the Marine Corps in its fight against alcohol abuse. Whether from natural disposition or training, a concern for physical safety is far from these young recruits' minds. Further, the organization implicitly honors and elevates the consumption of alcohol. To start, the heritage taught to every recruit and candidate is that the Corps was founded in a bar called Tun Tavern in 1775. Popular gifts at its most sacred ceremony, the Marine Corps Ball, are drinking-related paraphernalia, including flasks, shot glasses, and steins. Formal events such as mess nights put emphasis on wine toasts and compulsory drinks from "the grog," which is commonly a strong concoction of cheap liquor and other ingredients. When Marines get drunk at those events, as long as they do not break any laws, they are considered "just having fun" and "honoring our long and storied traditions." While non-alcoholic alternatives are now offered at all official events in response to calls to stem consumption, the abuse of alcohol goes deeper than a choice made the moment someone asks,  "So, what are you having?"
Doing away with honored traditions or adding more regulation and bureaucracy is unlikely to solve the problem. While Marines should be reminded of the consequences for irresponsible actions, it is doubtful that threats and lectures will resonate with a young Marine who sees drunken exploits praised so long as the drunk Marine went home with a designated driver. The more conspicuous the act, especially ones with a daring rescue by a battle-buddy, the bigger the laugh they garner on Monday. If the Corps wants Marines to drink less, its leaders should not support alcohol abuse. Leaders do this by not entertaining stories and rather taking those opportunities to question whether every action is in keeping with Marines' calling to be professional warfighters. The Commandant has suggested this be done at all levels, but is it happening?
Within the subset of Marines who abuse alcohol, a significant number are not recreating. This group drinks excessively to cope with difficult situations ranging from minor relationship issues to serious psychological trauma. They may drink to excess because their coping skills are insufficient for weathering life's challenges, or as a result of something more serious. Comorbidity, or the simultaneous presence of two or more chronic diseases, is substantial, especially among those with Post Traumatic Stress Disorder. Regardless of the reason, self-medication pairs bad thoughts and feelings with a substance that impairs judgement and the ability to reason, the latter which is needed to discover lasting solutions. Though these individuals need help, few of them think so.
In 2008, the National Survey on Drug Use and Health found that 95 percent of people who were not receiving, but considered in need of substance abuse treatment, felt they did not need it.2 To compound the issue, the Marine Corps teaches its recruits and candidates to be physically and mentally tough, dependable, and courageous, none of which seem synonymous with admission of a personal problem. When they arrive at their first unit, young Marines quickly find that Marines who make use of medical services, especially those that take them from the unit for periods of time, are often derided. Discouragement from dealing with problems leads many Marines to view seeking treatment as a sign of weakness, especially in the case of deeply personal problems that already create feelings of vulnerability.
The problem, then, is not simply that Marines drink, it is that the Marine Corps' implicit cultural support of abuse undermines its explicit warnings against it. Leadership is required, but not in a traditional sense of humorous old proverbs and thinly veiled threats shared at a safety brief on Friday afternoon.
First, leaders must talk about the problem of alcohol abuse and its options openly and frankly, without negative connotations or reference to punitive action. While the Commandant's "Seize the Initiative" message was instrumental for orienting on the problem, more is needed to reframe the discussion from a general-to-troops directive and make it more personal and relatable. Ask simple rhetorical questions about frequency and amount of alcohol consumed; use the answers to highlight where individuals may have a problem and encourage them to admit it and seek help to overcome it. Provide unsolicited recommendations for action and lists of resources to take advantage of the many free treatments available to servicemembers.
Second, emphasize spiritual fitness. The Commandant reminded Marines in ALMAR 033/16 that there are three aspects to fitness: spiritual, mental, and social. Each of these offers a source of strength in the face of all kinds of adversity. Because many of the serious cases of alcohol abuse coincide with issues at the very core of a human, strengthening Marines at a spiritual level is a logical step in overcoming deep-rooted issues.
Third, leaders should make a point to share ways in which they have found mentors, made use of faith-based or medical support, or sought treatment for a problem at some point in their career. It is doubtful that anyone who has served for over twenty years has never needed help to get through a difficult professional or personal situation. This personal relation to a problem and admission that even senior, well-respected leaders have made use of resources to get through a tough time in their lives would go a long way to encourage Marines to regard getting help as a strength rather than weakness.
Action is required at all levels. The Commandant's YouTube and Twitter messages are a great way to introduce the concept and encourage the force from the top of the organization. Regimental and battalion leaders can reinforce the message with personal vignettes at all-hands events. Company and platoon leaders—both officers and NCOs—can add their own personal examples, offer options, and remind troops that there are numerous ways to get help and doing so is pivotal to achieving a healthier physical and emotional life.
Alcohol abuse affects readiness in significant but oft overlooked ways. At best, it degrades a Marine's ability to thrive in austere environments. At worst, it is self-destructive and debilitating. The Commandant has raised the priority on the issue, but leaders throughout the Marine Corps need to go further than threats and lectures in the second- and third-person if a real impact is to be made. They need to be open and honest, leading by example in more than just the exemplary areas of their lives. Tell Marines they are not weak for admitting they have a problem and need help to fix it. Show Marines that doing so is not something to be hidden and it will not be the end of their relevance in the Marine Corps. Rather, demonstrate that there are senior Marines today who would probably not be in those positions, or at least not be as happy in them, were it not for seeking help at some point in their lives. The problem is not a lack of policy or guidance. It is in the heart and spirit of every Marine. Until it is dealt with at that root level, messages like "Seize the Initiative" and "Protect What You've Earned" will fall as flat as last Friday's safety brief.
References
1. "Hearing on the Health and Long Term Care Subcommittee: Crisis in Alcoholism Treatment", 25 Mar 1991.
2. "Results from the 2008 National Survey on Drug Use and Health: National Findings", Office of Applied Studies, U.S. Department of Health and Human Services.
---
Captain Ramsey is a Marine communications officer who graduated from the University of Michigan where he majored in applied mathematics. He currently serves at the Marine Corps Cyberspace Warfare Group.