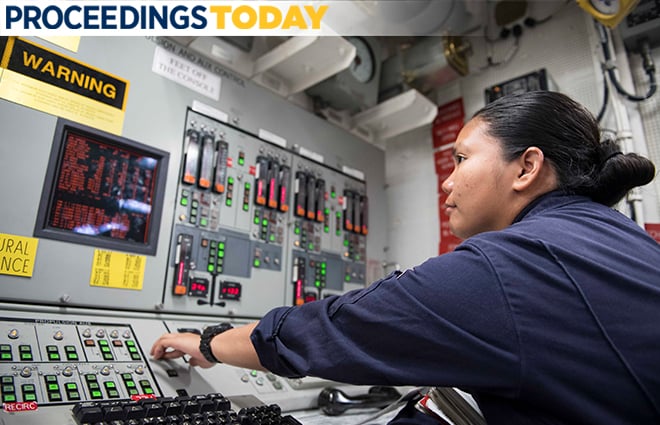 (Photo: Damage Controlman 2nd Class Aiza Aloria, U.S.Navy, stands watch at the propulsion and auxiliary control console on board the USS Donald Cook (DDG-75). U.S. Navy photo by Alyssa Weeks.) 
Poor interface design clearly was a factor in the USS John S. McCain (DDG-56) collision in 2017. Operating modes of the ship's control console (SCC) were changed without a clear understanding by the crew, who became confused with respect to control functions. In the year since the incident, redesign of the SCC has been lost amid the Navy's urgency to fix training deficiencies. Why, when there is a clear design problem with the SCC, has the Navy not yet addressed it?
In addition to fixing the SCC, the Navy should start designing equipment from the outset so it performs better and requires less training. This idea recently was raised by Captain John Cordle in his article "Design Systems That Work for People," which describes the need for a more serious application of human systems integration (HSI) (which includes human factors engineering, personnel, manpower, training, survivability, and habitability) on ship systems (to include the crew). Focusing on the human factors engineering—or design—component has the greatest potential impact of all the HSI domains.
Industry understands the importance of user-focused design. Deliver an innovative and well-designed product that people want to use, or perish. Smart watches, iPhones, universal remote controllers,  and tax preparation software such as Turbo Tax are all well-designed products people are willing to pay more for because they are easy and intuitive to use. The Navy should design hardware and software that is similarly easy for its sailors to use.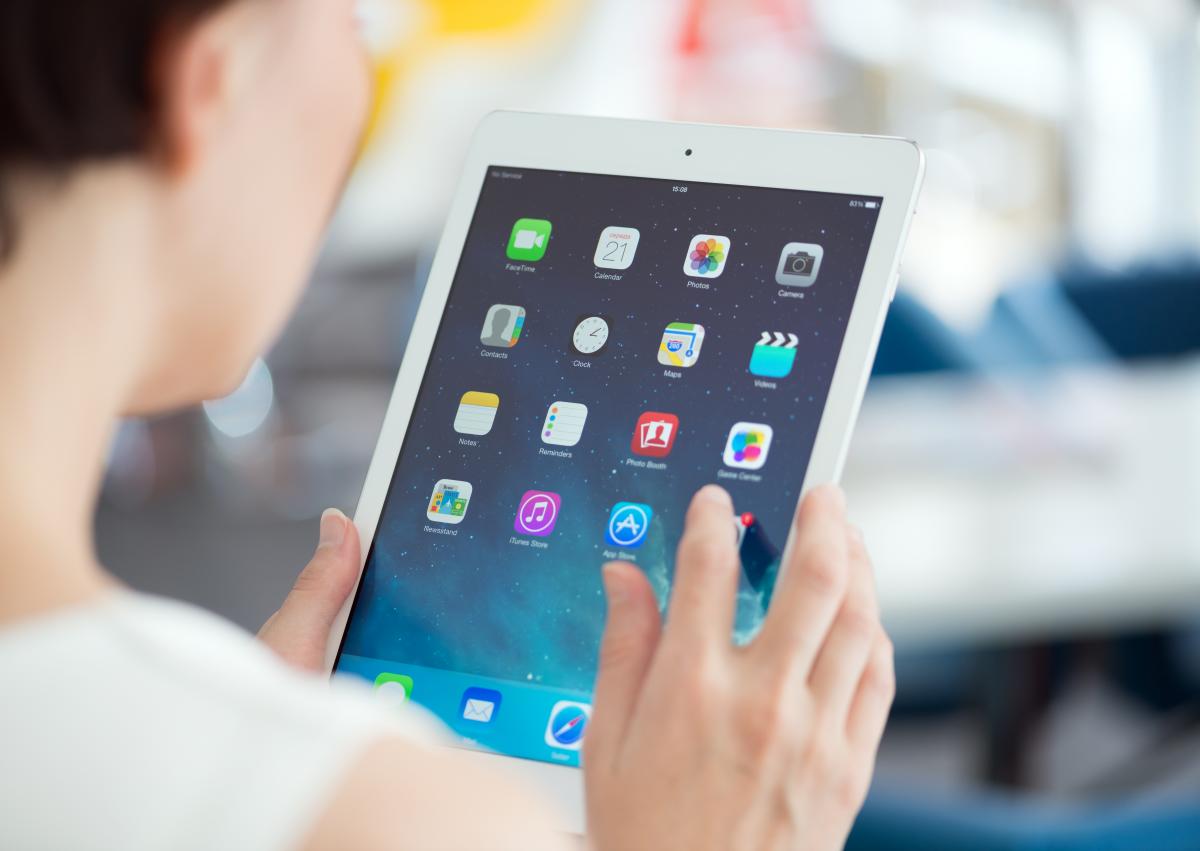 Companies that focus on design significantly outperform their competition. A ratio of 1:8 designers to developers is an industry standard, and Microsoft has spent nearly a billion dollars digging itself out from a ratio of 1:70. While a similar effort may be more or less costly for the Navy, it does not have the profit justification that industry requires. For the Navy, good design is about effectiveness in combat and safety at sea. The John S. McCain collision and other accidents illustrate the high cost of poor design.
Current and emerging threats from peer adversaries at sea require human interfaces that facilitate timely and efficient decision making. The Navy is reaching a point where the interface is the limitation, not the expertise or training qualifications of the user. The Navy seems to have lost sight of this important point despite the Tactical Decision Making Under Stress (TADMUS) research program that began following the USS Vincennes (CG-49) incident.
Most shipboard systems have been designed so that operators must know when to call up particular functions, ponder the data that is returned, and reconcile that data with other sources. This form of design (function-based) requires piecing together information to gain a clear picture of what is happening within the operators' respective problem space and as it relates to the ship and potentially the strike group and fleet. At one time, splitting work into various stations and domains was required because workstations possessed too little processing power to manage a larger problem. Thus the Navy has a legacy of large numbers of variously trained watchstanders using systems that poorly coordinate actions and information. Functioning together, these disparate systems and watchstanders attempt to build and understand the tactical picture, yet today's threats—particularly supersonic and hypersonic antiship cruise missiles—present themselves so quickly that watchstanders must react faster than ever before.
Task-based design can be the antidote to multiplexed and split command center issues. It focused on user needs, goals, and workflow processes. The central idea is to trigger tasks by groups of rules and generate information sets that flowed easily without users having to look up information or rely on training to perform critical actions—in other words, intelligently create the design that results in efficient human behaviors and supports generating task products. Tested nearly 20 years ago as part of research aimed at reducing shipboard manning, this design methodology greatly improved watchstanders' performance and situational awareness – and did it with fewer people when compared with teams using Aegis watchstations.1 The advantages conferred by task-based design were built to, and assessed within, realistic mission scenarios and performance requirements.
As with industry products, a lot of time has to be spent up front to understand the users' roles, goals, and decision-making criteria. This knowledge exists in doctrine, tactics, procedures, and even training material, but it is not integrated into work flows or system design – even when required.
Another major advantage of task-based design is that it serves as a scaffold for artificial intelligence (AI) and machine learning applications. The push to automate and leverage technologies must be balanced with the danger of "out of the loop" human loss of awareness and skill degradation. Nevertheless, a fundamental question looms for those focused on adding AI: what tasks are to be done by the machine and which should be left to the human? A whole field of study shows it is necessary to fully understand the humans performing these jobs before one dictates an autonomic scheme to the workspace; and failure to do so equates to system failures that result in loss of life.2
A final issue concerns the acquisition conundrum with interface design. It is difficult to require innovation in this area because it is difficult to measure. It is difficult to write requirements for creativity and innovation, but there are several ways for the Navy's acquisition community to demand better user interfaces for their systems: 
Require contractors to follow strict user-centered design processes, and require interim work products and prototypes at milestone gates
Split a system contract into two parts, with one dedicated to the user interface, and have the government manage the integration
Have the government do the up-front work and develop a working prototype that serves as a build requirement for the contractor
Of these options, the third is the most easily implemented and optimally would occur during the analysis of alternatives (pre-Milestone A) part of the acquisition cycle. It could, however, occur closer to development provided time is dedicated to user-centered "design thinking" activities, which seek to capture user goals, tasks, workflows, and information required to produce task products.3
As the Navy builds to a fleet of 355 ships and prepares for peer competition, human interfaces that support timely decision making are an absolute requirement, and no amount of training will make up for them. The maturing of artificial intelligence and machine learning technologies, and calls by Navy leaders to employ them, will require knowledge of user goals and information needs. Shipboard operators need to understand tactics and AI logic, and this can only be accomplished with good, rigorous design practices. Training or AI technology without the commitment to improving design practices and understanding human limitations will create ineffective and dangerous conditions, which the Navy must strive to avoid.
References
1. Osga, G. A. (1999). "The Task-Centric Watchstation," Surface Warfare 4, pp.16–19.
2. Straunch, B., "Ironies of Automation: Still Unresolved After All These Years," IEEE Transactions on Human Machine Systems, Vol. 48, Issue 5, October 2018, 1-15.  
3. Kloeckner, K. (2018) DevOps and design thinking offer an accelerated feedback loop for service delivery.  https://www.forbes.com/sites/forbestechcouncil/2018/02/23/devops-and-design-thinking-offer-an-accelerated-feedback-loop-for-service-delivery/#4437177728a6
---
Dr. Van Orden holds a Ph.D. in experimental psychology and is the senior technologist for decision optimization systems at the SPAWAR Systems Center Pacific in San Diego. He retired as a commander in the Navy's Medical Service Corps (research psychology) in 2006. He has been a member of the Navy senior executive service since 2015.
Dr. Gutzwiller is in a tenure-track professor position in human systems engineering at Arizona State University in the Ira A. Fulton School of Engineering. He previously served as a civilian scientist with the U.S. Navy.