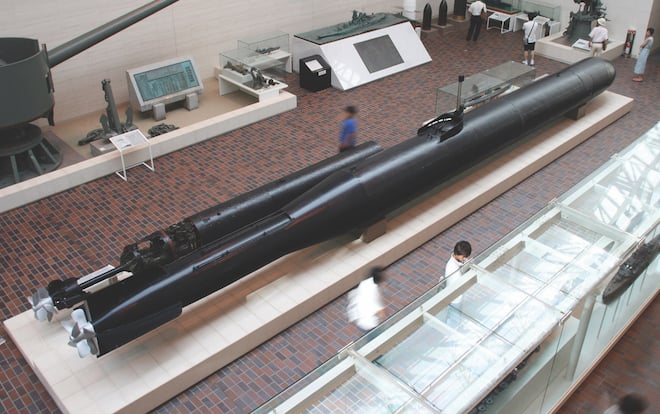 Vice Admiral Robert Taylor Scott Keith graduated from the U.S. Naval Academy in 1928, served in battleships and destroyers, commanded a destroyer squadron, and had additional assignments at the Academy as a member of the faculty, administration, and Commandant of Midshipmen. Before retiring in 1964, he had culminating tours as Assistant Chief of Naval Operations, Naval Reserve, and senior member, United Nations Command Military Armistice Commission, Seoul, Korea.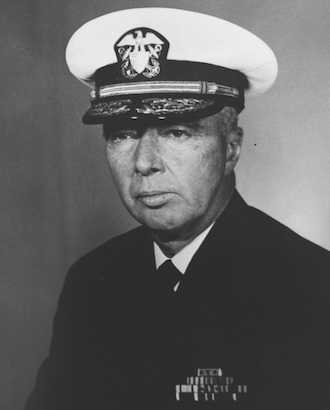 In this edited excerpt from his Naval Institute oral history, Keith recalls the sinking of a Japanese submarine by the USS Nicholas (DD-449) on 12 November 1944:
We were to meet the USS St. Louis (CL-49), which was rejoining the fleet from battle damage, and escort her to Kossol Roads. We sailed somewhere around sunset from Ulithi. . . .
Around 8:00 p.m., we picked up a radar contact. Our surface search radar was really well-operated; they got this contact at over 21,000, 22,000 yards. We closed and found that we had a disappearing contact. We went in and got sonar contact, and about 8:30 we dropped one depth charge pattern. . . . We figured afterward that we had damaged this sub in our first attack. He was probably using the disturbed water from that attack to try to sneak away from us.
About two hours later, we got a contact, and we had him pretty well dead to rights. We got to about 175 yards, then my sonar officer said, "Captain, that bastard is going right as hard as he can." We spun the wheel right, backed on our starboard engine, and let go with depth charges, because we were practically right over him.
Several minutes later, after the last depth charge had gone off, we got one of the durnedest underwater explosions you ever heard. I was standing on the pelorus, watching to see when to make my next turn and try to regain contact. I was almost lifted off my feet up into the air. You could feel it. It lifted the ship somewhat. 
Immediately, the St. Louis and the Taylor, which had withdrawn to the south of me, called and asked, "Are you alright?" They could feel it that quickly, the concussion through the water, 25 miles away.
It wasn't until after the war that Keith learned they had sunk the I-37.
At a reunion, one of my young sailors on the Nicholas asked me if I had read the book Suicide Torpedo, Suicide Submarine by Yukuta Yokota. "You'll be interested in it," he said, "because he talks about the I-37 being sunk by us. It was one of the carriers of the suicide torpedoes."
This young Japanese tells about being recruited into the secret weapon system in June 1944. They take him to one of the outlying southern islands. He sees this great Long Lance torpedo, with a compartment on it and a periscope. He says, "Oh, I'm going to ride a suicide torpedo." They told him they were going to carry him in and give him a steer for his target, and he was going to deliver a 3,000-pound warhead.
They put four torpedoes each on three submarines, with four hatches connecting the torpedoes to the steerers' compartment on the torpedo, and with four cables to hold them down. They sent out the first three, two to Ulithi and one to Kossol Roads. He said, "My friends who were in the one headed for Kossol Roads were unfortunate. They met the USS Nicholas and never came back." 
This was in the book, four young men with their swords in their hands, a picture taken before they went out to ride these torpedoes. That is the first time I've ever seen anybody who I killed. So it was a new experience.
---
Mr. Clift is the U.S. Naval Institute's vice president for planning and operations and president emeritus of the National Intelligence University.