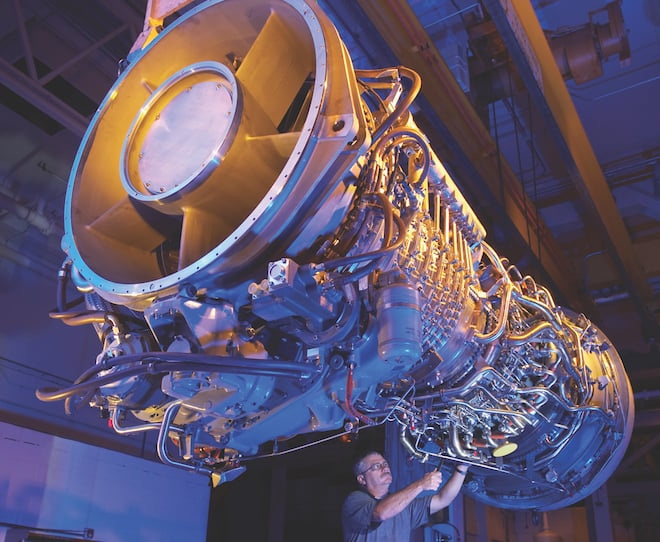 The General Electric (GE) Marine Solutions LM2500 is the primary gas turbine of the Navy surface fleet. More than 700 of the engines are on board Ticonderoga-class cruisers, Arleigh Burke–class destroyers (DDGs), the USS Makin Island (LHD-8), the America (LHA-6), and the Coast Guard's Legend-class national security cutters, among others. George Awiszus, GE's director of military marketing, notes that the company now provides 97 percent of the Navy's gas turbine engines.
The Independence-class littoral combat ships (LCSs) also use the LM2500, with Austal USA delivering seven ships to date. (The Freedom-class LCSs, built by Fincantieri Marinette Marine, are powered by Rolls Royce MT30 gas turbines.) The family of engines includes the base LM2500, rated at 25 megawatts; LM2500+ (30 MW); and LM2500+G4 (35 MW).
The LM2500 also is used on Canada's Halifax frigates, Italian and French FREMM frigates, the Italian PPA light frigate, Turkish MILGEM corvettes, Germany's F124 and F125 frigates, South Korea's KDX destroyers, and India's P17 frigates—1,250 engines in all. 
The Marine Solutions business group plans to propose for the future frigate (FFG[X]) a variant of the workhorse engine integrated with a carbon-fiber composite enclosure. The new enclosure will offer a lightweight alternative to the steel engine enclosure now used on board LM2500-powered ships.
In collaboration with the Navy and General Dynamics Bath Iron Works last spring, the company reported that it finished acoustic attenuation testing of the enclosure and a comparison of its weight with the current steel enclosure. The results suggest that the composite module would reduce engine noise by 60 percent and weight by around 5,500 pounds.
GE vice president and general manager Brien Bolsinger said, "The results verified that the new carbon fiber provides a significant reduction in wall weight and noise.
"By using lightweight composites, life-cycle costs associated with rusting steel components are eliminated," Bolsinger said, adding that the new design provides improved access to the engine and reduces wall temperatures by 25 to 50 degrees Fahrenheit. 
Awiszus says that in a conventional propulsion power configuration the LM2500 rotates at 3,600 rpm. The gas turbine also can be integrated with a diesel engine in a so-called combined diesel or gas turbine (CODOG), in which the diesel powers the ship for lower speeds, up to 16 knots. The ship switches over to the gas turbine for faster speed.
In a combined diesel and gas turbine (CODAG) power plant, both the diesel and the gas turbine are used simultaneously at top speeds. 
Traditionally, ship-service power for lighting, sensors, weapons, and other systems is provided by separate power arrangements, either by diesel or gas turbine generator sets. But Awiszus points out that the Navy has become interested in transitioning to an integrated power and energy system (IPES) architecture. 
New combat systems—such as the SPY-6 air-missile defense radar for Flight III Arleigh Burke–class destroyers, and future weapons such as lasers and directed-energy weapons—require extremely high levels of pulsed power. An IPES, he says, will manage the storage and distribution of power both for high-capacity systems and propulsion.
Awiszus says that GE is discussing with the Navy's Electric Ship Program Office (PMS 320) potential ways to use GE's technology to produce a "power-dense" 25-MW gas turbine generator, using advanced power electronics to meet pulse-load needs. 
He adds that GE's Power Conversion business unit also is working with the Office of Naval Research on development of a hybrid energy storage module to be part of the IPES architecture. 
Meanwhile, the lightweight composite LM2500 module now is targeted at new-build DDGs starting in 2019. 
⎯ Mr. Walsh is a veteran reporter of Navy and Marine Corps news and the former editor of Naval Systems Update.