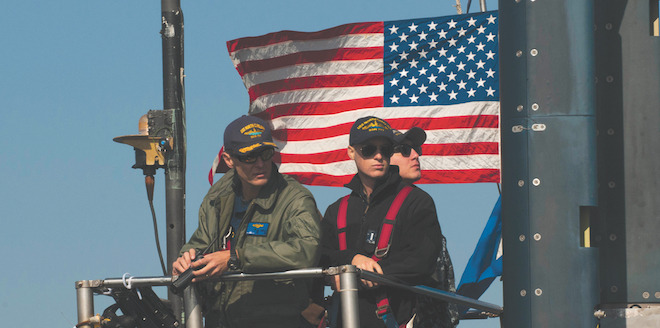 Then-Commander Gary Montalvo, one of the authors, commands the Virginia-class fast-attack submarine USS North Carolina (SSN-777) as the submarine transits Tokyo Bay before arriving at Fleet Activities Yokosuka. (U.S. Navy)
Leadership takes many forms across today's interconnected world. One of the last examples of an isolated group of people being led by a single individual can be found on board Navy warships. These self-sufficient units of 150 to 5,000 sailors often operate thousands of miles from society for weeks to months at a time. During these underway periods, the crews rely on one another not only to fight the nation's wars, but for their sustainment. As teams, they battle modern societal problems while preparing for a battle that, if started, also would threaten their existence. As can be expected under such circumstances, commanding officers of naval warships carry an incredible responsibility. The captain's leadership style, behaviors, and decisions are pivotal to the success or failure of the unit to a degree not found in other leadership roles. 
The title of captain is storied, one imbued with complete authority, and, as history has shown, vested with complete accountability. For those who have worn the title of captain successfully, it is understood that the majesty of the title pales when compared to the overwhelming responsibility. 
Operational leadership is easy to read about, easy to write about, but difficult to perform. Operational leadership is the ability to influence people, set priorities, and develop plans, processes, and procedures that, when aggressively rehearsed, lead to performance. All of this constantly must be assessed and improved as information is received through multiple data streams. Recent performance in the submarine command course shows that some individuals, despite impressive performance records, struggle. It is those officers with the most recent experience observing operational leadership firsthand in decision-rich environments that tend to do the best. Their experience in challenging environments observing strong leaders often parlays into their own successes as operational leaders.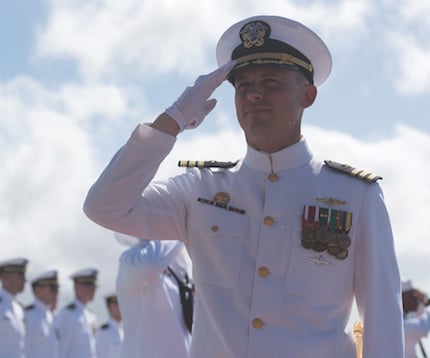 Even as commands change, expert mariner skills, tactical acumen, and engineering knowledge are skills a captain must have to succeed. It is a captain's ability to lead, however, that can tap the wells of capability inherent in the crew. (U.S. Navy)
Expert mariner skills, tactical acumen, and engineering knowledge are skills a captain must have to succeed. It is a captain's ability to lead, however, that can tap the wells of capability inherent in the crew. The ship, as a team, must succeed in all missions regardless of the captain's individual strengths and weaknesses. As a whole, the team is far more capable than any one sailor. The crew is the essence of the ship and the focal point of its success or failure; the captain sets the conditions that empower the crew to maximize their talents or allow them to wallow in their weaknesses. 
All crews have specific strengths and weaknesses, but no one crew—when comparing prior experience and training—is significantly worse or more exceptional than another. The difference between a top-performing crew and one that struggles is the captain's ability to inspire the crew, to get the most from each individual, and to use each sailor's strengths to bolster areas of weakness. Unfortunately, not all captains recognize the inherent significance of every sailor to the team's success, and an increasing number squander the talents of their crews. Developing and assessing the leadership capability of a future captain is challenging but essential to the success—and possibly to the survival of—ships and crews. 
Captains are not created overnight or hired from outside corporations. There are years of training, experience, screening boards, and evaluations prior to an officer being selected to serve in command. Leadership training begins as a midshipman or officer candidate. Each officer is required to read countless leadership books, review historical case studies, and be tested in the classroom. During an officer's career, there are several leadership courses that foster high-level learning through roundtable discussions and scenarios that build and reflect on previous experiences. As a result of these life experiences and training events, a captain becomes familiar with the challenges of leadership. 
The experiences during a career before becoming a captain are as varied as the fleet's mission areas. Therefore, the opportunities for operational leadership vary from one officer to another. Ensuring that adequate operational opportunities are afforded to every future commanding officer is essential to their development and certification.
Developing, selecting, and strengthening commanding officers has an even greater significance today. Adversaries are developing technology at a rapid pace, and the difference between the capabilities of  U.S. Navy technology and those of its adversaries is razor thin and diminishing. Deputy Chief of Naval Operations for Warfare Systems, Vice Admiral Bill Merz, described the situation this way: "We are in stiff competition to be the best with little credit afforded second place." In national defense, the United States faces the toughest challenges it has seen in decades, and maintaining an advantage over its adversaries comes down to leadership, specifically the leadership of every U.S. Navy commanding officer. 
Key among the traits a captain must possess, and arguably the most important, is the ability to push the team to achieve excellence, challenging each crewmember to go beyond his or her limitations. Keeping the team hungry for continual improvement and inspiring each crew member is a fine balance that must be struck while also recognizing the team's successes in milestone achievements. 
Like a professional sports team, as the crew gains proficiency and experience, the realm of what is possible is stretched further and further. The ability of the captain to foster a culture of continual improvement is the most important factor in the Navy maintaining its advantage. The Navy must stress a never-ending pursuit of excellence, a hunger to be the best, and healthy and fierce competition. Senior leaders must inculcate these character traits in current and future captains
The Navy's best chance rests not only with future commanding officers who are well-versed in the foundations of leadership and have the right operational experience, but also with leaders who have been tested rigorously by their warfare communities before assuming command. Those who have served as captains know it is foolish to assume that written tests, oral boards, or scenario-based seminars can achieve the required level of expertise. Each warfare community has a responsibility to place and stress their prospective commanding officers in an environment that is as close as possible to their future roles. By doing so, the Navy can best ascertain how they will respond to their environment, how they will manage their strengths and weaknesses, and how they will lead their crews. 
Teaching and assessing each officer's operational leadership ability is essential to developing future commanding officers. Operational leadership varies between the Navy's warfare specialties. Each warfare specialty has its own unique culture born out of its collective experiences, tactics, and missions. Each specialty requires different technical, operational, and leadership skills. Although the foundations of leadership are the same, how an officer applies these skills in a crucible event is a function of how the warfare community has developed the prospective captain. It is incumbent on every warfare community to look at its process for qualifying and certifying commanding officers to ensure they are ready to lead their crews in the difficult challenges ahead.  
Naval history is filled with examples of storied captains who maximized their crews' strengths and overcame their weaknesses. Less documented are the trials and tribulations of captains who struggled or failed and whose crews never realized their full potential and faced unnecessary risks. Their failures resulted in a weaker Navy by the poor leadership example set for subordinates, whose professional growth was stifled. 
The 2018 National Defense Strategy names China and Russia as strategic competitors, and it is possible the U.S. Navy will again experience dark days of conflict. Therefore, the Navy must set high standards for leadership and demand excellence in its captains. There can be no more important task than developing and testing every future commanding officer. 
---
Editor's Note: The authors are currently the Submarine Force's Prospective Commanding Officers' Course instructors.
Captain Antcliff commanded the USS Virginia (SSN-774), leading his team on two deployments to the European Command. The Virginia's crew was recognized as the top deployer in 2015 and awarded the Meritorious Unit Commendation and Battle E awards.
Captain Sager commanded the USS California (SSN-781) and led his team on a European Command deployment for which they were awarded the Navy Unit Commendation and Battle E awards. He is the recipient of the 2017 Atlantic Fleet VADM James Stockdale leadership award. 
Captain Montalvo commanded the USS North Carolina (SSN-777). He led his team on a western Pacific deployment for which they were awarded the Navy Unit Commendation and Battle E awards. He is the recipient of the 2016 Pacific Fleet VADM James Stockdale leadership award.