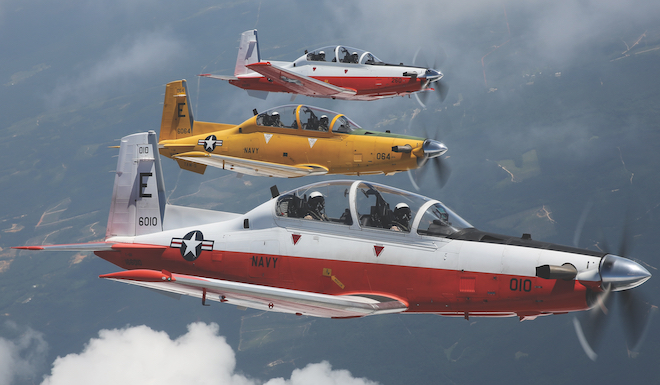 The T-6B Texan II has replaced the older, slower T-34 "Tormentors."
While the Navy's primary training aircraft has evolved from the slower T-34C Turbo Mentor to the faster T-6B Texan II, little has progressed in the management of naval aviation training despite the availability of sophisticated commercial technology. The training environment still relies on pilot voice reports, visual separation, and adherence to standard operational procedures unaided by modern technology. As part of the NextGen program, aircraft across the Department of Defense are undergoing Federal Aviation Administration (FAA)–mandated upgrades to automatic dependent surveillance–broadcast (ADS-B) transponders. This creates a unique opportunity to improve safety and efficiency within naval aviation training at minimal additional cost. ADS-B technology will help naval aviation make the training environment more efficient, effective, and safe.
How ADS-B Works
By 1 January 2020, the FAA will mandate ADS-B, an expanded Mode S transponder, on all aircraft operating within controlled airspace. Unlike previous aircraft transponders, ADS-B regularly transmits position, course, speed, and altitude along with a unique identifier (Mode S Octal) and user-inputted callsign. Within the United States, ADS-B is supported on the 1090 MHz Mode S band (1090ES) and a 978 MHz Universal Access Transmitter (UAT) band, intended for general aviation. The FAA currently maintains an infrastructure of ADS-B re-broadcast (ADS-R) stations capable of broadcasting traffic information of non-ADS-B-equipped aircraft and traffic operating on the 1090ES or UAT bands. This allows for interoperability and will continue to support transponders and the infrastructure of surveillance radars throughout the transition. Using the improved positional information of the wide area augmentation system–enabled, GPS-based ADS-B transponder means less positional error. The single-path transmission of ADS-B results in an increased coverage area at lower altitudes than existing surface-based radar currently affords. 
Improved Safety
Improvement to safety within the training environment is the chief reason to implement such a system. In the Florida panhandle region, Training Air Wing 5 is positioned between Fort Rucker to the northeast, Training Air Wing 6 to the southwest, and Eglin Air Force Base to the southeast. Training Air Wings 5 and 6 share common airspace with civilian air traffic. The heavily used Barin Navy Outlying Field (NOLF) lies directly in the middle of heavily congested airspace, a short distance from both Foley Municipal and Jack Edwards national airports and beneath the approach paths for both Pensacola International airport and Naval Air Station Pensacola. General aviation, military aircraft, banner towers, and cropdusters regularly travel through Barin NOLF's uncontrolled airspace without notice. With a recently opened amusement park less than five miles from the field, close encounters likely will increase. Barin NOLF's many near mid-air collisions have resulted in special departure procedures, but pilots still must rely on visual separation and the traffic collision avoidance system. 
Naval aviation training occurs under visual flight rules using the see-and-avoid principle. At Training Air Wing 5, the regional duty officer (RDO) manages the airspace during training at uncontrolled airfields. With unaided eyesight and UHF and VHF radios, the RDO is expected to deconflict traffic and provide advisory information. 
Exploiting ADS-B will allow RDOs to observe traffic beyond visual detection and without aircrew compliance. An RDO equipped with such a system can alert participating aircraft of noncompliant or nonparticipating aircraft within the terminal area. This will not make RDOs into air traffic controllers, but instead improve situational awareness within the training environment. 
Training Tool
Flying with instruments is a core naval aviation competency. A typical training profile consists of instrument navigation, enter-and-maintain instrument holding, and executing multiple and differing instrument approaches to several airfields. During the debriefing, reconstructing the flight profile currently relies solely on the instructor's memory. To explain to a student why a procedural execution was incorrect is not as effective as showing a replay.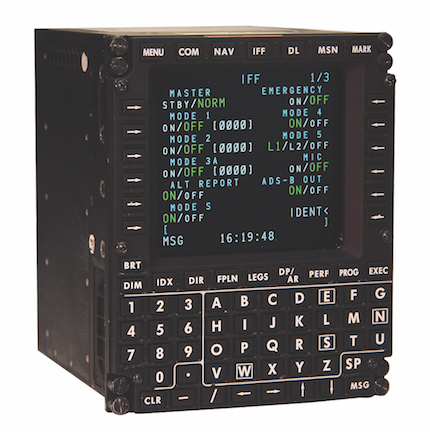 If ADS-B were used to improve instrument training, the entire flight profile would be saved along with the electronic grade sheet. By saving the ADS-B traffic information associated with that aircraft, it is possible to display position, altitude, course, and airspeed. This information is shown in an interactive three-dimensional rendering of the procedures and the replay data. Visual replays aid the student naval aviator in recognizing his or her error and the instructor in grading objectivity.   
Better Area Management
Naval aviation training occurs both under radar control and without radar services. By cooperating with resident air route traffic control centers (ARTCC) and terminal radar approach control facilities (TRACON), controlled and uncontrolled working areas are carved
out of the national airspace system.
Uncontrolled working areas are self-managed by participating aircraft. Currently, Training Air Wings 5 and 6 occupy the same working areas and have no means of coordinating training airspace. 
ADS-B will display the type of information previously only available to air traffic controllers. (Rockwell Collins)
Today, the position of every training aircraft within the working area and NOLF is siloed to the governing ARTCC or TRACON, with no existing means of dissemination to the naval aviation training command. Latency in conveying information to instructor pilots frequently results in working space and NOLF saturation, meaning lost training opportunities. ADS-B ensures the instructor pilot has current information on airspace and NOLF utilization, allowing him or her to quickly change flight profiles to avoid airspace bottlenecks. 
Deviance Detection
Following the judge advocate general's findings of normalized deviance within naval aviation training, the Chief of Naval Air Training instructed all training squadron commanding officers to regularly review high risk sorties to detect for and suppress deviances. With seven different airframes spanning three generations, there is no uniform manner of monitoring training for compliance. Without prior knowledge of deviances, there is little chance that reviewing aircraft flight data recordings will result in any findings. Assuming the majority of training sorties are conducted in compliance with standard operational procedures, the odds of positively identifying a deviation from mountains of aircraft flight data is low. Furthermore, this data has no contextual information, and downloading flight data recordings regularly will be costly and an administrative burden. 
It may be more efficient to detect deviance from ADS-B data. With all ADS-B equipped aircraft regularly broadcasting, it is possible to store all air traffic data within the training environment and continuously monitor for deviant behavior. Flagged instances can then be correlated to a specific sortie via the unique identifier, known as the Mode S Octal. The flight in its entirety is available for immediate replay or live observation. With ADS-B data already stored, flight data recordings could be downloaded much more efficiently for further investigation. 
Assisting Flight Following
Currently, flight following consists of ATC monitoring, closing filed flight plans, and squadron and base operations monitoring takeoff and landing times. Should a mishap occur while on a flight plan, search and rescue launches. Without a flight plan, a much wider area must be searched for missing aircraft and crew. Also, in the event of an aircraft recall, a system to monitor recoveries does not currently exist. 
ADS-B makes it possible to monitor traffic within line of sight up to 150 nautical miles. Networking ADS-B receivers will further extend this range and provide coverage at low altitudes. Should an aircraft fail to report safe on deck within the expected time, then last-held positions can be recalled from saved ADS-B messages. This will result in a smaller search area and faster response times. 
Squadron commanding officers will be afforded a blue force tracker and know the exact status of all assigned aircraft. If convective weather builds in the working area, then a recall for solo student aircraft can be issued and their recovery monitored. Pilot reports concerning weather or controlled burns can be correlated to exact positions. 
While it is impossible to eliminate all risks within the training environment, ADS-B reduces risk. This is accomplished through increased situational awareness without requiring any modification to the aircraft beyond an upgrade to the already FAA-mandated ADS-B Out-capable transponder. There is no requirement for additional equipment within the cockpit. Using ADS-B only improves naval aviation training and makes the training environment safer. 
---
Lieutenant Messer and Captain Johnson are instructor pilots assigned to Training Squadrons 2 and 3, respectively. Their most recent effort includes developing Training Air Wing 5's Situational Awareness System. Lieutenant Messer holds an M.S. in systems architecting and engineering, and Captain Johnson holds an M.S. in Information and Data Science.