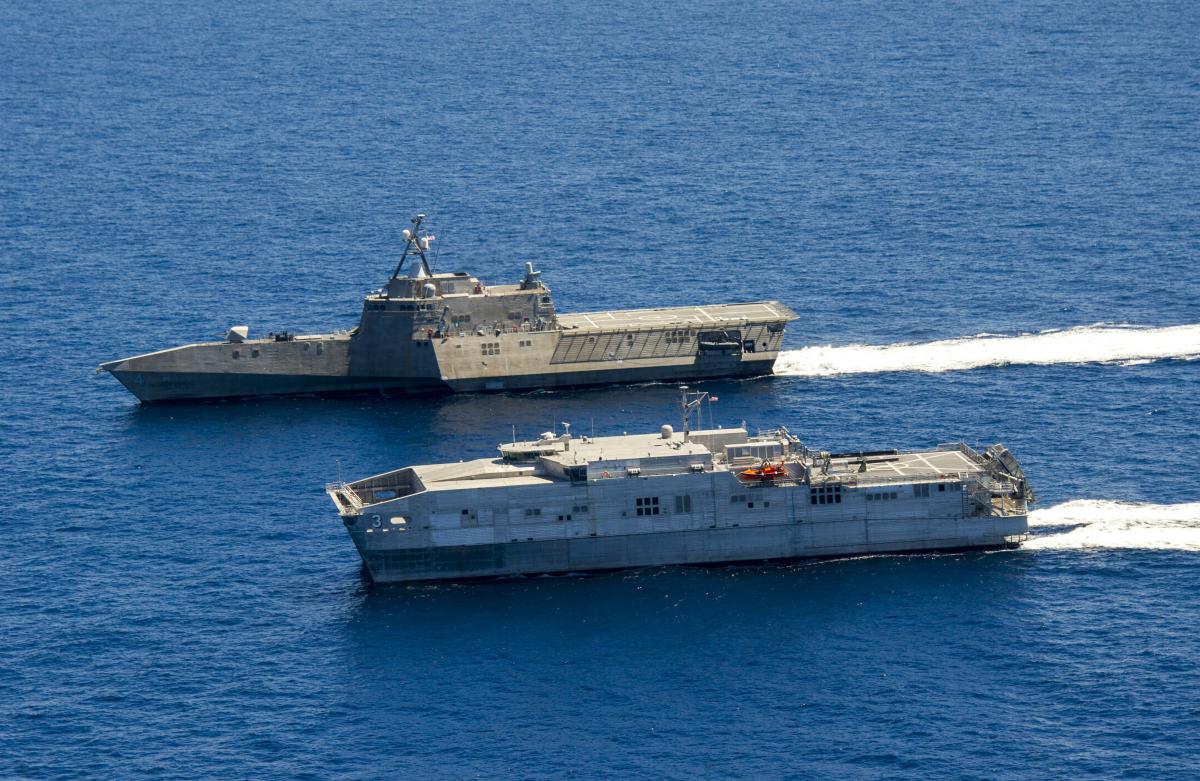 Littoral combat ship USS Coronado (LCS-4) and joint high speed vessel USNS Millinocket (T-EPF-3) sail in formation off the coast of Southern California as part of Rim of the Pacific (RIMPAC) Exercise 2014. 
Defense Secretary James Mattis wants the Navy to engage in less predictable deployment patterns to keep great power opponents guessing as to U.S. capabilities and intentions. The problem with this for the U.S. Navy is that the current fleet size of less than 290 ships limits the number of vessels available for such missions. Since 1948 the U.S. Navy has engaged in regular deployments that originate in the United States and are sustained by regular rotation of forces. This pattern has spawned a readiness culture where only those forces currently deployed and those transiting forward to relieve them are actually "ready" for combat operations. Few ships if any outside the deployment cycle are ready to execute the sort of "disruptive" deployments envisioned by Secretary Mattis. Possible exceptions in this system are the Navy's littoral combat ships and the USNS Expeditionary Fast Transport (EPF) vessels. These classes of ships, combined with Marine Corps units, might serve as both a disruptive deployment and exercise the emerging Marine Corps' Expeditionary Advance Base Operations (EABO) concept that envisions a littoral, naval capability for USMC units. The LCS and EPF—both with extensive space for additional weapons, people, fuel, and equipment (180 tons and 600 tons respectively)— would be ideal platforms to test small scale, disruptive EABO deployments.
EABO
The Marine Corps' Expeditionary Advance Base Operations concept is designed to, "further distribute lethality by providing land-based options for increasing the number of sensors and shooters beyond the upper limit imposed by the quantity of seagoing platforms available," and, "employ mobile, relatively low-cost capabilities in austere, temporary locations forward as integral elements of fleet/JFMCC operations." The Marines understand that the Navy just does not have enough ships to perform all required, naval littoral operations. USMC peacetime EABO deployments are exactly the kind of disruptive action Secretary Mattis suggests. They can conduct presence missions including Freedom of Navigation (FON) operations, exercises involving amphibious and littoral operations, and aggressive, gray zone actions designed to test great power opponent resolve in key locations. Proposed wartime EABO force packages could be used to secure and defend advanced bases, close or keep open critical maritime choke points and support short duration raids and demonstrations.
LCS/EPF Deployment
Neither the LCS, nor the Military Sealift Command-operated EPF are fully integrated parts of standard Navy strike groups. The LCS class has been subject to a number of concepts of operations (CONOPS) changes since the experimental introduction of the first two units of each LCS variant. While most LCSs are planned to remain deployed for 18+ month increments, each squadron will have a U.S-based unit to train rotational crews moving to the deployed ships. The first four LCSs will also be U.S.-based as training and experimental units. These vessels outside the regular Navy deployment process might be used in disruptive ways with unique schedules. These ships are relatively small, have shallow drafts and extensive helicopter and small boat facilities, and are an excellent choice for disruptive deployments in littoral regions.
The EPF is already engaged in disruptive deployments forward in the Pacific and Black Sea regions. The EPF, like LCS, has a very shallow draft and can visit many ports and littoral regions outside the limits of larger U.S. ships. It is not, however, a commissioned warship with any installed armament, which limits the EPF's potential alone.
The LCS/EPF Package for EABO
The Marines have listed a number of potential platforms and payloads for employment within EABO and include both EPFs and LCSs to a limited degree. Full integration of both ships into the EABO construct could support aggressive experimentation of the concept without waiting for new assets and without needing other Navy ships otherwise employed. Shipboard basing of an EABO force package significantly aids in its mobility and utility in littoral areas. The LCS/EPF combination could support two helicopters, two Fire Scout UAV's, a number of unmanned surface and subsurface vehicles,  several 7-11 meter Rigid Inflatable Boats (RHIBS) and other small craft as required. The LCS itself has a corvette-level of armament including a 57mm gun and the SeaRAM point defense missile system, but can be configured to carry weapons supportive of the EABO concept because of its modular design. The LCSs are scheduled to get the ALAMO guided 57mm round next year that will improve the ship's gunnery capability. The planned addition of Longbow Hellfire missiles in the next two years will further enhance the lethality in the littoral environment. Finally, the LCS' modular design allows for additional weapons that might enhance the EABO mission. The Finnish-made, Patria 120mm NEMO turret; which weighs slightly more than the current 30mm gun of the LCS surface warfare module, might be substituted for current weapons to provide more capability against shore targets. The Marine Corps is familiar with the capabilities of the EPF and can significantly expand on them through the addition of an LCS to the package. The LCS and EPF have operated together during the Indo-Pacific deployment of USS Coronado in 2016 and the two vessels proved to be complementary assets.
A Disruptive Combination
The current U.S. Navy force structure is too small and not prepared to support Secretary Mattis' disruptive deployment initiative. New combinations of ships and capabilities such as the LCS and EPF with embarked Marine units can be used to meet Mattis' expectations. These ships and capabilities are in the force now and can be employed quickly with appropriate logistics support.  The first four LCSs are currently employed in test and evaluation projects but one could be surged with an EPF and embarked Marine assets in an initial, disruptive deployment. The LCS/EPF combination elements is an untapped resource that could be put to work today. Former Deputy Defense Secretary Bob Work said that LCS would evolve to meet fleet needs when it began to arrive in numbers. Disruptive Deployments that support Marine Corps' missions in the littorals is one of those possible pathways.
---
Dr. Wills is a research analyst with the Center for Naval Analyses. He is a retired Navy surface warfare officer who is an expert on strategy, policy, and Navy surface warfare programs and platforms. The opinions expressed in this article are his alone.