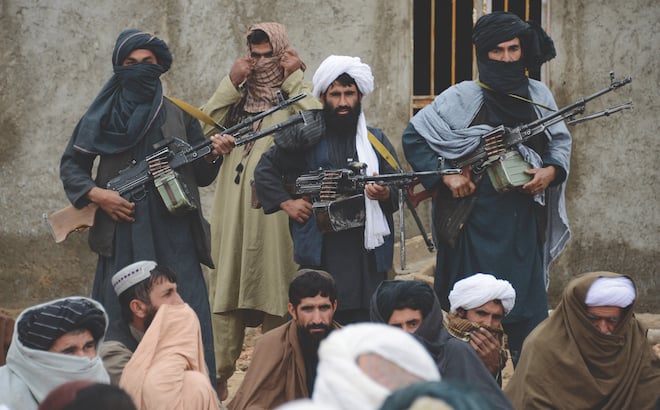 Many of the enemies the nation faces today do not play by the traditional rules of warfare, but U.S. warfighters must act
ethically and morally even when the enemy will not. Associated Press
Traditional state-to-state wars helped lay an international legal framework for warfare, now embodied in U.S. military doctrine and treaties such as the Geneva Convention to which war­fighters are bound.1 But the United States today faces a much different brand of warfare—against an enemy without borders, without sovereignty, without citizens, and who subscribes to no rules.2 Modern wars often must be waged against groups that do not follow the same laws to which U.S. war­fighters are bound. Historically held military doctrines of reciprocity and conventional deterrence mean little, if anything, in this brand of warfare.3
The United States, therefore, is faced with an ethical challenge. Military officers are bound by oath to support and defend the Constitution, and because the supremacy clause of that document elevates international treaty to the supreme law of the land, they are equally bound to international law, such as the Geneva Convention. The enemy is bound by none of these, yet the United States must fight them within the boundaries the law creates. Moreover, the Constitution enshrined ideals such as due process and the rule of law. With drone strikes, conventional air strikes, and ground operations where combatants and noncombatants are practically indistinguishable, individual warfighters increasingly must take due process into their own hands. 
A greater burden now is placed on warfighters to make fast, correct, and morally sound decisions within the context of U.S. law, the laws of armed conflict, and individual moral reasoning. It is imperative, therefore, that military professionals reconcile the anarchic nature of asymmetrical warfare with the laws of war, as well as the ideals of due process that Americans hold so closely.  
The dilemma 
Adherence to the Law of Armed Conflict traditionally has been relatively straightforward. A soldier could shoot an enemy who was clearly identified with the uniform of his service. He could not target marked medical personnel or civilians, their homes, or their businesses. He could not mistreat enemy prisoners of war. 
Today, enemies often wear no uniform. They live among civilians and are, by most conventional definitions, civilians themselves. Whether referred to as insurgents, jihadists, militants, or simply terrorists, they are nonstate actors. The nature of the enemy creates an arena characterized by asymmetric warfare. While not new, this brand of fighting is more widespread now than it has ever been. The enemy does not play by our rules.4
Adding to this situation is what Paul Khan describes as "riskless warfare."5 The United States is significantly more powerful than the enemies it fights today. It has the world's largest and most powerful military, and it is fighting minimally trained and loosely organized militant groups built from alienated, ostracized, and radicalized individuals frequently armed with outdated and unreliable equipment.6 As Kahn posits, "The paradox of riskless warfare arises when the pursuit of asymmetry undermines reciprocity." Americans face an ever-present risk of isolated attacks, such as those of 11 September 2001, but in military operations, the reciprocity of risk can be avoided. The United States can conduct drone strikes, execute air strikes, and launch missiles far outside the enemy's reach. 
Therein lies an ethical dilemma. As asymmetry becomes more pronounced, the line between guilty and innocent becomes blurred. The United States is a signatory to the Geneva Convention, which makes only two actor distinctions: combatant and noncombatant. There is no third category for terrorists, so they must be included in the category of combatants, because "combatants are permitted to kill only opposing combatants."7 This forms the basis of jus in bello, or the just conduct of war.8 Because of international convention and the Constitution, however, the United States presumes innocence until guilt is proven. It is up to military personnel to identify the morally guilty from the morally innocent.
A Utilitarian Approach 
From a utilitarian standpoint, the United States obeys international law so it may maintain an expectation that others will obey it as well. The military could engage in full-fledged riskless warfare and wipe out the nation's enemies with little immediate risk. In doing so, however, the nation would be forgoing any sort of due process and certainly would be killing some innocents along with the guilty. Besides being a violation of human rights, international law, and basic morality, this would create a dangerous precedent. States in the future could point to U.S. violations as justification to do the same. China could tighten its yoke on Tibet, or Russia could continue occupying sovereign states in Eastern Europe. As a violator itself, the United States would have no ethical or moral ground to argue against their transgressions. 
A potentially more dangerous possibility involves state-to-state war. Following World War I, the Washington Naval Treaty and First and Second London Naval Treaties were signed, limiting the tonnage of battleships in an effort to avoid an arms race between the world's naval powers. In 1936, Japan, one of the signatories, renounced the treaties and initiated a major naval buildup. Soon after, Germany did the same. Before long the treaties became meaningless, and the United States and Britain followed suit.9
Aggressor powers violated international law, and in response, the states that would become their enemies in war felt forced to turn away from that law as well. Were the United States to violate international law in asymmetrical conflicts, a similar situation would not be unforeseeable. Any transgression is an effective free pass for an aggressor to transgress in turn. The utilitarian approach, therefore, would be to accept the risk today by engaging in warfare that is more symmetrical and mitigates the chance of violating the laws of armed conflict so as to maintain the doctrine of jus in bello in a future war.
Natural Law Theory
The theory of natural law offers a second perspective. Natural law emphasizes universal ethical truths as guiding principles in general conduct. It contrasts with utilitarianism in that immoral means cannot justify a moral end. 
Take, as an example, a drone strike on a compound where a known militant leader is present. There are women and children in one of the compound buildings who have no involvement in the militancy beyond proximity, but a judgment is made that neutralizing a militant threat outweighs the risk of collateral damage. The strike kills them all, preventing the militant's future attacks against civilians but at the cost of innocent lives. The strike was an act of riskless warfare, inflicting operationally justified damage without putting into harm's way any U.S. troops. However, the strike denied those present at the compound due process. By the theory of natural law, the United States would be morally unjust in its actions, and legally unjust in its denial of due process, regardless of the positive aspect of the outcome.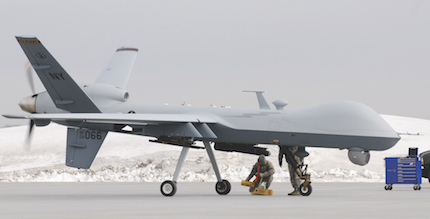 The United States can conduct drone strikes from far outside the enemy's reach, with little risk to its own forces. But the use of such high-tech weaponry to destroy the enemy—and possibly innocents—with no direct human intervention requires careful consideration of the ethics of warfare. U.S. Air Force (AN Ferguson)
This is not to argue against drone strikes or the mitigation of risk. Wars today are fought in a constant shade of gray. Intelligence is never perfect, situational awareness is rarely complete, and collateral damage frequently is unavoidable. Moral absolutism often is unrealistic. Nevertheless, military leaders must think about the morality of the means in addition to that of the ends.
Military leaders may be able to combine elements of natural law with elements of utilitarianism to find a reasonable and pragmatic approach to the ethical dilemma of asymmetrical warfare.  
Recommendations
Asymmetrical warfare presents U.S. warfighters with a dilemma: how to reconcile due process and adherence to international law with fighting a unique and challenging enemy. The solution must be guided by a conviction that, as Americans, it is never acceptable to sacrifice morality or violate international law, even if the enemy does so. Treaties such as the Geneva Convention cannot be selectively obeyed, disregarded in asymmetrical conflict and then invoked in a state-to-state war. The United States must adhere to them absolutely, even when to do so is difficult or risky. 
Some of the threats the nation faces will be asymmetrical. The military will be presented time and again with the opportunity to wage warfare that mitigates or even eliminates risk, but potentially at the cost of ensuring due process and adherence to international law. Warfighting doctrine and decisions are the prerogative of the highest levels of military and civilian leadership. They carry the heaviest ethical burden to resist the ease and security of riskless warfare. 
For individual warfighters, however, the moral imperative remains. The United States was built on the ideals of equality and due process under the law, and we are bound by oath to honor those principles. We must set the example of what is right, not only for the international community, but also for generations of Americans to come. It is on our shoulders to act morally and ethically, even when facing an enemy we know will not. The world is watching. 
---
1. Rick Rubel and George Lucas, Case Studies in Ethics for Military Leaders, 5th ed. (Boston: Pearson, 2015), 237-55.
2. Alex Wilner, "Deterring the Undeterrable: Coercion, Denial, and Delegitimization in Counterterrorism," Journal of Strategic Studies 34, no. 1 (February 2011): 3-37.
3. WIlner, "Deterring the Undeterrable"; Phil Potter, "Counterterrorism: Deterrence," lecture, University of Virginia, 14 November 2016.
4. Potter, "Counterterrorism: Deterrence," lecture, University of Virginia, 14 November 2016.
5. Paul W. Kahn, "The Paradox of Riskless Warfare," Faculty Scholarship Series, paper 326 (2002).
6. Phil Potter, "Joining and Recruiting," lecture, University of Virginia, 26 September 2016.
7. Jeff McMahan, "The Ethics of Killing in War," Ethics 114, no. 4 (July 2004): 693-733.
8. George Lucas and Rick Rubel, Ethics and the Military Profession, 5th ed. (Boston: Pearson, 2015), 295.
9. Nathan Miller, War at Sea: A Naval History of WWII, 1st ed. (New York: Oxford University Press, 1995), 27.
---
Ensign O'Connor attended the University of Virginia in Charlottesville on a Naval ROTC scholarship, graduating with a degree in environmental science. He commissioned in May 2017 and currently serves as a logistics policy special projects analyst at U.S. Fleet Forces Command in Norfolk, Virginia.