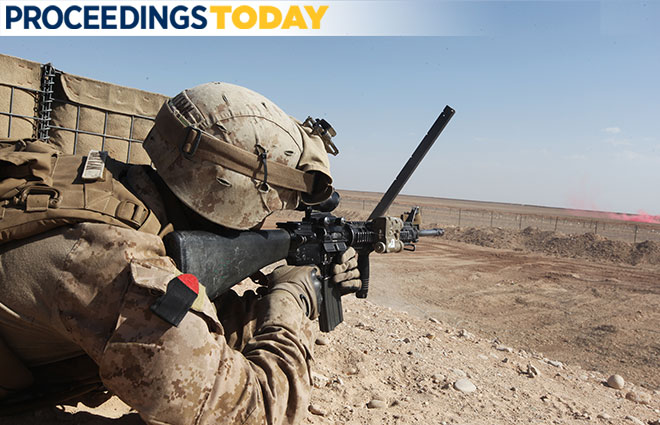 For the better part of two decades, the U.S. public has seen U.S. military combat operations in the Middle East in the news and in political debate. Against the background of a slow-burning war, the image of U.S. combat force is a dusty Marine in desert camouflage sweating profusely, or a bearded special forces operator with a shemagh and coyote-brown baseball cap. What the public does not see as often are the thousands of noncombat enablers in the field or stateside supporting the war effort in from desks.
In the Marine Corps, the ratio of noncombat enablers to those in the combat arms is more than 4 to 1. Current efforts to enhance information warfare capabilities will likely increase this ratio. Thus the number of Marines in supporting roles is set to increase, even as automation and remote operating capabilities should allow a reduction in personnel.
At the same time, the officer corps is attempting to maintain high physical, moral, and intellectual standards in the face of a service need for increased specialization. This has resulted in a compromise that is hurting the leadership quality in the Corps—officers poorly educated in general officer skills yet unable to excel in specialized noncombat enabling skills. Institutional decay will follow if the Marine Corps does not adopt a warfighting-first approach that seeks to transition many noncombat enabling functions to civilian positions. 
A New Officer Accessions Model
The stringent criteria for screening and accessing officers is antiquated. For decades officers have received commissions in the Marine Corps after completing an undergraduate degree. But the undergraduate degree is not as valuable as it once was. If the Marine Corps needs more officers with specialized education in technical fields, it should require those officer candidates to have graduate degrees from at least a middle-tier college or university before commissioning. This will allow the Marine Corps to be more selective with officer candidates from the general civilian population and open up commissioning opportunities to enlisted Marines with actual combat experience. If the Marine Corps is serious about advancing innovative concepts while maintaining top-quality leadership in the combat arms, this approach is a productive step forward.  
Transition Most Desk Jobs to Civilians
If a job's requirements are related solely to deskwork—cyber operations, financial management, administration—a better option may be to hire a civilian with those skills. For example, while there is not a single requirement in the MOS 0111 (administrative specialist) list of individual events that involves physical exertion, Marines in this field are held to the same high physical fitness standard, must qualify annually on the service rifle, and must complete marital arts training. Rather than complementing the 0111 MOS-related training requirements, these physical fitness requirements take away time for the administrative specialist to become more proficient in administrative work.
The Marine Corps invests significant time and resources in recruiting, training, educating, moving, and supporting Marines in noncombat fields. Much of this would not need to be expended on civilian employees that could be hired based on their proficiency for such work, require only a narrow training plan, and provide longer-term continuity serving in a single location for a decade or more.
Instead of spending these resources training noncombat Marines, they should be reinvested in combat-arms and combat-support capabilities. Marines should be employed as Marines—not given a job just as easily performed by a civilian. It degrades the high standards of the Marine Corps and detracts from the legacy of "every Marine a rifleman." The resources saved by employing a more cost-effective civilian support cadre could be used to provide advanced training and equipment to infantry Marines, or for modernizing the aging fleet of amphibious vehicles.
In a recent statement to Congress, Marine Corps Commandant General Robert Neller cited an unsustainable deployment-to-dwell ratio, despite the fact that the Marine Corps is not currently leading any major combat operations. This speaks to a deep deficiency in personnel available for deployed operations. Without expanding the overall size of the Marine Corps, reallocating the noncombat force to civilians would conservatively add around 11,000 Marines for support to critical functions in infantry, logistics, communications, and other specialties. Even compensating for the cost of hiring a civilian work force to fill these noncombat roles, the savings could fund a regiment or two to alleviate the unstainable dwell ratio referenced by the Commandant.
Change Course
The Marine Corps is on a path to lose many of the qualities that were instrumental to its successful history. An inability to keep up with educational standards has diminished the quality of the officer corps, while preventing many quality enlisted candidates from applying. The expansion into cyber and the retention of noncombat, administrative support fields has decreased the resources available for combat. The Marine Corps must provide focus and bold solutions to rectify these problems and invest in its true mission—fighting and winning wars.
---
Captain Rinaldo currently serves as an intelligence officer at Fort Meade, Maryland. He previously served tours with 2d Radio Battalion and the 26th Marine Expeditionary Unit, II Marine Expeditionary Force at Camp Lejeune, North Carolina.