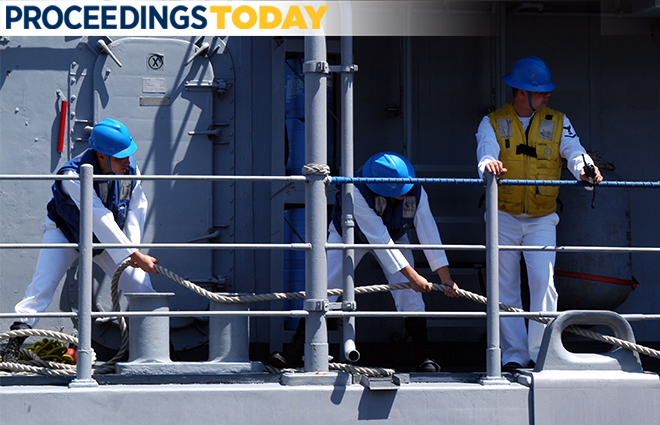 On board the USS Champion (MCM-4) we chose to explore beyond the bounds of the traditional Monday to Friday workweek by implementing a four-day workweek in port, which proved effective for us. This article is about how it works, what we learned, and how to implement it for your unit.
As Champion prepared to enter an extended yard period, we challenged the Chief's Mess to take ownership of the ship's schedule. They came back with a creative and highly effective plan. It is important to note that the schedule they came up with is not only about more time off; it is principally about overall effectiveness.
As with any change, communication is the sine qua non of successful implementation. The first step was to communicate to our squadron commander what we intended to do and why. To his great credit, his response was, "It's your ship, Captain. Working hours are entirely your call." Next, we had to communicate the goal of the four-day workweek to the crew and seek their help to achieve it. Working hours are 0700 to 1700, Monday through Thursday, and each day emphasizes certain priorities.
Monday:          Maintenance Day (no meetings for E6 and junior)
Tuesday:         Maintenance Day (no meetings for E6 and junior)
Wednesday:    Admin Day (planning board for training, qualification boards, performance counseling, and debriefs)
Thursday:       Training Day (shipwide classroom training and drills)
This rigidity proved to be difficult to balance at first, but provided the structure leaders needed to plan and run their divisions and departments. As part of this agreement, we made clear that the crew would need to use their time on duty efficiently to get work done—even on weekends. Although we do not routinely approach Friday, Saturday, or Sunday as work days for the crew, Champion Sailors on duty during the longer weekend must use this time to ensure the ship remains mission ready. Department heads in particular report that they get more and higher quality work done on a single, uninterrupted "duty Friday" than the entire 5-day traditional workweek.
Champion has 100 Sailors and maintains four duty sections in port. With four duty sections and a normal daily rotation, a Sailor would have one duty day each weekend for three weekends in a row. To make our four-section duty rotation a little more manageable, we "dog" the weekends with a single section maintaining the duty on both Saturday and Sunday, allowing the remainder of the crew to enjoy an unbroken weekend. You can't cheat the math, but you can make duty section rotation less painful.
Here is that math. When you factor in the time for duty days during the week, the full day spent on Friday duty, or the two days on weekend duty throughout the month, each Sailor averages about 65 hours on board the ship each week. This is 15 percent less than the 76.5 hours on board per week they would average with a five-day work week.
What does that 15 percent buy? Well, for one, Fridays. Champion crewmembers find they have more time for all those things they have been missing. They can take their children to school on Fridays and are free to meet their spouse for lunch that afternoon. The fact that they are off when the rest of the fleet is open for business is an advantage, not a drawback. They are able to get around to those home projects that never seem to get done on sea duty. In exchange for one weekend standing duty, our Sailors enjoy a three-day weekend twice a month, and one normal weekend. A short trip to get away or driving to see family no longer has to wait until a holiday weekend.
Champion has used this 4-day work schedule all year and the results are clear. Physical health and mental well-being have measurably increased. Since implementing this schedule, all Champion Sailors have passed the Navy physical readiness test, and there have been no new mental health cases.  Furthermore, disciplinary problems have not increased despite the change in routine that accompanies a shipyard period.
The four-day work week not only improved the crew's work-life balance, the ship's performance also soared. Champion continues to meet both requirements and goals, completing maintenance without issue and the routine tasks still get done routinely. The ship has been the most awarded in the Navy over the past year, including being the only minesweeper to earn the Battle "E" award with all five individual "E" awards. We also received six Secretary of the Navy and Chief of Naval Operations unit awards, and three crew members earned individual awards for excellence—including the Surface Warfare Officer of the Year.
The USS Champion has areas for improvement just like any other command, but morale and combat readiness are at an all-time high. The four-day work week may not work for every ship or even at each point in a ship's life-cycle, but it has been an essential element of Champion's success. With buy-in from the Chief's Mess, ship-wide commitment to implementation, and by working together through the initial transition, the four-day work week can be great for the whole ship.
---
Commander Kristenson is a career Surface Warfare Officer who recently commanded USS Champion (MCM-4) and MCM Crew Dominant. He previously was an Olmsted Scholar in China and is currently assigned as a Special Assistant to the Supreme Allied Commander of NATO.