---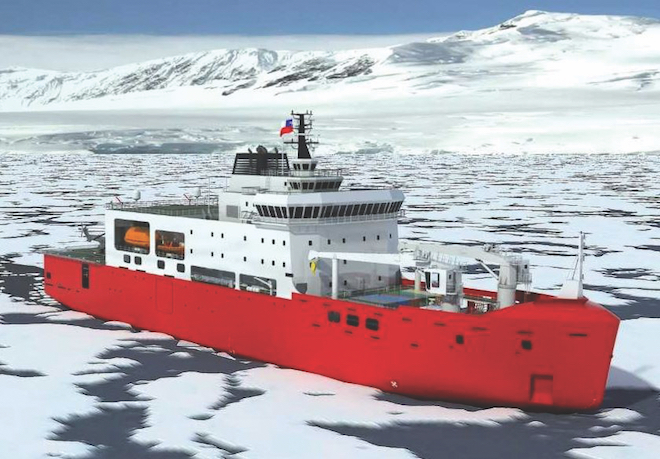 Construction on the Chilean Navy's first domestically built icebreaker commenced in Talcahuano this past May. Named Antártica 1 and pictured here in a computer rendering, she is expected for delivery by 2022, with first patrols set to begin in 2023. Once operational, the new ship's missions will include logistics support, search and rescue, base resupply, and scientific research in the Antarctic circle. With a planned displacement of more than 13,000 tons, the new icebreaker will measure 360 feet long with a beam of 69 feet and draft of 24 feet. The ship will have a top speed of 16 knots in open water or 3 knots when breaking up to 3.3 feet of ice. Carrying 120 personnel, she will be fitted with a powerful main propulsion system and bow thruster, cargo cranes, a twin helicopter hangar, and landing deck. Once operational, the Antártica 1 will replace Chile's aging ex-Canadian icebreaker Contra-Almirante Óscar Viel Toro, which first entered service in 1969. 
---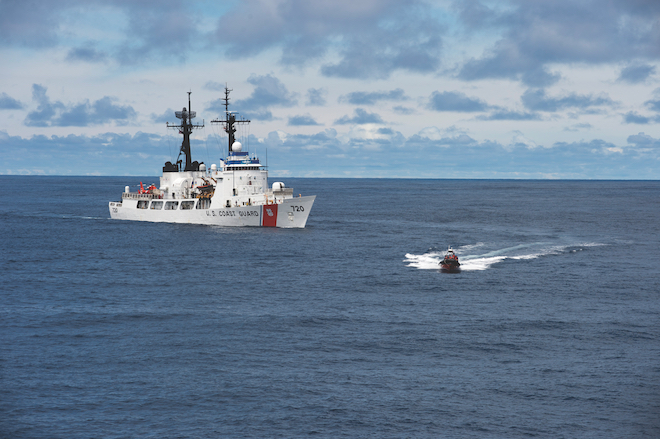 In August, Sri Lanka's Navy welcomed into service its largest-ever warship. The retired U.S. Coast Guard Hamilton-class cutter Sherman (WHEC-720), pictured here while still in Coast Guard colors, was transferred to the commander of Sri Lanka's naval forces during a ceremony held in Hawaii on 27 August. Displacing some 3,000 tons fully loaded, the 378-foot warship entered service in 1968, was a veteran of the Vietnam War, and was considered the last-remaining Coast Guard cutter to have sunk an enemy vessel in combat. The ex-Sherman is powered by two diesel engines and two gas turbines providing a top speed of more than 28 knots and a cruising range of 9,600 nautical miles at 19 knots. The warship is fitted with a 3-inch gun forward and a telescoping hangar and helicopter landing deck aft. Following several months of training, the vessel is scheduled to depart for Sri Lankan waters in February 2019. 
---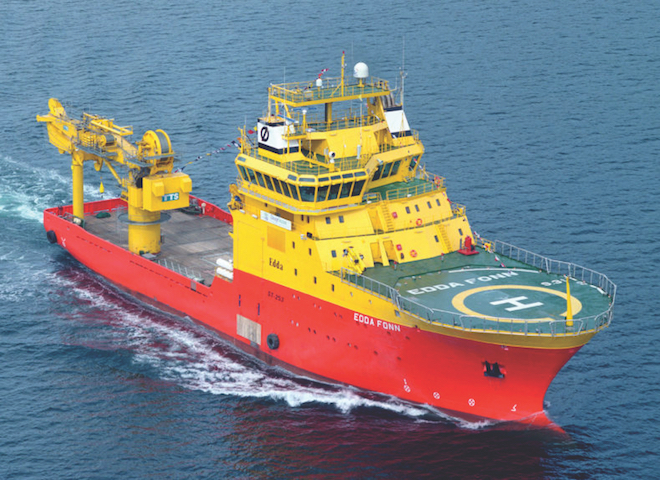 New Zealand's Navy has selected a commercial offshore support vessel to take on the dual role of diving support and hydrographic research for its fleet. Previously those tasks had been fulfilled separately by HMNZS Manawanui, which was retired earlier this year, and HMNZS Resolution, which retired in 2012. In their stead, the fleet is purchasing the former MV Edda Fonn, a 278-foot multirole vessel that will be renamed and delivered to the New Zealand Navy by the end of 2019. Prior to this acquisition, the Edda Fonn carried roughly 20 crew, with accommodations for 46 special mission personnel. Built in 2003, the vessel was designed with multiple offices, a hospital, and a gymnasium, and was fitted with multiple deck cranes, winches, two moon pools, and a cargo hold for a remotely operated vehicle. Additional modifications will likely be made to the vessel prior to service entry. 
Mr. Wertheim, a defense consultant in the Washington, D.C., area, is the author of the 16th edition of The Naval Institute Guide to Combat Fleets of the World, available from the Naval Institute Press (www.usni.org).