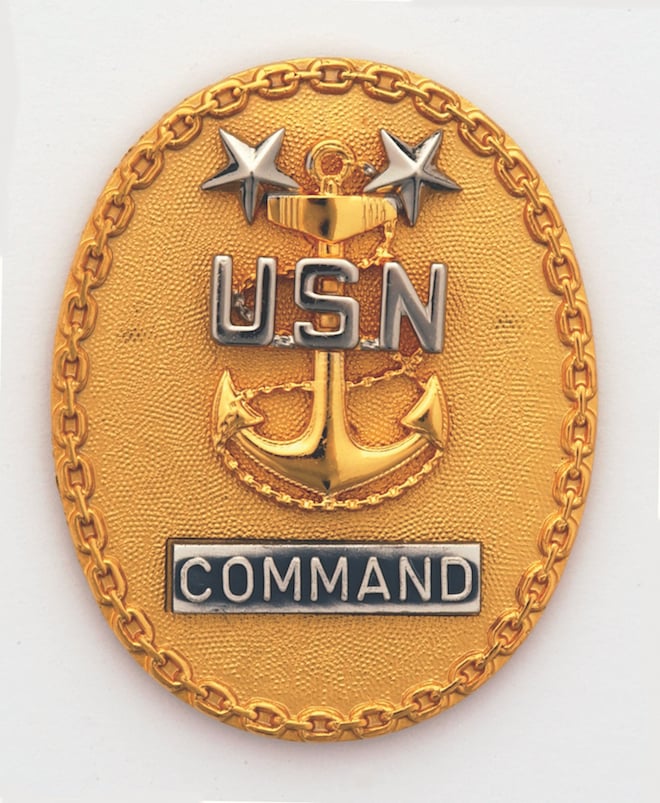 A Command Master Chief's (CMDCM's) main responsibilities are to provide transparency from top to bottom and back again, clearly and without artifice; and to manage the performance of the chiefs' mess and, by extension, the entire enlisted element of the command. When a unit-wide evolution takes place, the command master chief represents the commanding officer (CO), guiding and overseeing, ensuring all hands are on deck and on task. In the CMDCM community it is accepted that each CMDCM is every bit as responsible for the success of a command as is the CO—authority and risk are in abundance. 
To apply to the program, one must be a senior or a master chief petty officer with less than 22 or 26 years of active service respectively. The program is voluntary, making the pool of applicants a self-selected group from which a board of CMDCMs picks annually. There is a problem in the inherent volunteerism of the program: Each year fewer than 100 people apply to fill the Navy's 676 CMDCM billets. Not only is this number barely sufficient to sustain the program, but it also makes a genuine quality-cut at accession difficult. Why so few? The following issues figure prominently:
• New CMDCMs go to sea, and for some exceptional persons who might
apply, this is a hardship. 
• There are gifted chiefs who wish only to remain in their chosen ratings. 
• Many of the best and brightest sailors and young chiefs aspire to commission rather than senior enlisted rank.
   To these issues may be added a series of commonly held negative impressions:
• CMDCMs are often either undervalued or merely an administrative figurehead. 
• Cronyism exists in the CMDCM superstructure.
• One wrong word or action while trying to correct behavior may lead to instantaneous sacking. 
Regardless, the low number of applicants leads to downstream problems. For every CO who has been delighted with a CMDCM, there is another who has been disappointed. More than a few of these have experienced the arrival of a CMDCM who has, literally and inexplicably, never been to sea. Others find their CMDCMs ill-equipped to lead the chiefs' mess or provide critical transparency. 
More broadly, the program's reputation is impugned by a common belief that as CMDCMs move up the ranks, many become more political and increasingly detached from life at the deckplates. Further, an impression persists that many command master chiefs with aspirations are more beholden to the force- or fleet-level command master chiefs than they are to their own COs, and that currying favor in the "senior command master chief mess" (the 17 CMDCMs serving three-star or above flags) is the road to promotion. One former fleet commander told me he was frustrated that his command master chiefs seemed more interested in frequent travel, far beyond the fleet's area of responsibility, than in leading or communicating within
the fleet itself.  
Whether these concerns are always true or fair, perception can be reality. The fact that they exist suggests that the CMDCM program is not realizing its potential. Remediation may lie in making access to the community nominative and by combat units alone. This would create a larger and more diverse pool of potential applicants, especially if nominees were incentivized by responsibility-based bonuses. Perhaps more important, assignment to the senior mess should be on a rotational rather than a permanent basis, ensuring that the most senior command master chiefs maintain a closer touch with the operating fleet. And, finally, the attrition rate of one-star admirals is 50 percent. A similar standard should be established for unit-level CMDCMs. They could move up, retire, or revert to their rating. The Navy's front-line units deserve the best leaders who can be found.
Captain Eyer served in seven cruisers, commanding three Aegis cruisers: the USS Thomas S. Gates (CG-51), Shiloh (CG-67), and Chancellorsville (CG-62).