Secretary John Lehman on the Proceedings Podcast
Former Secretary of the Navy John Lehman will be on the Proceedings Podcast on 9 October. A year ago we launched the podcast as a new way to highlight Proceedings authors and their ideas. Outreach Director Ward Carroll and Proceedings Editor-in-Chief Bill Hamblet interview authors and newsmakers in the naval and national security sphere. Recent guests include former Chairman of the Joint Chiefs Admiral Mike Mullen, sci-fi writer August Cole, and a number of officers and enlisted professionals (including the new Master Chief Petty Officer of the Navy Russ Smith) who have written for Proceedings. You can find the podcast on iTunes (search for "Naval Institute," click on "Proceedings Podcast," and subscribe) or Soundcloud. Episodes run 35-45 minutes—perfect for your commute.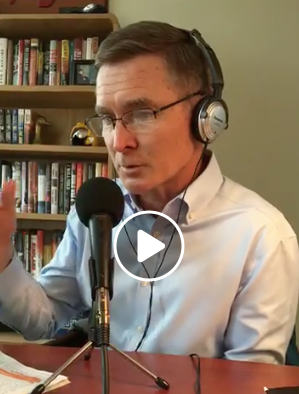 (Photo: Proceedings editor-in-chief Bill Hamblet talks recently on the Proceedings Podcast. Credit: U.S. Naval Institute.) 
Reserve the Date
On 10 October, the Naval Institute will partner with the U.S. Naval Academy to host a conference to address "The New China Challenge" at the Naval Academy's Alumni Hall. Speakers and panelists will include former Prime Minister of Australia Kevin Rudd, former PaCom Commander Admiral Robert Willard, former Pacific Fleet Commander Admiral Scott Swift, authors Graham Allison and August Cole, and academic experts on
China's military, political, and economic rise. 
On 22 October, Ian W. Toll, author of The Pacific Trilogy, will share lessons from Pacific naval operations of World War II. This evening event at CSIS in Washington, DC, will include a reception and awards presentation by Chief of Naval Operations Admiral John Richardson to recognize publicly the winners of the 2018 CNO Naval History Essay Contest. 
The next Maritime Security Dialogue will take place on 5 October at CSIS and will feature Vice Admiral DeWolfe Miller, USN, Commander, Naval Air Forces, and Lieutenant General Steven Rudder, USMC, Deputy Commandant for Aviation, in a conversation on the challenges facing naval aviation. Please visit www.usni.org/events for details and to register for these events. 
Dead Reckoning
This month marks the launch of the Institute's graphic novel imprint, Dead Reckoning. The first four books are now available, and the initial reception has been strong, gathering positive reviews from respected trade outlets such as Publishers Weekly, Kirkus Reviews, and Foreword Reviews, as well as military publications such as ARMY Magazine and Military Heritage. The initial catalog's lead title, Machete Squad, was selected by Publishers Weekly as one of the 20 best books from independent publishers and university presses this fall, a distinction that considers all books, not just graphic novels.
Naval Intelligence Essay Contest Winners
Congratulations to the winners of this year's Naval Intelligence Essay Contest, which is sponsored by the Naval Intelligence Professionals. First Lieutenant Christian H. Heller, USMC, took first prize for his essay, "Make Counterintelligence a Main Effort." It appears on pp. 42–46 of this issue. Lieutenant Commander Wolf Melbourne, USN, took second place, and Lieutenant William N. Murray, USN, placed third. 
Make a member
Membership has been key to the success and longevity of the Naval Institute since its founding in 1873. Our many efforts to grow members, from the Sponsored Student Program to the addition of a new Outreach Director in 2017, are paying off. I would like to ask all Naval Institute members to keep their membership current and recruit a new member. The vitality of the forum depends on you. Membership keeps it going and growing. Perhaps you are a mentor to a junior officer or young enlisted person; tell them about the Institute and encourage them to join. 
Peter H. Daly
VADM, USN (Ret.) 
Life Member and Member since 1978