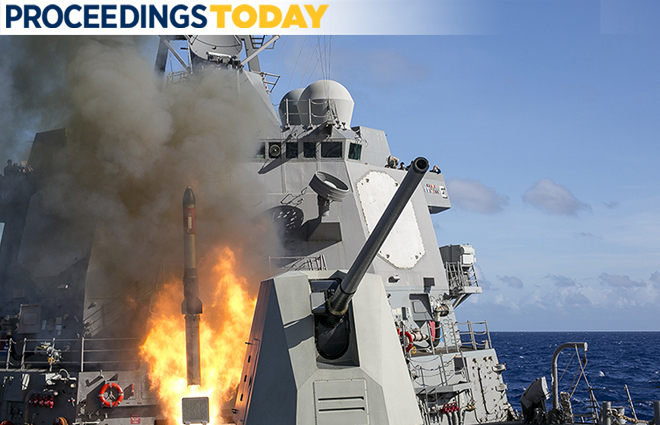 The USS Mustin (DDG-89) test fires a vertical-launch antisubmarine rocket (VL-ASRoc).
The nuclear genie is out of the bottle. Previously, nuclear weapons–capable militaries were an exclusive club of high-tech and responsible nations. Today, that once level-headed cadre includes a few less stable members, one unpredictable associate (North Korea), and a dangerous aspirant (Iran). More will follow as the technology and material for nuclear weapon production becomes more readily available and easier to produce. Couple that with a newly aggressive (and large) Chinese fleet and a resurgent Russian Navy and suddenly the U.S. Navy has more to worry about than it did during the Cold War. The Navy is finding itself outgunned, but it has been here before.
During the Cold War, the United States relied on nuclear weapons to even the odds against the Soviet Union, whose strategy was to produce cheaper, less sophisticated ships, planes, and missiles to overwhelm U.S. units. The factor that leveled the playing field was shipboard nuclear weapons. The RIM-2D, a nuclear warhead–equipped version of the Terrier surface-to-air missile, was designed to eradicate saturation missile attacks in one swoop.1 The rocket-thrown nuclear depth charge (RTNDC), a version of the antisubmarine rocket (AsRoc) system, enabled ships to sink or disable Soviet submarines without needing a pinpoint location for a torpedo attack.2 The nuclear variant of the Tomahawk land-attack missile (TLAM) could deliver tactical warheads more than 1,000 miles.3
In the late 1980s, the Department of Defense withdrew its nuclear fangs and retired all nuclear weapons from surface ships.4 A few short years later, that seemed a prudent decision. After the Soviet Union collapsed in 1991, the only challenger to U.S. global military dominance vanished. The United States had beaten the Soviets and won the Cold War. Celebration was in order, as was a well-deserved respite from being one step away from the nuclear brink. Unfortunately, the party lasted too long. While the United States was busy saving money by reducing overall ship numbers and building lightly armed littoral combat ships (LCSs), China emerged as the dominant force in the western Pacific and Russia, regaining its composure, returned to its former modus operandi—global monkey business. While our enemies grew stronger, U.S. sea power atrophied.
Weapons are the world's equalizer. They enable 100-pound weaklings to defend themselves against 300-pound aggressors with no more effort than picking up a handgun. Militaries appreciate that, too. The Navy understood that placing nuclear weapons on surface ships made up for the lack in numbers, giving the fleet Teddy Roosevelt's proverbial "big stick."
Today, the Navy again finds itself in the situation of having a less-than-adequate fleet to deal with growing threats. China has more than 500 ships and 200 auxiliaries, and though many are outdated, the People's Liberation Army Navy (PLAN) is building ships at a much higher rate than the United States or its allies.5 The PLAN also deploys a large number and variety of air-, shore-, and ship-launched antiship missile systems, many of which are of real concern to U.S. Navy planners. Russia's navy is much smaller than in Soviet days, but its weapon systems (including the nuclear-capable 3M-54 Kalibr [NATO designation SS-N-27] antiship missile) are modernizing at a rapid rate. It is time to rearm the U.S. fleet with tactical nuclear weapons and once again become a more valuable tool in the geopolitical toolbox.
Rearming destroyers, cruisers, and the future frigate with non-strategic nuclear weapons could be accomplished in three phases:
Phase One: Reintroduce the nuclear TLAM-N as part of normal deployment loadout.
Converting future TLAMs at the factory or retrofitting the existing rounds would not be complicated. A more widely dispersed tactical sea leg of the nuclear triad, a cornerstone of strategic defense, will allow for a more versatile implementation of nuclear strikes.
Phase Two: Manufacture a nuclear version of the RUM-139 Vertical-Launch ASRoc (VL-ASRoc).
The Cold War–era RTNDC was a last-ditch defense against Soviet submarines in the event they decided to attack the United States with submarine-launched nuclear ballistic missiles. The RTNDC's major drawback was its short range; the launching ship stood a good chance of damaging itself, sacrificing one warship for millions of lives.6 The newer VL-ASRoc sports a substantially longer range, making a nuclear version an appealing choice for destroying any undersea threat, especially ones whose precise location is not known. The PLAN's submarines are increasingly capable and quiet.
Phase Three: Produce a nuclear capable SM-2/6 Standard Missile.
At the height of the Cold War, one Soviet tactic was to saturate NATO air defenses by launching swarms of antiship cruise missiles (ASCMs) from large formations of bombers. Lacking the ability to intercept every ASCM, the Navy planned to level the playing field by placing a small nuclear warhead on some of its Terrier antiair missiles. The resulting atomic air burst would have wiped out any airborne threat in a large radius.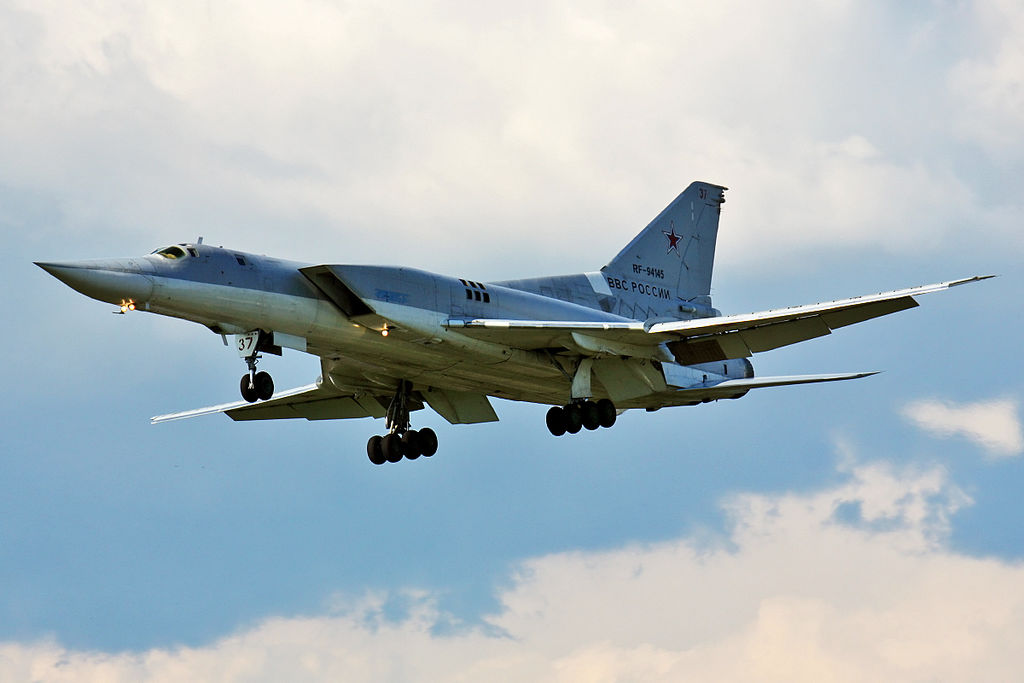 Tu-22M3M GEFEST (Dmitry Terekhov)
The strategic air power of Russia is again on the rise. Their introduction of the upgraded Tu-22M3M Backfire, a supersonic bomber, demonstrates that Russia is serious about revitalizing its air force.7 Launching ASCMs from these bombers is bound to be part of Russia's naval strategy. That, coupled with the fact that ASCMs are becoming increasingly stealthier, is reason enough to outfit every Aegis-equipped ship with at least a few nuclear SM-2s or SM-6s. Killing the enemy before he can launch his own weapons is always a winning strategy, and the SM-6 has the range to do it. A nuclear blast in front of an onslaught of ASCMs would be the ultimate in saturation air defense.
Renuclearizing the Navy is doable, and with a 355-ship Navy still decades away, injecting more deterrence into our ships makes a smaller navy more deadly. Allies undoubtedly will chastise the United States for increasing the number of nuclear warheads, but most of them will benefit from a stronger U.S. Navy, particularly the Europeans who have no interest in churning out warships in numbers that matter. Partners in Asia may complain less loudly but will accept a new nuclear-armed fleet as a necessary counter to China. The Russians—while protesting—respect power; in fact, Russia reportedly deploys tactical nuclear weapons on board its warships now.8
1. "Terrier," astronautix.com.
2.  "Honeywell RUR-5 ASROC," Directory of U.S. Military Rockets and Missiles.
3.  U.S. Navy Factfile, "Tomahwak Cruise Missile."
4.  Michael R. Gordon, "Navy Phasing Out Nuclear Rockets for Close Combat," The New York Times, 30 April 1989.
5.  Tom Waldwyn, "China's naval shipbuilding: delivering on its ambition in a big way," liss.org.
6.  "RUR-5 ASROC," onwar.com.
7.  Dave Majumdar, "Russia's 'New' Supersonic Bomber Can Kill Aircraft Carriers and Attack with Nuclear Weapons," The National Interest, 20 August 2018.
8.  Dave Majumdar, "Everything You Need to Know: Russia's 'Tactical' Nuclear Weapons," The National Interest, 5 October 2017.
---
Master Chief Lohr served the fleet for 24 years, mainly on destroyers and frigates. He worked on the Mk-74 guided missile fire-control system and Harpoon antiship cruise missile and was part of the handling team for on/offloading of nuclear weapons.