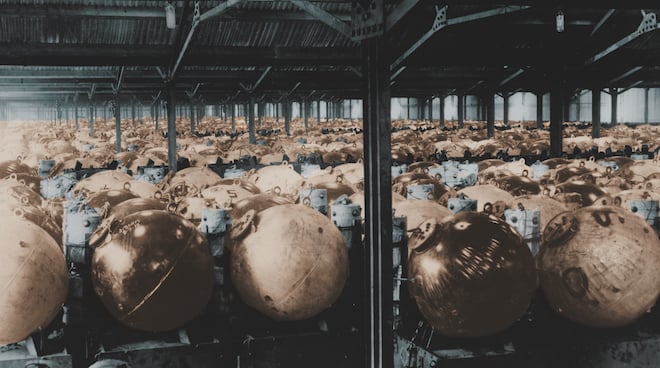 (U.S. Naval Institute Photo Archive)
Lessons from Operation Starvation against Japan
In the past 75 years, mines have destroyed more ships in war than any other naval weapon.1 This is a startling fact, and a serious question follows from it: Why are naval professionals today so obsessed with long-range maritime weapons—anti-ship cruise missiles and antiship ballistic missiles, mainly—and not at least equally concerned about naval mines? 
The need for antiship missile capability and defenses is real.2 At the same time, retired Captain Wayne Hughes' warning that the killing in war at sea often is done with a navy's second-best weapon bears remembering. If in some future conflict, each side has countered the other's premier weapon, the Navy will be left to ask: What is our next best weapon? And how should it be used? 
One possible answer to the first question is sea mines. For the second, the numerous wars and battles in which mines were effective and consequential offer important insights for contemporary military planners. A short but not exhaustive list could include the U.S. Civil War, Gallipoli, Vietnam, the Falklands War, and the Iran-Iraq War. However, the offensive mining campaign against Japan in World War II, known as Operation Starvation, offers the most valuable and pertinent insights into contemporary offensive mining challenges for the Navy against a peer adversary. 
Operation Starvation
Historians continue to debate exactly what caused Japan to surrender in 1945. Was it the fire-bombing of Japanese cities, the nuclear bombs dropped on Hiroshima and Nagasaki, the Soviet invasion of Manchuria, or the destruction of Japan's merchant shipping and the eventual collapse of its industry? Some combination is the likely answer—yet of all the possibilities, the mining campaign was the most effective as a strategy. 
The campaign began in 1942 with U.S. submarines laying mines near Japanese shipping routes and ports off the coast of China and Japan. It ended in 1945 with U.S. Army Air Forces B-29s dropping more than 12,000 mines in Japanese home waters and nearby maritime straits—devastating merchant shipping and resupply efforts and restricting the movement of the Imperial Japanese Navy.3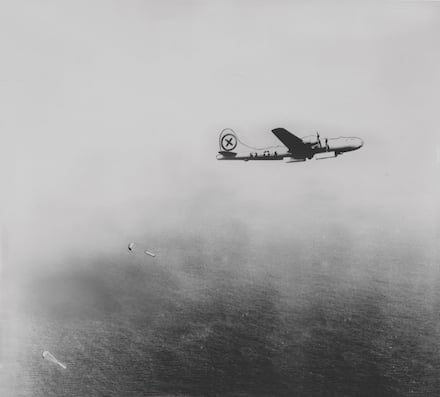 Described by Admiral Chester Nimitz as "phenomenal," the naval mining campaign represented only 5.7 percent of the total effort of XXI Bomber Command (an element of the Marianas-based Twentieth Air Force). The other 94.3 percent of the effort—bombing—was directed at Japanese industry on the homeland.4 But by the end of the war, even Japan's Prince Konoye believed that the mining campaign was as effective as the bombing campaign.5 The damage was catastrophic. The naval mines cut off Japan's coal, oil, salt, and food—devastating war production and starving the Japanese people. At the end of the war, the Strategic Bombing Survey estimated that as many as 7 million Japanese civilians might have starved to death had the war gone on another year.6
Mines certainly deserve respect as a coercive tool. 
Contemporary Insights
Operation Starvation offers many insights for planners contemplating a war with a peer adversary today. Two stand out:
• The character of the war against the Japanese meant that the sheer geographic size of the Pacific favored the mine layer over the mine sweeper—particularly when airplanes laid mines. 
• Successful joint and allied military cooperation achieved the operational objective at a low cost—in this case, through relationships among the U.S. Navy, the U.S. Army Air Forces, the Royal Air Force, and the Royal Australian Air Force. Yet the allies' lack of uniformity—for instance, each using different types of mines and continually updating them—created significant problems for the Japanese. 
Both insights deserve further exploration. 
Using submarines initially and bombers later, the allies mined as far north as the Korean Peninsula and as far south as the Indonesian archipelagic waters and into the Strait of Malacca. This distance spanned some 2,500 nautical miles, about the same as from New York City to San Francisco, and the mines were laid at different depths of water. That is what Japan faced throughout the war.
The Japanese struggled to defend ports at the outer edges of their captured territory from mines. They also had difficulty locating, sweeping, and clearing minefields even when they were aware of their existence. Also, because so many mines were dropped in Japanese inland waters later in the war, the Japanese had to prioritize their clearing efforts. During postwar interrogation, Imperial Japanese Navy Commander Saburo Tadenuma noted:
Although no capital ship was damaged by a mine in the Inland Sea, the mines seriously interfered with their movements and made it impossible to move units of the Fleet without considerable difficulty. The effort to keep an escape channel open for use by the Fleet led to an extravagant use of mine sweepers which were sorely needed elsewhere to clear channels for merchantmen.7
Further complicating Japanese minesweeping efforts, the nation faced a constantly changing variety of U.S. and British mines, including magnetic, acoustic, and pressure variants. The mines were adjusted by the Naval Mine Modification Unit for the specific areas where they were laid. Later in the war, countermeasures and delay mechanisms were added to the weapons, increasing the challenge to Japanese clearing efforts.8 As one Japanese officer later said, "Using different types of mines was very effective and we were not given enough time to adopt successful countermeasures."9
Today's naval planners should note a few other lessons from Operation Starvation:
 • Inland waterways were susceptible. This still holds true. Ships have become larger, and maritime traffic in inland waters has increased in volume; sweeping mines from these waters during a conflict will be complicated. Properly placed mines in inland chokepoints will create serious obstructions.10 For instance, the Japanese had a difficult time getting troops and supplies to inland China because of extensive mining of the Yangtze River, forcing them to use alternate routes and other methods, such as railroads.11
 • Planners underestimated the number of mines needed at the outset, because it was difficult for intelligence professionals to predict how successful the Japanese would be at sweeping mines. Today's planners might want to exhaust an adversary over a wide geographic area, forcing him to focus on mine sweeping. A close collaboration between intelligence professionals and naval planners, then, is instrumental to understanding the ebb and flow of adversary mine operations and countermine operations in war. In addition, there is a risk of overemphasizing the capability of precision-guided mines released from an aircraft. The new Mk-64 Quickstrike-J mine is touted as having an impressive six-meter circular-error probability when laid on the bottom of the ocean.12 But if planners underestimate an adversary's mine countermeasures or inadequately assess its minesweeping capability, precision may do little good.
 •  Finally, Allied mining during World War II pulled Japanese scientists and technical experts away from other war efforts. In this, there is a contemporary analogy and sobering reminder: the development of the mine-resistant ambush-protected (MRAP) vehicle used in the Iraq and Afghanistan wars in response to improvised explosive devices. In both cases, casualties—shipping in the Japanese case, and American lives in the other—drove militaries to devote considerable attention, cost, and effort to threats that were incredibly effective but not anticipated.13
Today's Challenges 
The thorough and fascinating United States Strategic Bombing Survey of World War II, which includes an extensive report on the U.S. offensive mining operations against Japan, closes with a warning for the contemporary audience: 
One of the biggest handicaps in the mining campaign against Japan was the lack of adequate preparation in peace time . . . [and] in nearly every area offensive mining would have produced greater results if it could have begun at an earlier date and on a larger scale. . . . The delay was due to the lack of early development and early basic thought on the possibilities of mine warfare.14
Is the Navy in a similar circumstance today? Perhaps. The offensive mine campaign against Japan suggests at least two disconcerting facts that need to be addressed if the Navy is not to find itself in the same position as its forebears.
The first is an inadequate offensive mine capability. Today's Navy relies on the Quickstrike series of mines and the Mk-67 Submarine-Laid Mobile Mine (SLMM).15 Both are shallow water mines (600 feet or less), and the Mk-67 is ancient—it uses components from the 1950s.16 (The Navy got rid of its deep-mining capability—the Mk-60 CapTor—years ago.17) Since 2014, the Navy also has possessed the precision Quickstrike-ER (extended range), but the inventory is insufficient for a fight against a peer competitor today . . . or tomorrow.18 A diverse mine inventory that covers deep-to-shallow water—and one that balances quality and quantity—will complicate any adversary's countermine capability.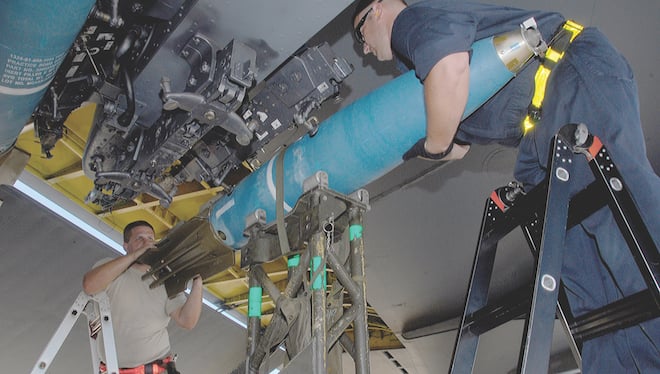 Any offensive naval mining campaign will depend on U.S. Air Force aircraft and personnel, such as the airmen shown here loading Mk-62 Quickstrike mines on a B-52 bomber. (U.S. Air Force/Jamie Powell)
The second issue is that the Navy must rely on the Air Force to execute a mining campaign in a future conflict. While naval aviation platforms can deliver the Quickstrike mines and the submarine force can deliver the MK-67, only the Air Force, with the B-1B Lancer, B-2 Spirit, and B-52 Stratofortress bombers, can drop mines in quantities large enough to approximate those in Operation Starvation.19 In fact, one of the important lessons of the World War II campaign was the successful
relationship between naval mine planners and the Army Air Forces squadrons tasked with mining Japanese inner and outer zones. Any future fight will require the same: deconflicting water space and ensuring naval mines complement rather than complicate the war at sea.
What Is Old Is New
The last time the Navy laid mines in anger was in 1991, during the Gulf War, from an inventory that consisted of at least seven different mine types. The capability has dwindled ever since.20 Meanwhile, competitors such as China are aggressively building a modern capability of quality and quantity. As of 2009, unclassified sources noted that China possessed from "fifty thousand to a hundred thousand individual" mines.21 Many sources also credit the country with a diverse inventory of 30 types, including "contact, magnetic, acoustic, water-pressure, mixed-reaction sea mines, remote control sea mines, rocket-rising and mobile mines."22
If history does indeed rhyme, then mines will continue to be a cost-effective weapon that can destroy ships  and serve a useful coercive purpose in war. Autonomous underwater vehicles and other new mining technologies will be valuable and fascinating to watch. The Navy must never forget, however, that mine quantities combined with various capabilities have a quality all their own, or that coordination with the Air Force is critical. If the United States is not careful, ignoring the most effective naval weapon might lead it to the same place Japan was 73 years ago. 
1. Sam LaGrone, "The World's Most Dangerous Naval Weapon," Popular Science, 21 April 2014.
2. Dale Rielage, "An Open Letter to the U.S. Navy from Red," U.S. Naval Institute Proceedings 143/6/1,372 (June 2017).
3. U.S. Government, United States Strategic Bombing Survey, Pacific War No. 78, "The Offensive Mine Laying Campaign Against Japan," Naval Analysis Division, November 1, 1946, 3. 
4. U.S. Government, Strategic Bombing Survey, 3.
5. Strategic Bombing Survey, 3.
6. Strategic Bombing Survey, 3.
7. Strategic Bombing Survey, 44.
8. Strategic Bombing Survey, 23.
9. Strategic Bombing Survey, 37.
10. European Conference of Ministers of Transport, "Strengthening Inland Waterway Transport," OECD Publication Service (2006).
11. Strategic Bombing Survey, 48
12. Michael Pietrucha, "Essay: Navy, Air Force Reviving Offensive Mining with New Quickstrikes," USNI News.
13. Strategic Bombing Survey, 48.
14. Strategic Bombing Survey. Italics in original.
15. "MK 67 Submarine Launched Mobile Mine (SLMM)," Federation of American Scientists, 12 December 1998.
16. "Read 'Oceanography and Mine Warfare' at NAP.edu," National Academies Press: OpenBook, The National Academies Press,.
17. Robbin Laird, "Closing the U.S. Navy's Mine Warfare Gap," Second Line of Defense, 19 March 2018.
18. Pietrucha, "Reviving Offensive Mining."
19. Laird, "Mine Warfare Gap."
20. Laird.
21. Andrew Erickson, "Chinese Maritime Study: Chinese Mine Warfare," 11.
22. Erickson, "Chinese Mine Warfare."
⎯ Commander Nelson is a Navy intelligence officer currently stationed at the Office of Naval Intelligence as the deputy senior naval intelligence manager for East Asia.