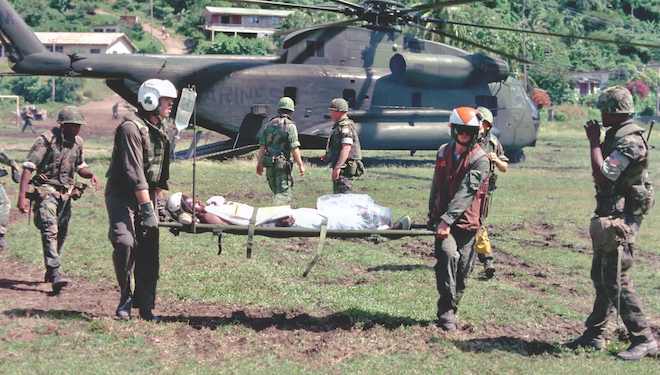 (Department of Defense/Alamy)
Medical support of the sick and wounded is a complicated, resource intensive, and vital aspect of every over-the-sea operation. Over the past 15 years, operational deployments in the Middle East have required U.S. Navy and Marine Corps forces to focus on stability and counterinsurgency operations, but looking ahead, traditional amphibious roles likely will be required once again. 
During these future operations, how long will it take for a latent but "hopefully" functionally effective medical support system to evolve? Will medical support of the anticipated sea-base concept of operations, for example, suffer the same sad evolution of repetitive mistakes committed during prior amphibious conflicts over the past century? It is imperative that those who bear responsibility for ensuring prompt and competent care is provided to the combat injured examine the lessons of history.
U.S. Invasion of Grenada
On 21 October 1983, intensive operational planning was begun for Operation Urgent Fury; however, no combat support planners, including medical representatives, were invited to participate. Consequently, no estimate of logistical supportability was completed prior to execution, and the required medical support system did not develop. The short lead time and the lack of a designated task force surgeon to coordinate medical services at the joint level left each service to plan medical support within the scope of its own organic assets, with little or no coordination of such activities as casualty care management, whole blood procurement, and aeromedical evacuation. 
Erroneous assumptions may have been made as well. For example, the commander of the 82nd Airborne Division was told two amphibious ships, the USS Guam (LPH-9) and Trenton (LPD-14), which were in the vicinity of Grenada, could provide significant medical and surgical support. The record is unclear, but this inaccurate information may have been responsible for his decision to keep Army medical support to a minimum.  
The hostilities lasted 96 hours—123 casualties and 18 deaths were recorded. Combat wounded were brought to both the Guam and the Trenton. No significant or sustainable tactical medical asset was established within the combat zone, nor were there triage facilities ashore. Without trained and experienced triage corpsmen or doctors, casualties were not sent in an orderly and logical flow to the proper receiving facilities. 
There were no established medical communication nets between the Army and Navy, let alone with the Trenton and Guam. Army helicopter pilots, unfamiliar with the Navy ships and their silhouettes, brought casualties to whichever flight deck was most convenient. On several occasions, the better equipped Guam was overwhelmed with both minor and lower-priority delayed casualties, while the Trenton, which had no surgical capability, laboratory, or blood bank, was sent critical casualties. In essence, medical assets were squandered and overutilized simultaneously.1
Beirut Airport Bombing  
On 23 October 1983, a terrorist truck bomb carrying 12,000 pounds of TNT detonated at the headquarters of Marine Landing Team 1/8 at the Beirut, Lebanon, airport, killing 241 U.S. servicemen and wounding 112. Of the wounded, 62 were sent to the offshore amphibious ship Iwo Jima (LPH-2), which had a surgical team embarked. Several underwent surgery, and one Marine died. A small group subsequently was sent to the British hospital in Akrotiri, Cyprus; 56 others were evacuated on a four-hour flight—during which an additional casualty died—to distant facilities in Landstuhl, Frankfurt, and Wiesbaden, Germany, as well as Naples, Italy (curiously, rather than facilities in adjacent Israel). Among the principal components tested that day were medical command and control, casualty evacuation, medical regulating procedures, facilities capabilities, joint medical readiness mechanisms, and the transition from routine peacetime to contingency operations. 
As noted by a subsequent flag-level review, the only mass-casualty plan in place had involved the Iwo Jima. There had been no effective coordinated theater plan for continuity of care, speedy evacuation, and regulation of victims of terrorist attacks—that is, allocation of each to the most capable treatment facility. As the review noted, "had the ratio of killed-outright-to-wounded been reversed, so that over 200 casualties required treatment, rather than fewer than 100, the medical system might well have failed."   
A medical review group chaired by Navy Rear Admiral James Zimble in 1984 detailed serious deficiencies in medical readiness, attributing them in large part to a lack of medical evacuation resources, shortages of equipment and personnel, and inadequate joint planning for wartime or contingency operations. The problems, it found, also were the result of the low priority habitually assigned to medical readiness in the planning, programming, and budgeting processes. The report recommended greater investment in essential medical resources and refinement in the command and control of wartime support and operation of these resources. 
As the "Zimble Report" noted, there was no comprehensive joint plan for the use of the medical assets already in place. The services' contingency medical plans were "stovepipe documents"—their orientations were purely "vertical" or intraservice—and bore little relationship to each other. This was a direct result of the tendency of the services' medical components to support their respective line units as if they were the only ones, and likewise a consequence of the lack of a joint medical staff structure to arbitrate differences. There was no mechanism for achieving efficiency through interservice sharing in peacetime, coordinating operations in wartime, or resolving inconsistencies among the components' plans.2
MEDICAL WAR GAME:  QUANTICO, Virginia
An "Expeditionary Medicine Wargame" was held at the Marine Corps Futures Directorate in Quantico, Virginia, 23–27 March 2015 to evaluate and facilitate medical operational readiness in a distributed fashion throughout the littoral. Regrettably, a dismal view was manifested by those players representing the line, medical, and other support element communities from the Navy, as well as Marine Corps combat, combat support, and combat service support organizations. As noted in the final report:
Throughout the wargame, participants recognized that medical components are not well integrated with the [Marine air-ground task force] in general, or the command elements specifically. Central to this view was the recognition that medical capabilities are not well understood or appreciated by commanders, or the rest of the expeditionary naval forces. This issue has several components, to include the way the Navy and Marine Corps talk (or do not talk) about medical support, and the way medical components interface with the rest of the command element, and one principal effect: medical plans that are not coordinated with the rest of operational planning, which increases risk to force and risk to mission.3
Radical Restructuring Is Necessary
Potential adversaries will continue to improve their ability to contest the sea and air around their territories, increasing both the ranges at which amphibious operations must occur and the vulnerability of amphibious ships and the sailors and Marines they carry. In support of the wounded, however, the organizational structure of the U.S. military medical system predates World War II, when each service provided for all its own health care. A radical restructuring is necessary to ensure sustained medical readiness and to achieve better integration of health-care delivery across the services.4
Medical support must be recognized and appropriately represented as an essential element of "putting ordnance on target." The services must address the traditional line-leadership modus operandi of deploying the medics too far behind the shooters. Too many time-phased force deployment lists (basic tools for logistical deployment planning) have been corrupted by lowering the planned priority of medics in the deployment queue. Lack of a day-to-day health service presence within the highest circles of the Joint Chiefs has become a handicap and is responsible for a diminution of health-related preparedness issues flowing down the chain of command. 
Since the conclusion of World War II, there have been numerous proposals for a unified medical command structure—a structure that enhances teamwork among all services, even if budget development remains primarily a service responsibility. A joint or unified "U.S. Medical Command" could facilitate true team planning. Its ultimate mission would be to articulate the requirements for current and future medical support of an increasingly joint and interdependent defense establishment and to ensure their implementation. 
The commander of a notional U.S. Medical Command, on equal footing with other joint commands, unified and specified, would more effectively address these many challenges. The commander likely would advise the Secretary of Defense and Chairman of the Joint Chiefs of Staff on uniformed military medical issues while working with the Assistant Secretary of Defense for Health Affairs on policy. The joint U.S. Medical Command would be the optimal agency for centralizing the budget for readiness and medical activities. 
A uniformed command of this size should be commanded by a four-star flag or general officer (whether from the line or medical communities would be a determination best made by Department of Defense leadership). Thus, the commander would outrank the surgeons general of the services. This model envisions dual roles for the surgeons general—as medical component commanders and as senior medical staff officers reporting to their respective service chiefs.   
In the realm of Navy-Marine Corps joint functioning, it also would not be unreasonable to consider establishing a senior-level "medical command-and-control element" overseeing medical support during joint Marine expeditionary unit (MEU) operations. At the operational MEU level, those responsible for implementing medical support need to be considered as representing a major subordinate command element, just as are the ground combat element, the air combat element, and the combat service support elements.5
Bottom Line
How long would the American people permit the military to prosecute a major conventional war in which U.S. wounded were dying in large numbers for want of adequate medical treatment? The furor over the treatment of casualties resulting from the Beirut terrorist attack in 1983, even though none died for want of care, suggests the answer is "Not long." Current military leaders, as well as their congressional sponsors, have choices to make. As the war game at Quantico demonstrated, the integration of medical and supported elements still is lacking, with potentially disastrous consequences in the future if not addressed. 
It has been the U.S. tradition to provide care for its wounded in time of war. The certainty that care was available has motivated troops to fight, and medical systems have returned many combat-hardened personnel to their units. It also has defined us as a people: If we fail to provide for our potential future casualties, we will do worse than risk combat effectiveness; we will fundamentally change ourselves.6
1. A. Smith and H. R. Bohman, "Medical Command and Control in Sea-Based Operations," U.S. Naval War College Review 59, no. 3 (Summer 2006): 52–71.
2. "Medical Readiness Planning in the U.S. European Command" (the "Zimble Report"), U.S. Department of Defense Medical Readiness Review Group (Washington, DC: Government Printing Office, 18 April 1984).
3. "Expeditionary Medicine 2015 Final Report," Director, Wargaming Division, Futures Directorate, Headquarters U.S. Marine Corps, 1 July 2015.
4. A. M. Smith, D. A. Lane, and J. A. Zimble, "Purple Medicine; The Case for a Joint Medical Command," U.S. Naval War College Review 60, no. 1 (Winter 2007): 129–38.
5. Smith, Lane, and Zimble, "Purple Medicine."
6. "Zimble Report."
---
Captain Smith is professor of surgery (urology), Medical College of Georgia, Augusta University.  He was the Proceedings Distinguished Author of the Year in 1989.