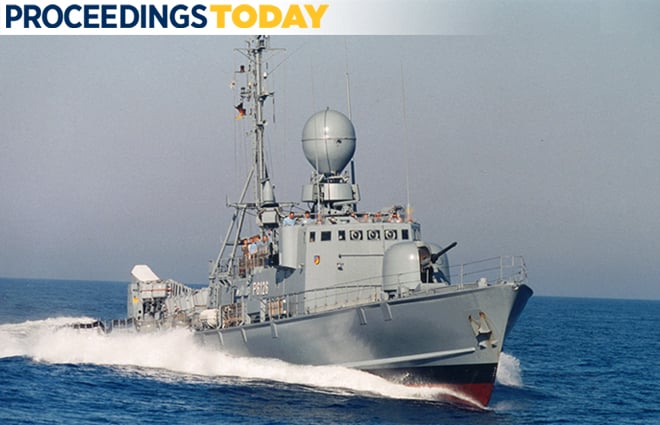 The German Navy has retired its Gepard-class patrol craft (shown) in favor of larger missile corvettes. But the design, with some modest updates and modernization, would be an excellent and cost-effective replacement for the U.S. Cyclone class.
The Navy needs new patrol coastal ships (PCs), but buying more of the Cyclone-class will not meet the requirement of a PC for today's threat environment. With the already-extended service life of the Cyclone-class coming to an end between 2020 and 2025, the Navy should leverage the expertise of our NATO allies in coastal warfare and purchase a modified version of Germany's Gepard-class (German for "cheetah") PCs.
The Cyclone-class PCs are small combatants capable of maritime security operations (MSOs), escort operations, and presence missions. PCs have filled this role in the Arabian Gulf for decades, alongside their Coast Guard brethren. They escort high value units such as aircraft carriers or special mission ships; enforce UN Security Council resolutions through maritime interdiction and boarding operations; and guard critical infrastructure. The PCs free larger combatants for high-end tasks, but when they are unavailable, destroyers and cruisers often must conduct MSO and presence missions. When the PCs retire in a few years, the large, capable multimission cruisers and destroyers will be stretched more and more thinly—or those missions will go unfulfilled. Neither scenario is appealing. Maintaining a PC inventory will allow the Navy to meet the stated goal of 355 ships and reduce stress on larger surface combatants.
But simply buying more Cyclones will not suffice. The class has significant limitations that make it unsuitable for continued service. First, the PCs are underarmed. The earliest in the class had two 25-mm chain guns and a secondary armament of machine guns. This has since been improved with upgraded 25mm chain guns and the addition of the Mk-60 Griffin Missile System, but the PCs are still overmatched by their main opponents. A small swarm of fast inshore attack craft (FIAC), as envisaged in Iranian doctrine, can easily overwhelm even an upgraded Cyclone. A single fast attack craft (FAC) of the Chinese Navy's Houbei-class could find and destroy an entire formation of Cyclone-class PCs with its antiship cruise missiles from a distance as the class lacks self-defense capability against a missile threat. The Cyclone-class also lacks the ability to integrate its sensors with other ships to build a shared tactical picture. Combined, these deficiencies make the class unable to operate in the current threat environment.
Some officers would argue that the littoral combat ship (LCS) is the obvious replacement for the PC. It is a fast, maneuverable, shallow draft small combatant, capable of fulfilling all the roles of the PC. It is also networked and equipped with helicopters and unmanned aerial vehicles (UAVs). At almost $600 million per hull, however, it is far too expensive a platform to be relegated to MSO and infrastructure protection and has been slated to perform surface warfare, antisubmarine warfare, and mine warfare missions.
Enter the Gepard class. At 189 feet long, with an 8.5-foot draft and displacing 397 metric tons (a mere 61 tons more than a Cyclone), a Gepard is ten feet longer and draws just one foot deeper. In that size, however, it carries a 76-mm main gun, four Exocet antiship cruise missiles, a rolling-airframe missile (RAM) launcher for antiaircraft and antiship missile defense, electronic warfare capabilities, and two heavy machine guns. It has the firepower of a small frigate in the size of a PC. It also is equipped with a Link-11–capable communications suite, allowing it to build a shared tactical picture with other ships and aircraft. Modified and modernized, a U.S. "Cheetah" class would be able to do everything the Cyclones do—and also operate in a moderate-to-high threat environment against larger enemy surface combatants as part of a networked, combined-arms team.
Those who might object to buying a German-made ship argue the U.S. Navy should start from the keel up, with a new design to meet the Navy's requirements. Such a design would require significant investment in research and development (R&D), which only adds to the final cost per hull—a problem already encountered with the LCS program, whose original target of $250 million per hull has more than doubled while projected capability has decreased.
The Naval Strike Missile (NSM) is an example of how leveraging the work of allies can bring new capabilities to the fleet without the burden of R&D costs. Modifying an existing, proven design has reduced R&D costs and sped the procurement process by shortening the timeline from order to commissioning compared to a clean-sheet design.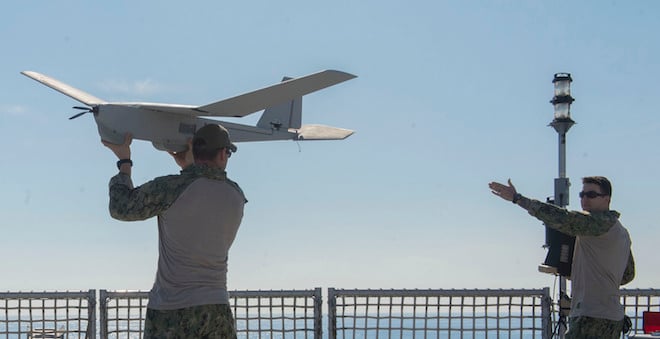 A Puma unmanned aerial vehicle. (U.S. Navy / Justin DiNiro)
The proposed Cheetah-class would keep the 76-mm gun, RAM, heavy machine guns, and mine rails. It would exploit developments in radar cross-section reduction to decrease its detectability to adversary radars. It would have upgraded radars, an electronic warfare suite, communications equipment, and would be Link-16 or cooperative-engagement-capability capable. It would have a modernized drive train based on existing, proven diesel engine technology, a specialty of German industry. It would add a davit and a small boat amidships on to support MSO operations and underway logistics. It would incorporate the ability to launch the Puma UAV or a follow-on small UAV, and it would be able to serve as the launch platform for small autonomous or semiautonomous unmanned surface vessels or unmanned underwater vehicles. It would replace the Exocet with the NSM to support commonality across different U.S. Navy platforms. And it would endeavor to do all this in the same dimensions as the current class, taking advantage of developments in electronics to add capability without increasing overall size.
The Cheetah-class would be a fast, agile, shallow-draft platform, capable of fulfilling the presence and MSO roles of the Cyclone­-class while also punching above its weight in support of the high-end fight as part of a networked combat team with manned and unmanned platforms. The Cheetah-class would be able to defend itself against FIAC swarm attacks and go toe-to-toe with larger FAC. It could integrate as a squadron or with LCS, destroyers, and cruisers—as well as unmanned vehicles—to target enemy surface action groups or carrier strike groups. The class would be equally at home in the Arabian Gulf, the South China Sea, or the Baltic Sea.
Going with a proven platform would allow the U.S. Navy to build on the German Navy's operational experience with the class. Germany has sailed the Gepard-class since the 1980s. They understand its capabilities and limitations well and could support training U.S. Navy crews operating and maintaining the platform. The LCS program has demonstrated the difficulty of learning how best to maintain a new class, at a cost of millions of dollars and hours-upon-hours of lost operational capability. This risk could be mitigated by partnering with our allies.
The German Navy possesses tactical excellence at employing patrol craft in confined, littoral waters, providing a clear base on which to develop and refine quickly the doctrine necessary to incorporate Gepards into the U.S. Navy. The NATO Center of Excellence for Operations in Confined and Shallow Waters (COE-CSW) is, not coincidentally, based in Kiel, Germany, and could host the U.S. Navy's efforts to build and validate the doctrine for these new PCs. Working together also would improve allied navies' integration with U.S. Navy doctrine development, helping to refine the distributed lethality concept.
With the retirement of the Gepard-class now complete—and no replacement due until the 2020s—buying a German-built PC and using German training assistance would help sustain the Deutsche Marine's expertise in employing small surface combatants, crucial to their position in the Baltic Sea and proximity to Russian maritime forces. Developing the modified Gepards for the United States could improve the design and construction process of the new German class as well. The relationship resulting from our purchase of these ships would therefore improve not only our own capabilities but also those of a critical ally.
Finally, by purchasing a modified Gepard-class and leveraging our NATO allies' expertise, we would fulfill broader political-military objectives. We would improve ties with our NATO allies through an increased pace of combined operations in the Baltic Sea during sea trials and workups. We would also improve interoperability with our allies as a new generation of U.S. Navy sailors became comfortable working alongside allied navies and using NATO doctrine and procedures. Furthermore, we would demonstrate, in the face of revived Russian aggression, solidarity within NATO as well as our commitment to the defense of our European allies.
---
Lieutenant Barnard is serving as a staff operations and plans officer at NATO Maritime Command in Northwood, U.K. He was previously Gunnery Officer on board the USS Arleigh Burke (DDG-51) and weapons officer on board the USS Firebolt (PC-10). He graduated from the University of St. Andrews in Scotland with a master's in terrorism studies and holds a bachelor's in political science from Abilene Christian University in Texas.
Lieutenant Sundstrom is assigned to the Nimitz Operational Intelligence Center in Washington, D.C. Previously he served as antisubmarine warfare officer on the staff of Commander, Destroyer Squadron Two Six and communications and main propulsion officer on board the USS Arleigh Burke (DDG-51). He holds a master's in war studies from King's College London and a bachelor's in economics and political science from the University of Wisconsin-Madison.