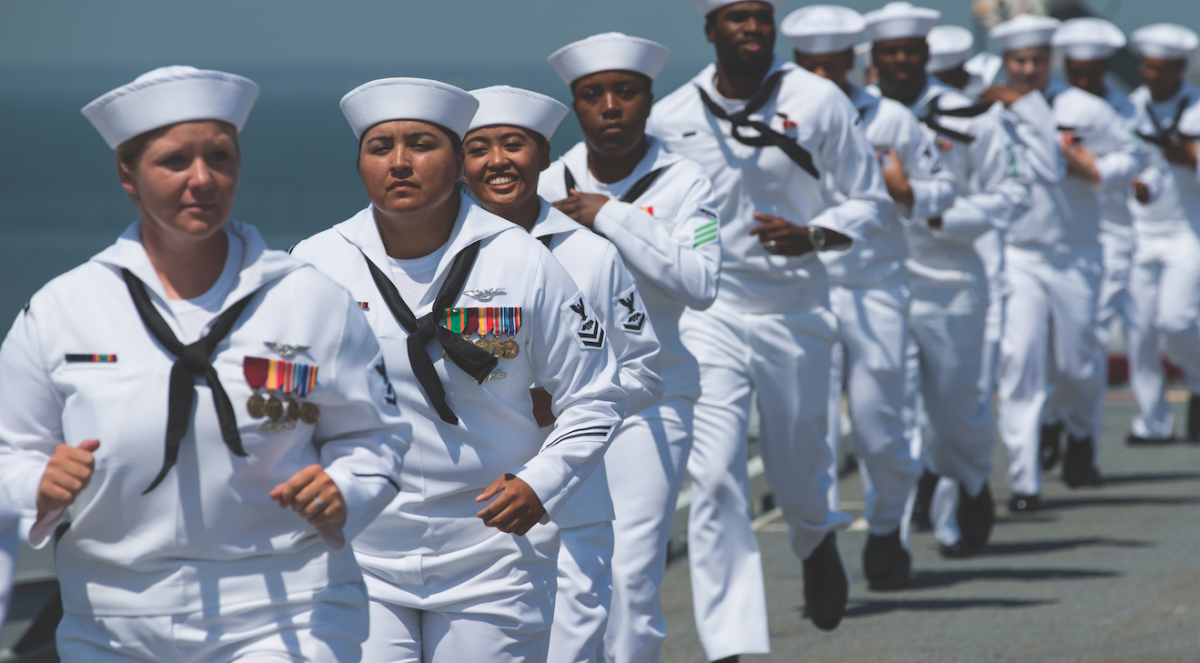 Then-Chief of Naval Operations Admiral Jonathan Greenert, in June 2012, authored his watershed Proceedings article "Payloads over Platforms: Charting a New Course," arguing that the future fleet must prioritize payload lethality and modularity independent of the installed platform.1 Emphasizing that "use of modular payloads that can be changed out over a platform's life offers an effective and affordable way to maintain our adaptability and war­­fighting edge against evolving threats," Admiral Greenert laid the foundation for the evolving naval paradigm of distributed maritime operations. Following the analysis of the surface navy's practices and culture after the series of Seventh Fleet mishaps, the service must take Admiral Greenert's modularity ideal one step further by prioritizing people over payloads.
In the aftermath of the incidents in the western Pacific, the Navy has made an effort to catalog and diagnose the underlying causes. Both the "Comprehensive Review of Surface Fleet Incidents" and the "Strategic Readiness Review" are laudable, hard-hitting critiques of the surface navy and provide actionable recommendations to ameliorate the conditions that contributed to the collisions. Both documents, however, muddle disparate factors contributing to declining surface navy readiness without hammering on the underlying strategic issue—the surface navy sacrificed personnel readiness for increased ship operational availability and systems procurement. By seeking "efficiencies" through personnel initiatives, the surface navy diminished warfighting readiness and engendered a culture that facilitated the recent mishaps.2
No weapon or sensor system ever will be as modular, adaptable, or effective as the people who man Navy ships. The logic of Admiral Greenert's arguments in favoring payloads over platforms holds for favoring people over payloads. People are the Navy's competitive advantage; investments in maintaining and increasing their individual warfighting readiness must not be sacrificed in favor of competing priorities.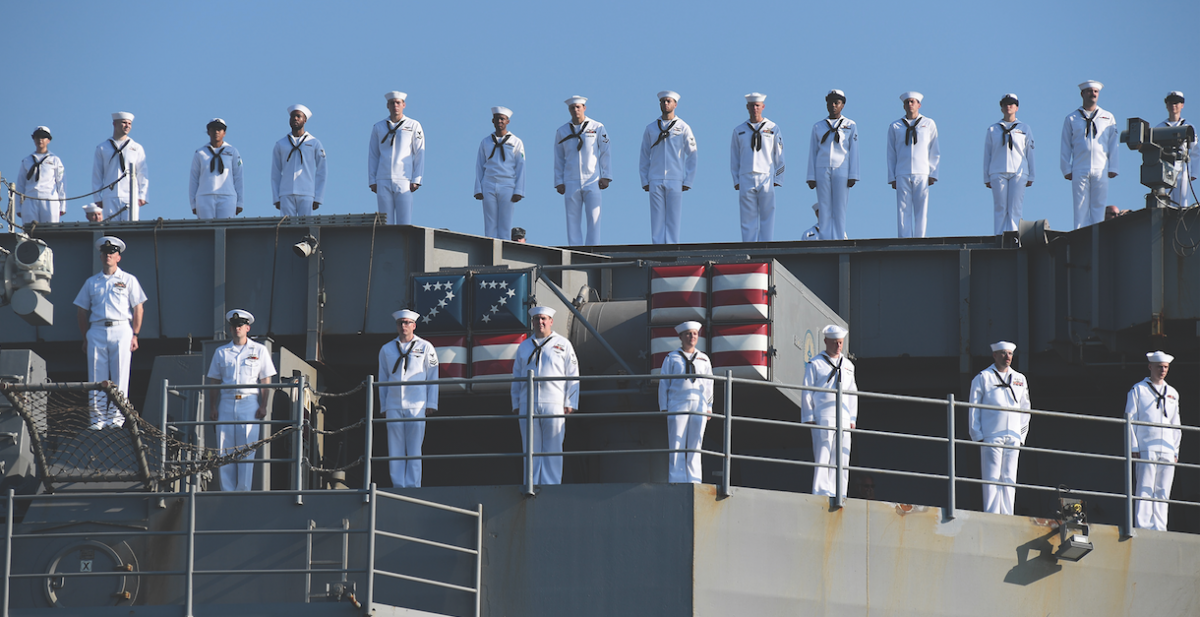 Context and Lessons Forward
Both the "Comprehensive" and "Strategic" reviews outline succinctly the fiscal and operational challenges of the early 2000s that led Navy leadership to seek efficiencies in shipboard manning and training. It is critical, however, for current leaders and those going forward to recognize that similar circumstances of budget constraints, excessive combatant command (CoCom) operational demand signals, and unexpected geopolitical events will continue to force resourcing trade-offs.
As federal deficits and national debt continue to grow, and with the Department of Defense representing the largest share of federal discretionary spending, there almost certainly will be significant political will to rein in defense expenditures. This, along with a rising China, assertive Russia, and unforeseen challenges, could spell challenging times in the next decades for Navy leadership.
To avoid the same poor decisions made by surface navy leadership in the first decade of the 2000s, the service needs a new cultural paradigm that prioritizes people over payloads, quality over quantity, and sailors over stuff. If the Navy must assume risk, it must assume more of it in the payloads instead of the people.
Why Personnel Readiness Gets the Cuts
Why did the surface navy seek efficiencies from personnel readiness accounts? Because it was easier than the alternatives. A few jobs are lost if a training command is shut down; significant political and public outrage can result if the Navy alters its shipbuilding plans or shutters production lines. Industry lobbyists pepper Congress and Defense Department leaders with the latest and greatest they have to offer to help meet critical capability gaps. Veterans groups fight to maintain or increase benefits for active and retired service members. While there is a concerted effort to maintain the value of a sailor's paycheck, there is no similar effort to maintain the quality of training a sailor receives.
For example, a 2002 analysis of the disestablishment of the Surface Warfare Officers School's Division Officer Course (SWOSDOC) calculated the per-pupil cost of the 17-week training course at around $32,000.3 The "SWOS in a Box" initiative notionally reduced the per-pupil cost to some $14,000, as the trainee instead would spend only five weeks in a finishing course.4 Thus, the Navy "saved" $18,000 per student. Compare these figures to the cost of a single Arleigh Burke–class destroyer with a sticker price in excess of $1.8 billion. A single hull could pay for more 100,000 trainees at SWOSDOC. Is the Navy better off with one more hull and a lesser trained wardroom, or one fewer hull and better trained officers for the next century?
While this is not a realistic comparison, it shows how minor changes in major systems procurements could alter dramatically the Navy's training and manning budgets. While people outside the Navy will fight tooth-and-nail for the destroyer, only the surface community will fight for its training systems and pipeline.
In addition, individual warfighting readiness is difficult to quantify and assess. Metrics such as course attendance, schoolhouse throughput, and SWOS test scores can be used to show training is "effective," but such measures may not be indicative of warfighting readiness. It is easy for a decision maker to understand that an investment in improving SPY radar sensitivity dramatically improves a ship's expected air-defense capability. For manning and training, however, as long as ships accomplish their assigned missions without incident, there is an assumption that everything is fine and increased resourcing is unnecessary. Training and associated costs are an important but not urgent issue—until the missiles start flying.
Failure to sufficiently prepare our sailors for combat will result in defeat in battle as surely as will failure to field capable sensor and weapon systems. Culturally, the Navy must prioritize the combat effectiveness of sailors above investments in ever-increasing technology. An overmatched weapon system can be balanced by the Navy's unparalleled scientific capacity and military industry. A depleted fighting culture is much more insidious and difficult to overcome in times of adversity.
Invest in Surface Warfare Officers
In a sailor-centric Navy, different communities and enlisted ratings would require separate analysis and strategy to best support individual warfighting readiness needs. However, there are parallels and common principles. Through a renewed commitment and consistent effort, the surface navy can become an even more professional, competent, and effective force. Here is how:
• End excessive manning of junior officers (JOs) afloat. Both the "Comprehensive" and "Strategic" reviews cited this as a contributing factor in the surface navy's declining readiness. The effects of this practice on junior officer retention are significant. It is nearly impossible to have an effective afloat on-the-job-training program with a wardroom stuffed with JOs. Only with shipboard JO manning returned to a responsible level can the next steps be effective.
• Equalize the experiences of officers afloat. The "Strategic Review" contrasted the volatile SWO career path over the past 30 years with the more consistent aviation and submarine paths.5 To make relative performance comparisons fair, officers must be provided with equitable afloat experiences and opportunities. The simplest way to accomplish this would be to link shipboard tours with the current Optimized Fleet Response Plan that cycles ships through a notional 36-month rotation. Thus, each officer would experience a maintenance period, predeployment training, deployment, and postdeployment sustainment during an afloat tour. This would make afloat tour experience more equitable and allow for a better comparison of officer performance.
• Establish watch-keeping qualifications at least as demanding as civilian mariner equivalents. Aviators achieve basic civilian aviation certifications as an initial step in their qualification process. The most dire consequence of failure for an aviator is loss of the pilot, aircrew, and aircraft. For a ship, a collision might involve the loss of dozens of sailors and multimillion dollars in damage. (For example: the Fitzgerald lost seven sailors in its collision last year, and will cost an estimated $367 million to repair.)6 In terms of combat value, loss of a warship also is a more serious blow to the force than a single aircraft. If naval aviators prioritize the training of individual aviators to mitigate loss of life and aircraft, how much more should the surface navy prioritize watchstander training?
• Establish individual watch-keeping proficiency and currency requirements for surface ship watchstanders. Precedent exists in the nuclear and aviation communities for such a practice, and its effectiveness in increasing individual readiness has been proved. Individual watchstander proficiency and currency data would feed into readiness reporting systems and give a more accurate indication of how capable a ship would be in a corresponding mission area. For example, if a cruiser has spent the past four months performing plane guard for the aircraft carrier with little time for antisubmarine warfare (ASW) drills or exercises, it is reasonable to expect that its performance in ASW would be degraded. Under current readiness reporting guidelines, the ship still might appear with the highest training readiness in official reporting systems, which may not reflect human proficiency degradation.
• Formally assess SWOs on watch-keeping performance. This would enhance community focus on developing and maintaining vital warfighting skills as foundational to long-term career viability.
• Abandon the preference for advanced qualifications and reward junior officers for outstanding performance in the duties assigned for their rank/billets. The current slating/ranking formula used in assigning officers grants additional points for earning advanced qualifications such as engineer officer of the watch or tactical action officer. Without objective performance discriminators such as those outlined in the preceding steps, this practice might have had merit in recognizing superior motivation and performance. However, by prioritizing outstanding performance in assigned duties, the surface navy can encourage greater professional depth and improve watch-keeping proficiency.
• Focus the surface navy career path and officer community management on individual warfighting readiness at the commander-command level. The surface navy exists to provide capable surface combatants to dominate in battles at sea. Its officer management strategy should support that ideal. Achieving sufficient numbers of post-commander-command officers eligible for flag, providing ashore graduate education opportunities to post-division officers, or any other officer management initiative should fall lower in priority than ensuring an afloat commanding officer assumes command with sufficient knowledge, training, and experience to excel in battle.
Consequences of Insufficient Change
There seems to be interest today in making the changes necessary to improve the health of the surface navy, but many of the factors that led to decisions that diminished the surface navy's readiness remain. As the sting of the loss of 17 sailors fades over time, so will the impetus to make the dramatic changes needed. Failure to take action now could have serious consequences for the future of the surface navy:
• Recruitment and retention could suffer as morale and confidence to perform basic missions weaken. The service owes its sailors a reasonable assurance that they will be safe from the consequences of negligence or incompetence.
• Ships failing catastrophically at relatively low-level tasks such as navigation and seamanship diminishes confidence that these ships could perform more technically demanding missions such as ballistic missile defense. If potential U.S. adversaries see that the "powerful" U.S. Navy has trouble simply navigating, it could degrade our ability to deter potential aggression.
• Failing to take on board and implement the hard changes necessary now, in a time of peace, may spell disaster in war. If the Navy does not learn the right lessons from tragedies in peace, it will learn them from far more consequential tragedies in war.
Toward a Better Future
Despite detractors who claim the Navy's best days are behind it, the service has the ability and responsibility to forge a glorious future in the years to come. The success of the Navy toward that goal chiefly will be the result of the fighting spirit of the people in the Navy—more so than any payload or platform.
Sailors are the most modular, lethal, and adaptable asset the Navy has. No weapon system, no matter how technologically advanced, is more instrumental to warfighting effectiveness than the person directing it. But competency and confidence are not naturally ingrained in a sailor. Warfighting effectiveness only can develop in a sailor who is properly educated, rigorously trained, and meaningfully assessed—and all these factors require resourcing. The Navy continuously must assess what its people need to excel in combat and prioritize individual readiness.
Without individual warfighting readiness, it is nonsense to discuss collective or system warfighting readiness. The surface navy can lead the way in prioritizing and resourcing the warfighting readiness of its people above both payloads and platforms.
---

1. ADM Jonathan Greenert, USN, "Payloads over Platforms: Charting a New Course," U.S. Naval Institute Proceedings, 138, no. 7 (July 2012).
2. The Honorable Michael Bayer and ADM Gary Roughead, USN, "Strategic Readiness Review" (3 December 2017), 2. ADM Phil Davidson, USN, "Comprehensive Review of Recent Surface Force Incidents" (2 November 2017), 10.
3. Christopher Gavino, "Cost Effectiveness Analysis of the 'Sea to SWOS' Training Initiative on the Surface Warfare Officer Qualification Process," master's thesis, Naval Postgraduate School (December 2001), 41.
4. Ibid., 41.
5. Bayer and Roughead, "Strategic Readiness Review," 39.
6. Sam LaGrone, "Stricken Destroyer USS Fitzgerald Arrives in Mississippi for Two Years of Repairs," USNI News, 21 January 2018.
---
Lieutenant Cordial is currently assigned to the staff of the Chief of Naval Operations, Surface Warfare Division. He has served on board the amphibious assault ship USS Iwo Jima (LHD-7) and the guided-missile cruiser USS San Jacinto (CG-56).